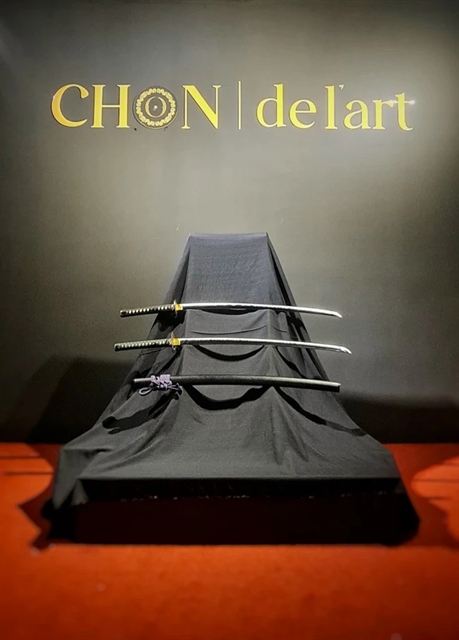 Art of the Samurai Sword of Japan will be open for the public on April 30 in Hạ Long City, Quảng Ninh Province. VNA/VNS Photo
HÀ NỘI — Art of the Samurai Swords, an exhibition from Japan, will be open in Quảng Ninh Province's Hạ Long City this April.
A contract has been recently signed by fine art auction house CHỌN de l'art and Sun Group.
Following their deal, the ancient Japanese village of the Bizen Osafune area in the EDO period (1603-1863) will be built up at Sun Hill on the grounds of the Sun World Hạ Long Complex.
Bizen Osafune is located in eastern Okayama Prefecture. It has been the country's largest sword making centre for thousands of years, where the best blacksmiths gather.
At the Sun Hill's Japanese village, leading artisans and experts will perform a process to produce legendary swords which are well-known all over the world.
"It is a big art project that we have spent time and labour on. We are proud to bring to the public a space to experience Japanese ancient swords. They will learn and enjoy the culture of Japan," said Vũ Tuấn Anh, chairman of CHỌN de l'art.
In the space, there will have exhibition rooms displaying treasure swords; an area for visitors to learn and experience how to wear samurai armor and practise swords; a zone for producing Japanese fine-art products; and a room for light art performance. All are managed by architect Trần Long.
Once in the village, visitors will be taken back to the past, feeling the power of Japanese warlords, enjoying the science of making weapons and meeting beautiful Japanese women in traditional kimonos and stately samurai warriors, that could only be seen in movies previously.
"The Japanese-style of the Sun Hill in Sun World Hạ Long is the main reason that CHỌN de l'art chose to implement the project here," said Long, who is also a culture and ancient arts researcher.
"The project is located in the Mystic Castle - an architectural construction that simulates a Japanese-style ancient castle. It is surrounded by a Zen Garden where visitors can admire the most beautiful views of Hạ Long, the city of heritage," said Long.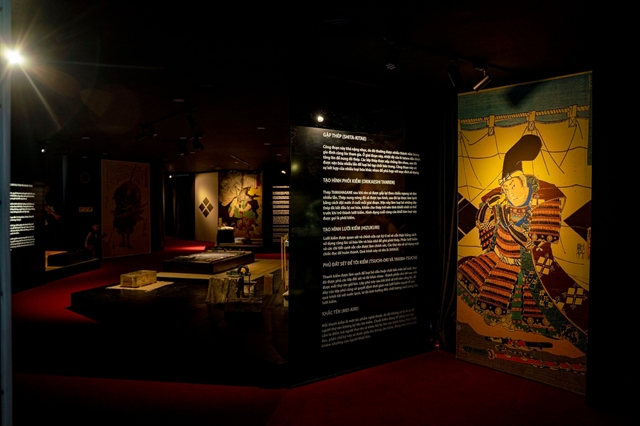 An exhibition on the samurai swords, introducing the Japanese legendary art, is held in Hà Nội last April. — Photo congluan.vn
The Zen Garden is a minimalist dry landscape comprised of natural elements of rock, gravel, sand, wood and plants​​.​​​
"The garden in the Sun Hill is inspired from the famous Okayama Korakuen Garden with hundreds of cedar trees, conifers, Koi ponds and a miniature Mount Fuji. It is designed and built by Japanese experts and artisans. I believe that the sword art space and the garden in this Japanese village will bring unique and interesting experiences for visitors at the Sun Hill," he said.
It is expected that the space, which was piloted in Hà Nội last April, will be open to the public from April 30. VNS