By Lê Hương
The flower market for Tết is in full swing now.
Besides traditional domestic flowers for Tết such as peach blossoms and kumquat bonsai, there are many kinds of imported flowers for demanding customers.
Most flower shops focus on traditional Tết flowers and orchid bonsai while some have their own specialties.
Sayhoa, a flower shop in Tông Đản Street in downtown Hà Nội, has followed a modern European-style of flower arrangement.
"From the beginning of the 12th lunar month, we have focused on exotic flower products rather than traditional kinds," Nguyễn Thanh Phong, the shop's owner, told Việt Nam News.
"We have made some marketing surveys and found out that customers pay more attention to imported flowers for Tết. The demand has risen some 50 per cent for this occasion. They want to choose long-lasting flowers," he said.
Phong said well-to-do customers seek various kinds of imported flowers and prefer them to be arranged in an artful style. Thus, his shop has imported flowers and decoration accessories from the Netherlands, Ecuador, Japan, and Malaysia.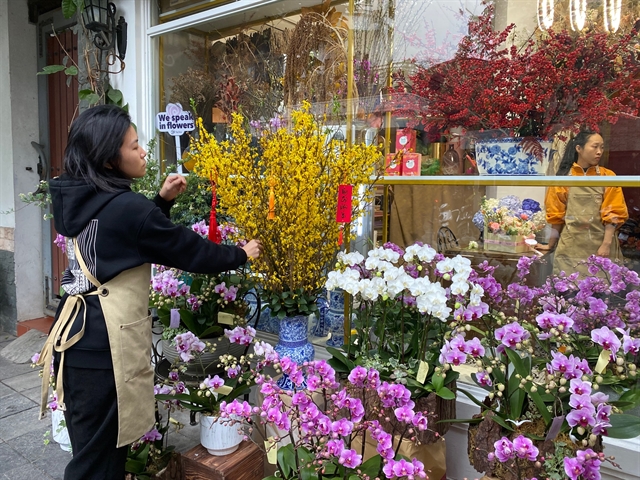 Imported flowers available for Tết. VNS Photo Lê Hương
Phong said this year, popular flowers include forsythia and winter berry from the Netherlands, and Mihata boke from Japan.
"There is a trend among companies," he said. "Now instead of giving peach blossoms or kumquats to their partners, they have shifted to buying the same-priced sets of gift boxes. The boxes contain perfume, high-quality gifts or fengshui objects, which are put inside an artful flower decoration."
According to customer Nguyễn Công Thắng, who seeks impressive presents for his company's partners for Tết, he is eyeing unusual imported flowers.
"I want to find flowers which are beautiful, unusual and luxurious so that our partners will appreciate our gifts," he said.
For his family, Thắng said, in previous years he chose traditional flowers for Tết. But this year, he wants to buy exotic ones, which have striking colours and bring good luck for the new year.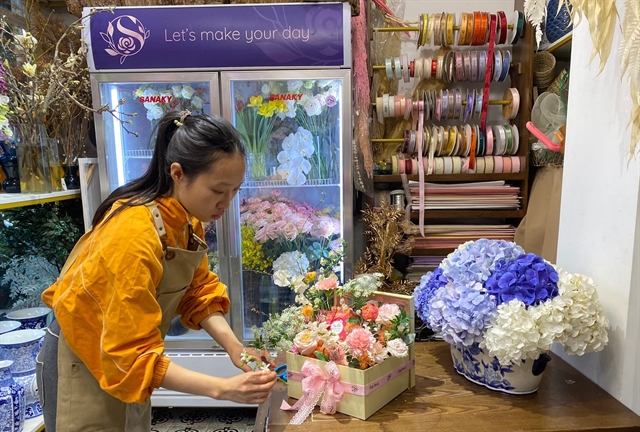 A staff at Sayhoa shop prepares a box gift of perfume placed within flowers. VNS Photo Lê Hương
Besides real flowers, many people also choose artificial flowers. The quality of these kinds of flowers has been improved so that they look and touch almost the same as natural ones.
Nguyễn Minh Tú, who manages Layla Flower Shop in Vọng Đức Street, said the shop has imported silk rose, peach blossoms, and pomegranate branches.
"The artificial flowers and fruits have been made by high quality materials like memory foam and smooth silk," she said. "So when we touch the fake flowers or fruits, they feel as soft as the real ones."
"The prices for these high-end products are higher than the prices for old kinds of fake flowers," she said.
Tú said customer demand rises when the Tết approaches. People tend to choose colourful flowers and fruits to decorate their houses.
"Our customers want to buy high quality products despite the high prices," she said. "Many customers still return to buy other products."
Student Đỗ Thị Hoa, who came to the shop to choose some artificial flowers for her mom as a present for Tết, confirmed that she would buy some branches of pomegranate after looking around for a while.
"They have the striking colours of Tết, which can make my home warmer," she said. "I have sometimes bought artificial flowers to decorate my rented room here in Hà Nội like tulips, which are more suitable to my age. But for Tết, I want to buy flowers suitable for everyone to decorate my house in the outskirts of Hà Nội."
Hoa said she chose artificial flowers as she could keep them for a longer time and reuse them next year.
"If I buy real flowers, I have to throw them away when they wither, which is a waste of money," she said.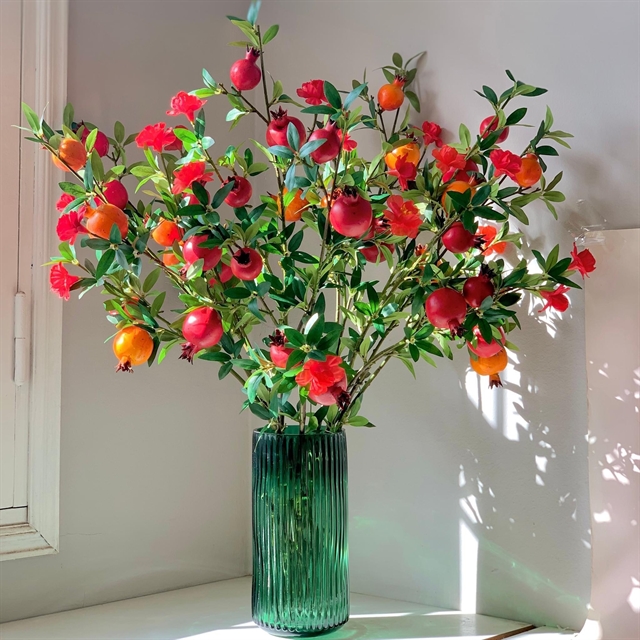 Artificial branches of fruits are now popular the same as flowers. VNS Photo Lê Hương
There are also artificial bonsai from old trees with green leaves, and wild plants like ferns.
According to Lê Mai, another artificial bonsai shop owner, her products are mostly imported from China and are sold all year round, not only for Tết. The demand for this kind of decoration product has risen some 30 per cent before the Tết.
"When Tết approaches, I sell more to individual customers who want to decorate their house," she said. "Throughout the year, I sell more to companies to decorate offices." VNS