By Vân Hương
In the last days of the lunar year, it's cold, dry and sunny.
One can feel the spring atmosphere overwhelming the streets of Hà Nội with endless streams of vehicles.
Here and there, bright colours of peach blossoms and kumquat bonsai seem to remind people of an approaching Tết (Lunar New Year).
In gardens near the Hồng (Red) River in Nhật Tân area, the spring atmosphere can be seen more obviously.
Carefully matching glass strips on bonsai peach blossoms, gardener Nguyễn Đức Thìn from the northern province of Phú Thọ does his daily routine: taking care of peach blossom bonsai for Hiệp Vụ Garden.
"I have been working here for several years," he told Việt Nam News. "From my experience, I see the weather this year is normal, which is favourable to raising peach blossoms."
Yet to Nguyễn Quang Vụ, owner of the garden, who inherited the career from three previous generations, this year's economy seems to affect demand from his customers.
"We have received fewer customers than in other years," he said. "The slow economic recovery may hinder people from buying things for Tết."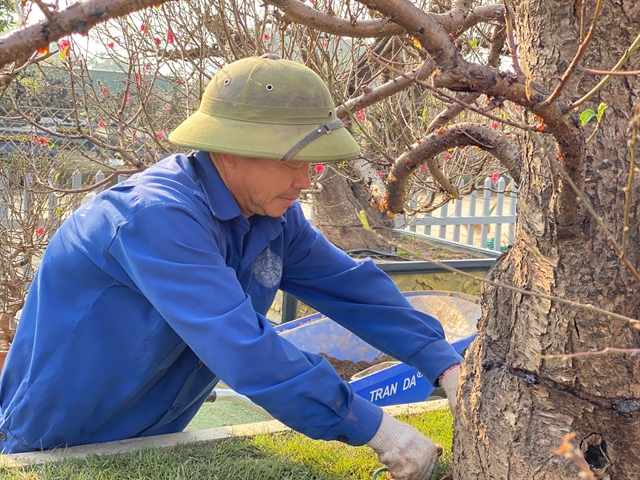 Gardener Nguyễn Đức Thìn at work. VNS Photo Lê Hương
Vụ said the weather is quite good now with much sunlight in daytime and coldness at night, which is favourable for peach blossom bonsai to bloom in time.
"The peach flowers are bigger than in previous years and have more striking colour," he said.
Vụ said he now raises various genres of peach blossom, including the rare thất thốn genre, which is a special plant of Nhật Tân Village and used to be given to kings as a gift.
He said the peach genre is very hard to raise and come into bloom. In the last decade, he and his uncle have found the way to nurture it so that it can bloom for Tết.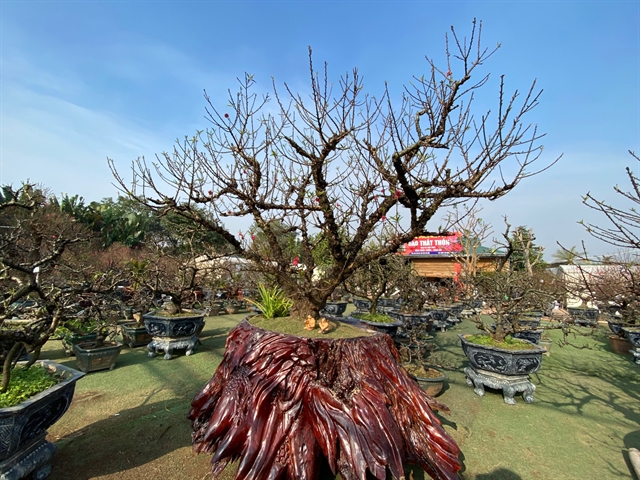 A thất thốn peach blossom bonsai at Hiệp Vụ Peach Blossom Garden. VNS Photo Lê Hương
"The thất thốn peach blossom requires complicated care," he said. "In return, the flower is bigger, with more petals, more striking red colour and lasts longer than other genres of peach blossom."
"The young leaves always sprout first, then come buds of flowers," he said. "'Thất' means seven, 'thốn' implies the length of a phalanx. It was named 'thất thốn' as a matured bonsai can have up to seven flowers within a length of a phanlanx on a branch. Each flower has two layers of petals, each layer has seven petals."
Vụ said a thất thốn peach blossom bonsai needs 8 to 10 years to mature before blooming flowers. His oldest bonsai is some 30 years old.
Nhật Tân Village (now Nhật Tân Ward) has the several-hundred-year-long tradition of planting peach blossom bonsai for Tết for the then Thăng Long Citadel, now Hà Nội.
Vũ Văn Việt, owner of the Hanoi Life Youtube channel, lost himself filming the peach blossom gardens.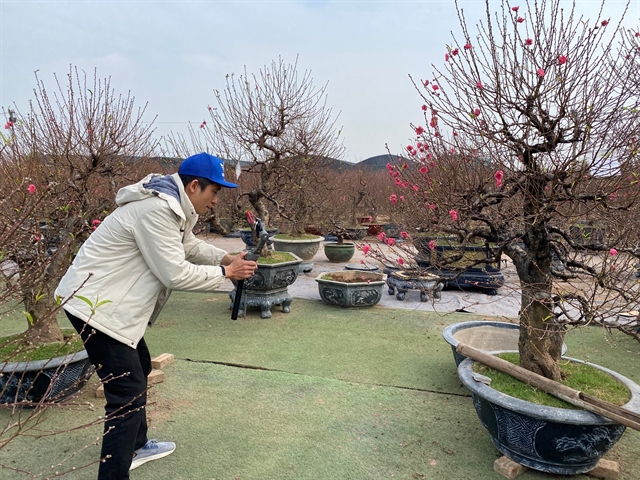 Fashion designer and Youtuber Vũ Văn Việt films at the beach blossom garden. VNS Photo Lê Hương
"I see the peach flowers are more beautiful with bigger flowers and more striking colours than usual," he said. "I'm a man but I like flowers and colours. I visit the peach gardens in Nhật Tân every Lunar New Year."
"The beautiful flowers won my soul," said Việt, who is a fashion designer for men.
Kumquat sold out
In nearby Tứ Liên Ward (then Tứ Liên Village), gardens of kumquat have been busy transferring kumquat trees to other areas of the country.
The village has been noted for planting kumquat bonsai since the 1960s, when only some families here shifted to planting kumquat bonsai from the traditional handicraft of planting mulberry, raising silk worms and weaving silk.
According to Phạm Duy Thắng, owner of 1,800sq.m Thắng Nga Kumquat Garden, one of the biggest gardens in the area, he has almost sold all of his kumquat bonsai to customers both retail and wholesale.
"This year, it rained less than usual so the fruits are not as beautiful as in other years with more favourable weather," he said.
Thắng said he has sold better this year than in the same period in the past two years during the pandemic.
"I hope I will soon sell out my garden," he said. "Though the expense we paid was much higher than usual, but we try to maintain reasonable prices for customers."
Thắng said his family takes care of the garden of mostly kumquat and grapefruit bonsai for Tết.
Phạm Duy Thắng works at his garden. VNS Photo Lê Hương
His products' prices range from several thousand đồng to millions of đồng.
Đỗ Quốc Khánh, who lives nearby, said he has been a frequent customer at the garden for almost 20 years.
"This garden often offers the best kumquat bonsai in this area," he said. "I often choose bonsai with young and old leaves, flowers, mature and immature fruits."
"I hope to bring bonsai containing the spring atmosphere with full of the energy of nature home," he said.
Bùi Thanh Vân, from the northern province of Bắc Giang, said she just visits the peach blossom and kumquat gardens for sight-seeing.
"Though I don't understand much about the standard for peach blossom and kumquat bonsai, I see the spring beauty in the fully bloomed flowers and lush kumquat bonsai," she said. VNS