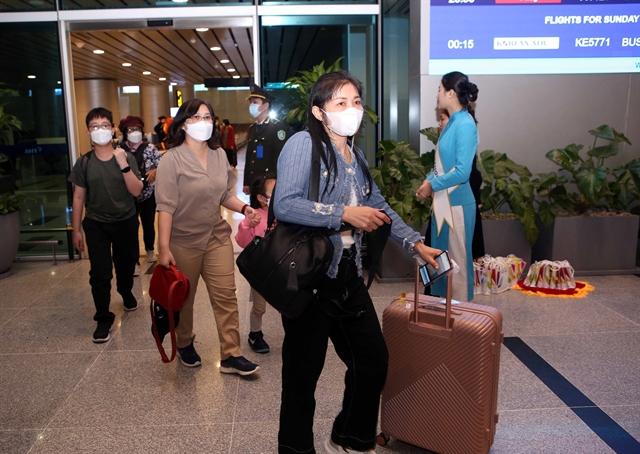 International visitors from China's Taipei arrive in Đà Nẵng City. VNA/VNS Photo Trần Lê Lâm
HÀ NỘI — Việt Nam needs to gear up to welcome Chinese tourists, focusing on improving service quality and strengthening promotion activities, according to tourism experts at a seminar held on Monday in Quảng Ninh Province.
The seminar, named "Measures to attract Chinese tourists to Việt Nam", was held by the Vietnam National Administration of Tourism, the Vietnam Tourism Association and Quảng Ninh's Province's People's Committee.
Chairman of the Việt Nam Tourism Association Vũ Thế Bình said the first thing the tourism sector should do is implement measures to attract Chinese tourists as well as improve the quality of services to create a good impression on them, which helps to develop this important market in a sustainable way.
President of the Việt Nam Travel Association's Union Cao Trí Dũng said it is important to resume regular flights and charter flights to attract tourists to localities such as Đà Nẵng, Khánh Hoà and Phú Quốc.
He suggested that Việt Nam strengthen the promotion of destinations in localities which have direct flights from China or are close to China in proximity.
Việt Nam's travel companies should also offer a variety of tourism products at different prices to different market segments.
Service providers, accommodation, restaurants and shopping malls need to get ready in terms of staff and facilities to welcome tourists, ensuring that they compete with each other with quality of service and avoid selling services or products at prices lower than those in the market.
There needs to be smooth cooperation from relevant ministries and agencies with localities, airlines and travel companies in promoting destinations.
The image and content promoted must be impressive and show the outstanding features of Việt Nam as a safe, hospitable and exciting destination for all Chinese tourists as well as change the position of Việt Nam as a cheap destination.
Relevant agencies and companies should also promote their activities on social platforms that are popular in China including Weibo, Tik Tok, WeChat, QQ and Baidu, Dũng said.
Given the risk of COVID-19 spreading amid the emergence of a new variant, there should be a roadmap to welcome tourists while ensuring their safety and that of local people.
Despite achievements, there are issues and limitations in serving Chinese tourists, which include "zero đồng" tours, tour guides who are foreign, fraud in sales of goods and souvenirs, among others.
China is Việt Nam's largest tourism market with 5.8 million visitors to the country in 2019, accounting for nearly one-third of international arrivals.
Meanwhile, about 4.5 million Vietnamese people also travel to China a year, making this the leading outbound destination of locals.
In 2022, Việt Nam received only 3.5 million international visitors, accounting for only 70 per cent of the target of 5 million. It served 101 million domestic visitors, up 19 per cent from 2019, the pre-pandemic year. VNS