by Minh Phương
Aspiring to create a greener future, one travelling duo have tried their best to maintain and grow Việt Nam's natural beauty.
Đặng Đức Tuấn and Võ Minh Tân spent four months planting around 500 trees during their cross-country journey, wishing their new roots would help environmental tourism thrive across Việt Nam.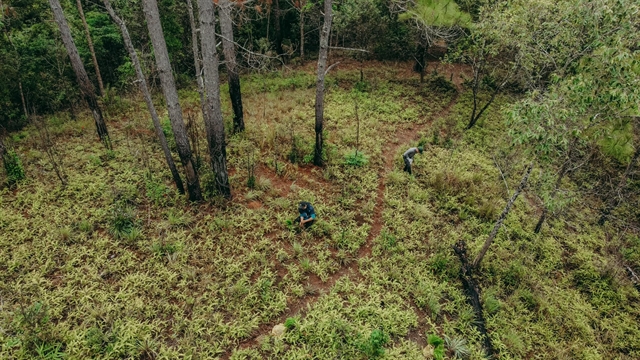 GREEN GROWTH: Đặng Đức Tuấn and Võ Minh Tân spent four months planting around 500 trees during their cross-country journey. Photos courtesy of A Little Vietnam
Tuấn and Tân are travel lovers sharing the same concern for the environment. After their video against elephant riding was published on social media, they received many positive reactions from social users.
That is when they know they should do more to spread the environmental and animal protection messages to wider audiences.
Tân (aka Hý Du Ký), 29, said: "We had many trips with each other before, but we haven't gone to many provinces at one time.
"Before this trip, we made videos to raise people's awareness about environmental and animal protection, such as the video against elephant riding in Đắk Lắk. That video received massive support from the community. So we decided to plan for a cross-country journey and do something small but meaningful to the environment in Việt Nam."
Tuấn (aka Han Vietnam), 30, said: "Trees play an essential role in the environment, which many people recognise. Therefore, planting trees is very practical and helpful. Planting trees is not difficult. When others see us planting trees, they will follow us."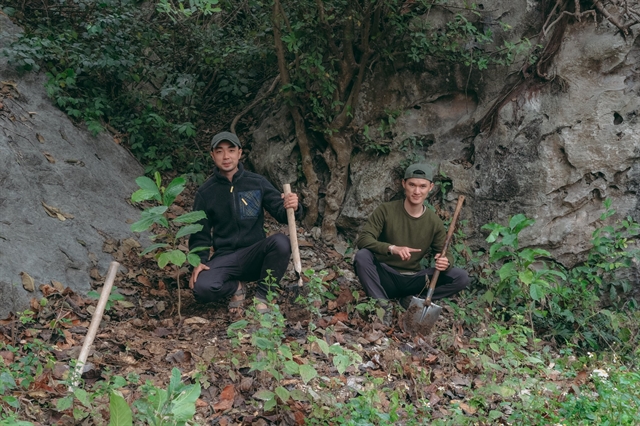 STARTER SAPLINGS: The duo planted trees in Ninh Bình Province.
A little Vietnam
When Việt Nam was severely affected by the COVID pandemic, the duo had time to take a long trip. They left their office jobs in HCM City and Phnom Penh, Cambodia, and started their journey in January.
They also launched a page called "A little Vietnam" to update their planting activities during the trip.
"To prepare for this trip, we must equip ourselves with knowledge about planting trees, the environment and self-protection skills for a long journey. The lockdown was a bad time, but for us, it was a lucky period, as we could thoroughly plan for the trip. We must prepare vehicles, choose and buy saplings beforehand, and ask permission to plant trees in some provinces," Tuấn said.
"Those things take time, so the lockdown period was precious for us to have a well-prepared trip."
They started travelling at the end of 2021 and experienced planting during the Tết holiday when everyone and every shop closed to celebrate the Lunar New Year.
"We arrived in Lào Cai Province on the 29th day of the Lunar New Year, so every tree shop closed. We had to contact the owner and explain our plan," Tuấn said.
"Luckily, the owner was very supportive; he even guided us to get into the garden to take the saplings.
"That made us feel warm because we knew that people understood what we were doing and created favourable conditions for us to complete our mission."
Environmental message
To spread the message about environmental tourism, the duo choose places close to tourists' accommodation, such as homestays. They also contacted localities to get permit to plant trees in some national forests. Their activities helped create a green lung for nature and urged people to treat the environment more responsibly.
"During the long trip to 63 provinces, we planted more than 500 trees. We planted more trees in the areas where we had contacted in advance. These places belong to the local authorities or national forests," Tân said.
"We also planted trees in some environmentally friendly residents' homes or homestays during our trip. The residents were pleased when they knew that we would plant trees and give them as a gift, and they were even happier when they know the types of trees that we plant, such as the hollong tree, a valuable timber tree."
Tuấn pointed out that the homestay owners or forest keepers would take care of the trees.
"The tree species that we choose are very easy to live. For example, in Kon Tum, we grew pine trees. Last time, when we came back to plant trees in the second phase, all the trees were growing well. We were full of emotions," Tuấn said.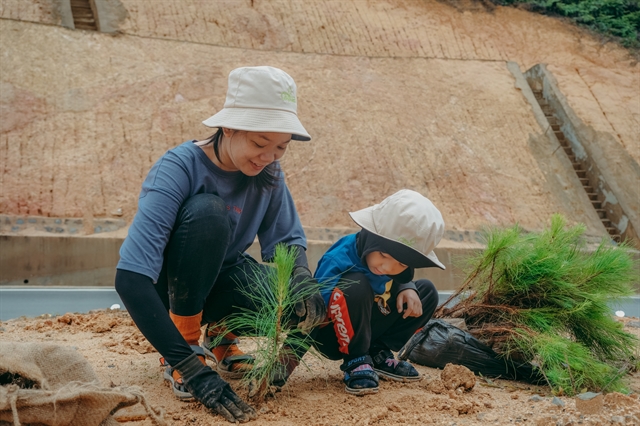 TAKING ROOT: Friends helped the duo travel to Kon Tum in September and planted more than 1,000 trees.
They finished their trip, but it opened up a new way of travelling - environmentally responsible tourism. The duo organised another expedition to Kon Tum in September together with 11 other young people, and more than 1,000 trees were planted.
"We wanted to convey a message that if you love the country, you must love its environment too. If you travel to a place, you should also protect the environment and the values there," Tuấn said.
"You can have a practical activity such as planting trees, collecting trash, or reducing the use of non-environmentally-friendly products. This helps to strengthen tourism, and the country's environment will improve." — VNS.