By Vân Hương
The An Biên Treasures, owned by Hải Phòng-based businessman Trần Đình Thăng, have been certified as a valuable private collection by experts from the Việt Nam Culture Heritage Association.
The collection includes more than 400 antiques, most of which are of Vietnamese origin, dating back several thousand years to the 18th century.
The objects are of various materials, like glazed ceramic, terracotta and bronze, dating from the first to the tenth century AD. This group includes drums, incense burners, bowls and plates with decorative patterns of the Đông Sơn civilisation (from 1,000 BC until the first century AD), ceramic wares, and baked clay objects, like house models and jars for decoration.
Ceramics dated back to feudal dynasties like the Lý (1009-1225), Trần (1226-1400), Lê (1428-1789) and Mạc (1527-1593) have bowls, plates, jars, pots, boxes glazed with white, brown and blue floral patterns. The latter objects were found in wrecked ships off Cù Lao Chàm Island.
The An Biên Treasures have more than 130 ceramic and bronze objects from China.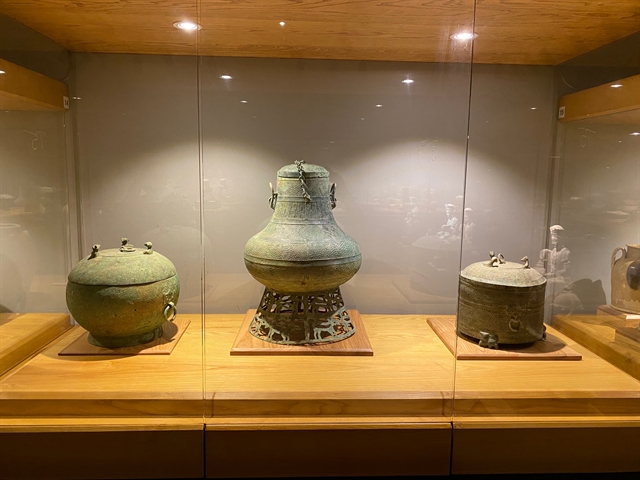 TREASURED: The collection includes objects of various materials. VNS Photo Lê Hương
Stunning collection
Among the most valuable things of this group are ceramic bowls, plates, jars and boxes glazed with celadon (gem-colour glaze) in white, blue and other colours.
A blue bowl decorated with flower strings from the Yuan Dynasty (1271-1368) and a dark blue jar with gold patterns from the Ming Dynasty (1368-1644) are among the items.
Phạm Quốc Quân, former director of the Việt Nam History Museum, said that he could feel the deep passion that Thăng held for superb antiques.
"He has spent much time and money to collect antiques, from household utensils to religious objects, of various materials from different Vietnamese and Chinese dynasties," Quân said.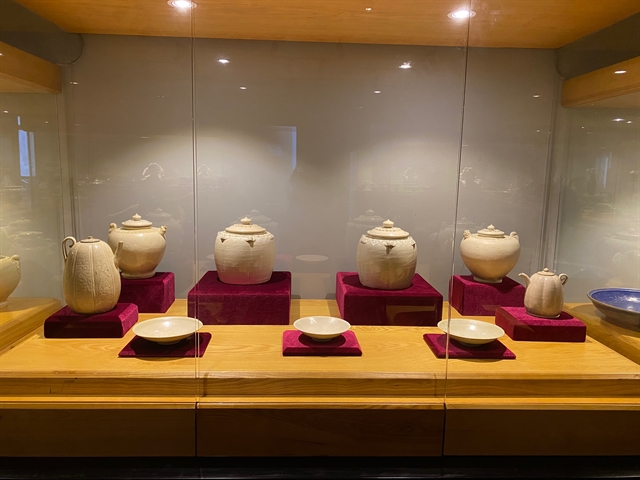 PRISTINE POTTERY: The set of nine ceramic wares from the Lý Dynasty has been recognised as National Treasure. VNS Photo Lê Hương
"He respects and preserves treasures created by predecessors. He seems to be able to hear early people's breath and marks by artisans."
Quân said that Thăng loved the ceramic wares of the Lê reign, representing the people's wisdom and creativity.
"The objects bear images of the country and portraits of people living nearly a half millennium before," he said.
Ten wooden Buddha statues from the collection date back over 500 years, yet still retain the unmistakable scent of fragrant rosewood.
Thăng has a ceramic incense burner of blue glaze dating back to Mạc reign in the 16th century, decorated with dragon patterns. This is one of the finest ceramic incense burners ever collected.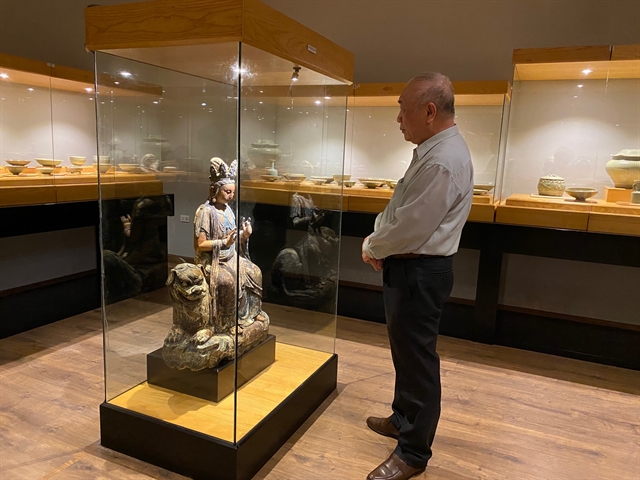 ENTRANCING: Nguyễn Bá Thanh Long takes time to appreciate the collection. VNS Photo Lê Hương
Experts have guessed it would have been used in a national pagoda or temple under the Mạc reign.
"The An Biên Treasures make up a huge private collection with diverse forms of antiques of various civilisations," Nguyễn Bá Thanh Long, permanent vice chairman of Hải Phòng Antique Associations, told Việt Nam News.
The collection is now exhibited in Thăng's private house in four cultural spaces: ceramics of the Đại Việt from the 11-18th century, ceramics of China from the Song Dynasty to Qing Dynasty from the 9th-18th century, and antiques of 1,000 years under Chinese domination from 100 BC to the 10th century AD alongside several Buddha statues.
"Thăng is passionate and understands antiques and heritage," Long said. "He also has good economic conditions to preserve valuable antiques. He has had chances to get close to experts in the field."
DIVINITY PERSONIFIED: A vast collection of Buddha statues. VNS Photo Lê Hương
Long said the exhibited objects were the most notable of Thăng's collection. Nine white-glazed ceramic objects of the Lý Dynasty were recognised as National Treasures.
The ceramic collection includes four teapots, three plates and two bowls, which are relatively intact. The objects have delicate forms with soft curves, glazed in pure, clear white colour dotted with delicate patterns of waves, lotus, dragons and clouds.
Experts believe that the ceramic wares might have been found in Thăng Long Royal Citadel as they look like the ones unearthed in the citadel's excavation holes in recent years.
"There are many other antiques in the collection deserving the national treasure title," Long said. "We just need more time to submit dossiers to the State.
Long highly appreciates private collectors like Thăng. "They have made considerable contributions to preserving the cultural essence of our past," he said.
According to Long the 100 Buddha statues in Thăng's collection have an incredibly high artistic value. "Wooden Buddha statues from China were carved the most beautifully," he said.
According to Lê Thị Minh Lý, vice chairperson of Việt Nam Culture Heritage Association, the trove is a significant heritage collection with immense meaning and value in terms of history, culture, and science.
"The collection has been well preserved for many decades," she said. "It's high time to introduce them to the public and protect them under the framework of the Culture Heritage Law."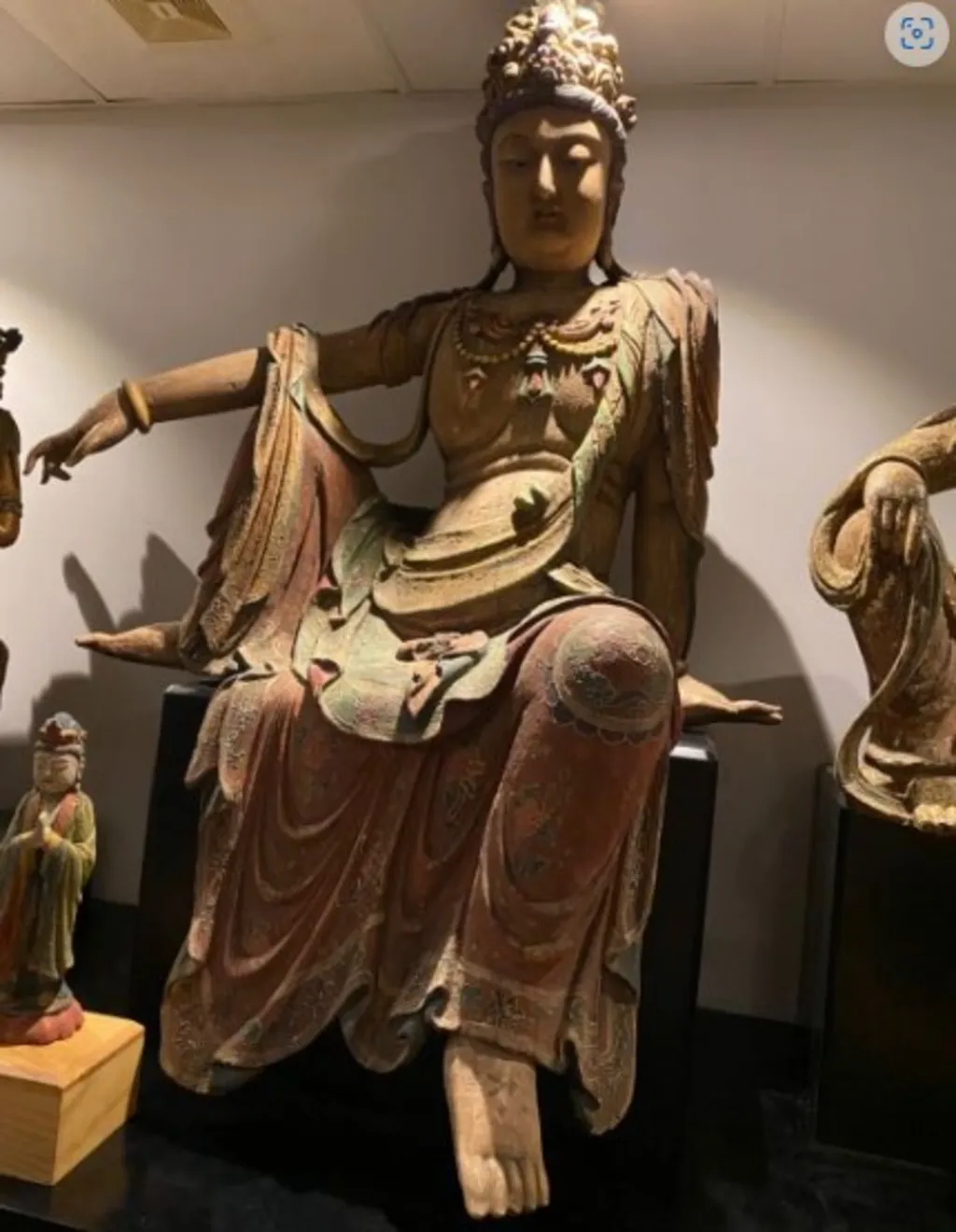 BREATHTAKING: One among over 100 wooden Buddha statues in Thăng's collection. VNS Photo Lê Hương
Modest owner
Thăng runs Nhật Việt Ltd. Company in Hải Phòng, which produces Vento footwear, but he is modest and rarely wants to talk about himself or his process for collecting antiques.
"Việt Nam is a country with a long history, where early inhabitants did not hand down many magnificent palaces," he said, "instead handed down tangible and intangible cultural heritage, which contain the soul and essence of the customs and tradition of the nation."
"Through these An Biên Treasures, I hope to hand back to the younger generation, an enthusiasm for preserving and developing antiques, to make a small contribution to the process of a prospering national culture." VNS