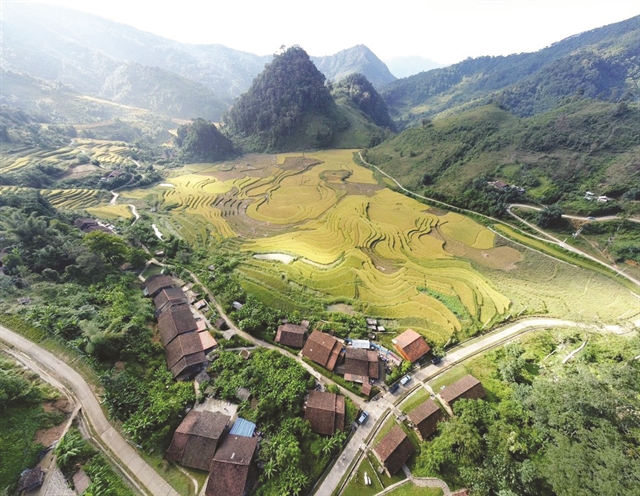 Views of Hoài Khao community-based tourist site. Photo courtesy of VCTC
By Ly Ly Cao
Among the northern mountains of Việt Nam lies a province that is immersed in unique culture and history: Cao Bằng.
The province shares a more than 300km long border with China, but the rugged terrain and other geographical features make it difficult for people here to develop economy.
However, the province, blessed with stunning natural landscapes and multi-ethnic cultures, is a perfect location for developing tourism.
Cao Bằng has many tangible and intangible cultural heritage sites, with more than 200 heritage sites and four national intangible cultural heritages.
As a result, the province has decided to make tourism the leading industry of its economy.
Besides the popular tourism destination of Trùng Khánh, Cao Bằng sees enormous potential in boosting community tourism in the remote districts of Bảo Lạc and Nguyên Bình.
Nguyễn Mạnh Hùng, chairman of Bảo Lạc District People's Committee, said: "In the resolution of the District Party Congress for the period 2020-2025, we included tourism industry into the district's economy as a key task, together with high-tech farming."
Bảo Lộc is a suitable location for developing community-based tourism, where ethnic minorities — the Tày, Nùng, Mông, Dao, Sán Chỉ, and Lô Lô — account for over 98 per cent of the district's population.
Each ethnic group has a distinct culture, often attractive to tourists.
"The ethnic minority people keep to their traditional customs. They wear traditional costumes when going to the market, hold ritual festivals, and play traditional musical instruments. These are all characteristics that appeal to foreign tourists," Hùng said.
Visitors can take the Kha Rào homestay service to see the area's culture, unspoilt natural beauty, and traditional foods. Alternatively, they can visit Khuổi Khon Village to learn about the lifestyle of the Lô Lô.
A traditional feast prepared by the Lô Lô people. VNS Photo Ly Ly Cao
Tourists are often awed by the specialty cuisines here.
"We also have a lot of precious medicinal herbs and agriculture produce, such as glutinous rice, and traditional food like black rice cake, sour pork, and smoked Chinese sausage," Hùng said.
In addition to amazing terraced rice fields, the mountainous region has numerous exquisite landscapes. Khâu Cốc Chà Pass, also known as "15-Storey Pass", is regarded among backpackers as being the most prominent location in Bảo Lạc.
Other iconic scenic spots, such as Lốm Lake, the valley of the ancient pear trees, and Xuân Trường field, will also be invested in to bring more visitors.
"In Xuân Trường Commune, the climate is cool, with the average temperature being 5-6 degrees lower than in the town, so we are building a project to develop this area into a major community-based tourist destination in Bảo Lạc District, geared toward discovery and relaxation," Hùng said.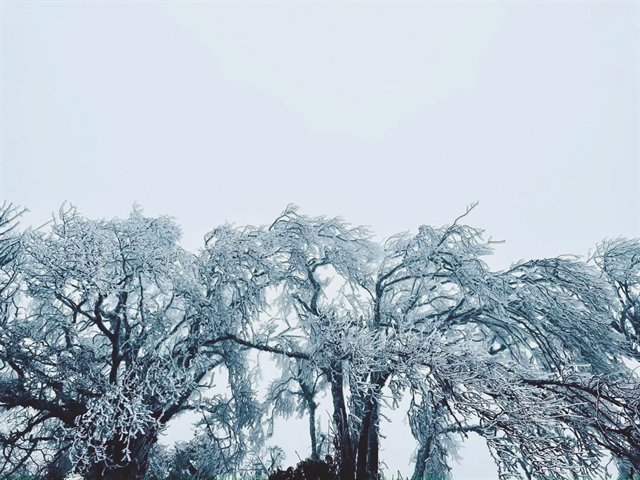 In winter, visitors can see a charming view of frost-covered trees in Hồng An Commune, Bảo Lạc District. Photo courtesy of VCTC
Due to the district's inconvenient pathways and lack of experience with high-end tourism, it has numerous obstacles in transportation, infrastructure, marketing, and professional services.
"From now until 2023, we have a budget of US$1.6 million to construct roads and renovate some tourist landmarks. We have also received support from the Việt Nam Community-based Tourism Association to train and instruct locals to develop tourism well," Hùng said.
In neighbouring Nguyên Bình District, tourists have another chance to witness the astonishing beauty of Cao Bằng.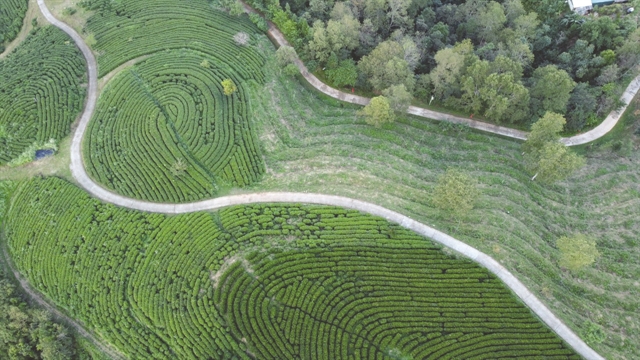 Aerial view of the tea hills in Kolia Organic Farm. Photo courtesy of VCTC
Nguyên Bình welcomes visitors with tea hills and flower gardens at Kolia Organic Farm, Bản Phường bamboo forest, Mt Phia Oắc, and Phan Thanh grassland, while in the Hoài Khao community-based tourist site, visitors can feel a peacefulness that helps them leave behind the bustle and hustle of city life.
"Here, visitors can experience the Dao Tiền campfire with unique medicinal plants, learn about the local culture and cuisine, and spend the night in traditional stilt houses," said Nông Quốc Hùng, secretary of the Nguyên Bình District Party Committee.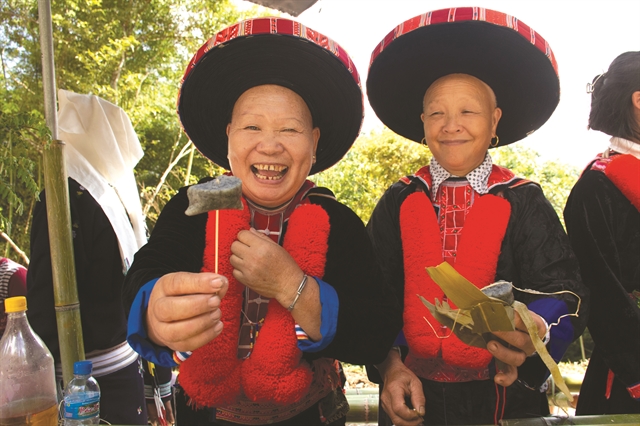 Dao Đỏ ethnic women in their traditional clothes at a local market. VNS Photo Ly Ly Cao
In the district, the Dao (Dao Tiền and Dao Đỏ), Mông, Tày and Nùng are the main ethnic minority groups, which all continue to maintain their culture, costumes and traditional working lives.
For example, the Dao Tiền people keep giant beehives in the forest and wait until the bees leave the hives every year. Locals then set up a ritual to harvest the beeswax and process it for decorating patterns on their traditional clothing.
"This is the distinctive culture of the Dao Tiền," Nông Quốc Hùng said.
With a great effort from local authorities, people and tourism associations, Bảo Lạc and Nguyên Bình are expected to thrive in the next few years, with a new emphasis on sustainable community-based tourism. VNS