Thu Hiền
With Christmas atmosphere all around, visitors can get a glimpse of the seasonal celebration at a fresh pine garden in Mộc Châu in the northern province of Sơn La.
The garden, which opened to the public in mid-November, has been attracting many locals and tourists.
The garden measures some 1ha in Bó Bun, 5km from the centre of Mộc Châu District.
There are about 2,000 nobilis and Siberian pine trees imported from Russia and Denmark, many of which have been decorated with Christmas items together with LED lights to create a warm space in Mộc Châu's chilly weather.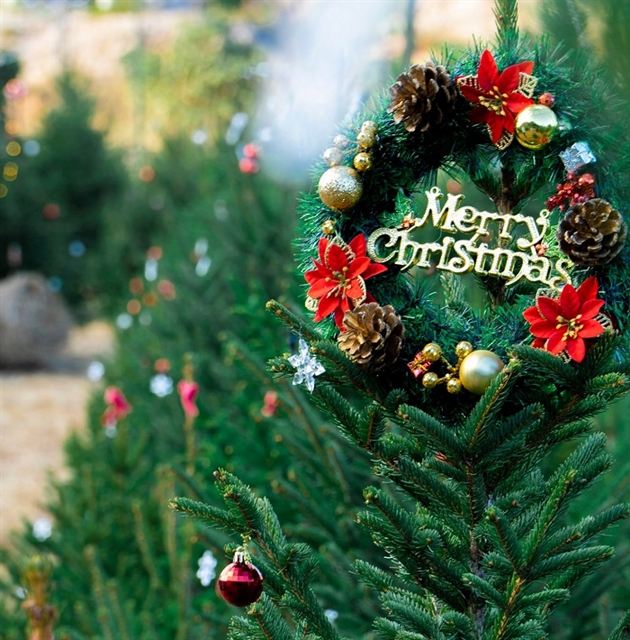 The garden is now decorated in a Christmas theme. — Photo coutesy of Mộc Châu Christmas Pine Garden
According to Bùi Hải Dương, an owner of the garden, the pine trees have been planted here for two years after moving them from Hà Nội, where the weather is not suitable for pine trees.
"I want to create a garden with Christmas pine trees and decorations like those in movies," he told Việt Nam News. "Visitors will feel as if they were in a European country due to the new year themed decorations and the cold climate here.
Straws are used to cover the soil in the garden. — Photo coutesy of Mộc Châu Christmas Pine Garden
"The pine trees here are small and lush green," said Hà Văn Huy, a visitor from Hà Nội. "We can touch the trees, which are not as big as the ones in pine forests in Đà Lạt."
The garden has been properly divided into different areas for pine trees with different heights. Each tree is well-trimmed and decorated with colourful bells and striking coloured ribbons with the lush green background.
Many visitors, including young couples, have flocked here to take Christmas-themed photos.
"The garden owners have delicately created a warm space with paths scattered with dry straws and some beautiful white tents and wooden chairs here and there," noted Phan Bình Minh from Hà Nội.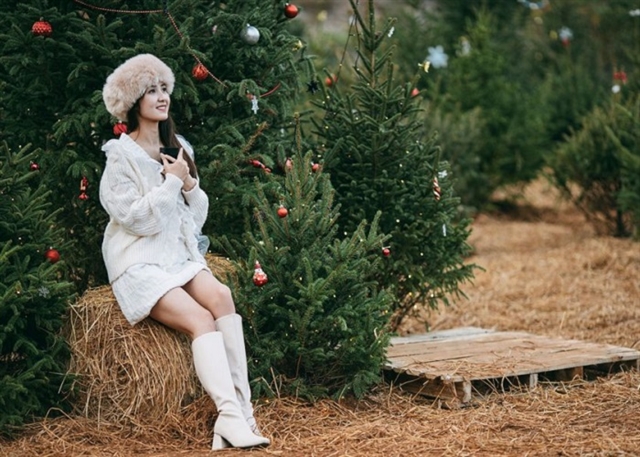 Every corner can serve as a good background for photos. — Photo coutesy of Mộc Châu Christmas Pine Garden
"We have taken many photos in this space full of pine scent. I feel so peaceful to enjoy a chill winter at the garden," she said.
Minh further said that what lured her here is that the pine trees are 100 per cent fresh and they are not too tall.
"That's why I can take photos to post on social network in really dreamy scenery," she said.
Many other guests shared the same opinion that the garden is enjoyable given the typical cold weather of Mộc Châu at the end of the year.
"Only when there is a combination between natural scenery and weather, people can completely feel the festive atmosphere," Huy noted.
The garden is open day and night.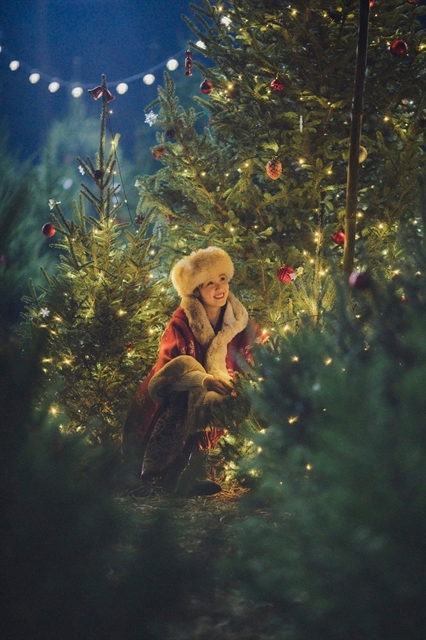 The garden is more sparkling at night. — Photo coutesy of Mộc Châu Christmas Pine Garden
Many visitors come here to take photos at night, when decoration lights are lit up.
"It's a very big space so we don't have to worry about avoiding other people while taking photos like gardens in the city," Minh said. "And every corner is beautiful and real."
Visitors can buy pine trees to decorate homes. The heights range from 60cm to 4m and the prices also range from hundreds of thousands of đồng to several million đồng. — VNS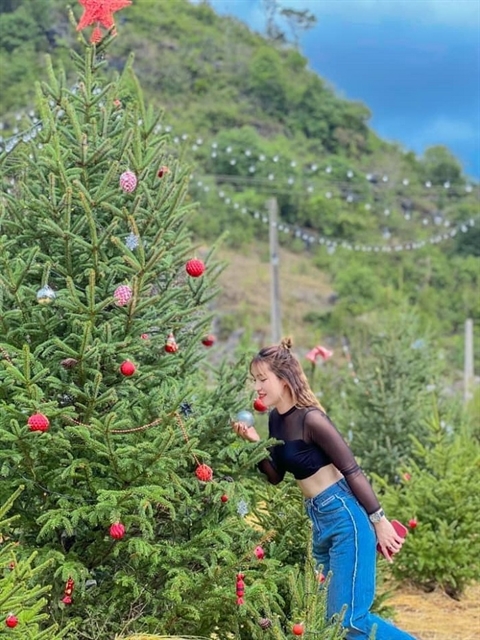 Visitors can buy pine trees to bring home. — Photo coutesy of Mộc Châu Christmas Pine Garden