The central province of Bình Thuận will host Visit Vietnam Year 2023 with the theme "Bình Thuận – Go Green Come Together". Lê Hương talks with Nguyễn Minh, vice chairman of Bình Thuận People's Committee, about the various plans for the year.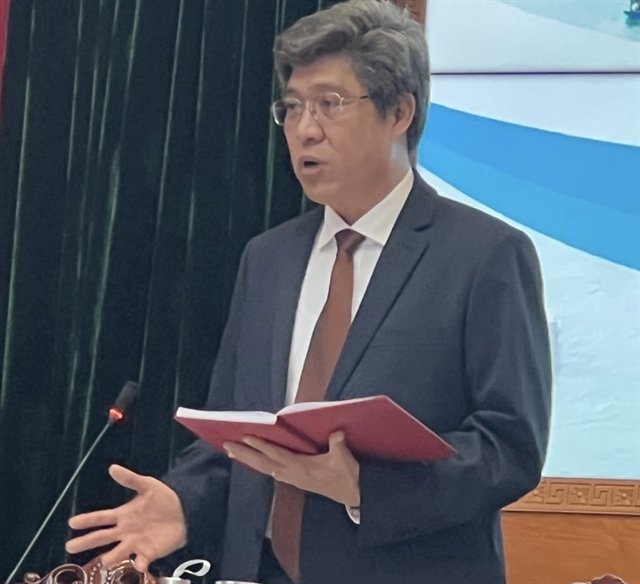 Nguyễn Minh, vice chairman of Bình Thuận People's Committee. VNS Photo Thùy Trang
Inner Sanctum: Could you tell us about the events the province will host this year?
The highlights of the programme will be a countdown ceremony for "Visit Vietnam Year 2023 – Bình Thuận – Go Green Come Together" on the night of December 31 in Phan Thiết City, the opening ceremony of Tourism Year 2023 in March, the awards ceremony of the contest "Việt Nam Desire: Making Phan Thiết a World Leading Destination of MICE and Wellness Tourism in 2045" in September, the closing ceremony of National Tourism Year 2023, and welcome the New Year 2024 on December 30, 2023.
There will be 208 events and activities during the year, 13 of which are of national scale hosted by the Ministry of Culture, Sports and Tourism and concerned central agencies. Bình Thuận Province hosts 31 events at inter-provincial and national levels. More than 160 events will be hosted by 41 other provinces and cities nationwide.
Inner Sanctum: What potential is there for developing the province's tourism further?
As you may know, after Bình Thuận was re-established in 1992, tourism was at first not included in the economic structure of the province. But over the past 30 years, local tourism had an average increase of 22.4 per cent per year, and now it contributes 9 per cent to the province's GRDP.
Tourism has, step by step, become a critical economic field. The province's appearance has changed incredibly with many new tourism projects and resort complexes with proper allocation, which gather various high-quality facilities and utilities. The province has become a favourite destination for both domestic and foreign tourists. The Visit Vietnam Year 2023 will help further promote tourism in the province on national and international scale. The events will gather international guests and enhance tourism cooperation between Bình Thuận and other localities in Việt Nam and abroad
The province now has nearly 600 hotels and resorts with 17,000 rooms, of them 45 resorts and hotels of 3-5 star level with almost 5,000 rooms served by 13 travel agencies, including eight international ones.
In 2019, Bình Thuận's tourism sector received over 6.4 million visitors, making a revenue of VNĐ15.2 trillion, and accounting for 10-12 per cent of the provincial GRDP.
The province expects to receive over 5 million tourists, with a revenue of VNĐ12.8 trillion, in 2022, after the COVID pandemic was under control and travel restrictions were lifted.
With the advantage of a 192km-long coastline, Phú Quý Island, Mũi Né, and a diverse array of natural resources and friendly people, Bình Thuận has all the conditions necessary to develop various kinds of tourism products such as relaxing, picnics, extreme sports in the sea and caves, spiritual tourism to historical and religious sites and traditional festivals.
We have various high-quality products like Phan Thiết fish sauce, dragon fruit and seafood.
The province also has many other tourist attractions like the largest skeleton of a whale in Southeast Asia, the most beautifully designed water tower, the most ancient sea lighthouse, the longest reclining Buddha statue; the beach with the most colourful pebbles, the largest dragon fruit area, the highest amount of oyster harvest in the country, and more.
We have cooperated with neighbouring provinces to introduce inter-regional tours like with Ninh Thuận and Bà Rịa Vũng Tàu. The cooperation will be broadened more in the new year.
Inner Sanctum: Have tourism activities resumed in Bình Thuận as before the pandemic?
Bình Thuận was among the most proactive provinces to receive international guests. We asked for permission to welcome foreign tourists even when the pandemic still persisted in some areas in the country.
I examined the local conditions to receive visitors. On March 15, we received the first foreign tourists. So far, all tourism enterprises in the province have resumed business. We aim to welcome 5-6 million guests this year.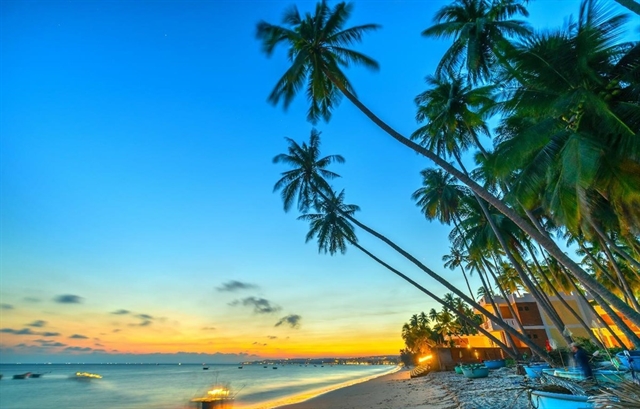 Phan Thiết City, with various mesmerising beaches, has always been among the top favourite destinations for international tourists. VNA/VNS Photo
Inner Sanctum: Do you aim at any single tourism market?
No, we do not aim to depend on any tourism market so as not to suffer if that market has problems. We have received guests from Russia, mainland China, Hong Kong, Thailand, and Finland. The number of guests from each call is not much different.
As Mr Hà Văn Siêu, deputy general director of the Vietnam Administration of Tourism (VNAT), said, "Việt Nam tourism does not rely on any single market. Recently, the VNAT has surveyed Indian and Middle East tourism markets. Airlines will open more direct flights to India." He also said Indian tourists with Hindu culture are suitable for Chăm culture in Bình Thuận and Ninh Thuận provinces.
Inner Sanctum: Please explain the theme "Bình Thuận - Go Green Come Together".
Green here focuses on sustainable and responsible tourism, which mobilises businesses and concerned agencies not only inside the tourism sector but also from other sectors.
We will promote MICE and wellness tourism. We are drafting a MICE and wellness tourism allocation plan with a vision for 2045. I hope the MICE and wellness tourism business will thrive in the province in the next 10 years.
As I mentioned, we will promote cooperation with agencies and other localities to introduce more inter-provincial tours. The cooperation will increase in transportation, accommodation and food services.
In short, cooperation is essential to Visit Vietnam Year 2023. VNS