By Lê Hương
On a bright day in a rose field in Văn Khê Commune in Mê Linh District, some 30km from Hà Nội's centre, farmers are engaged in various tasks.
Carefully wrapping each rose bud with paper, farmer Nguyễn Thị Linh prepares the roses she will sell the next day to a wholesale dealer.
She also gives special care to a plot of red roses that should come into full bloom this weekend at the first ever flower festival in the district.
Nicknamed as the capital of roses in Hà Nội, the district will host the first mass scale event titled "Mê Linh Shines with Colourful Flowers" on December 9-11 when the locality will organize a solemn ceremony to receive recognition as a New Standard Rural Area, the 3rd class Labour Medal and recognition as a Special National Relic Site at Hai Bà Trưng Temple.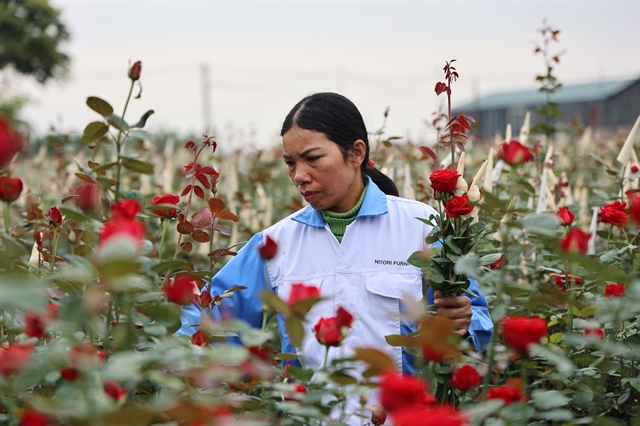 Farmer Nguyễn Thị Linh works on her rose field. VNS Photo Lê Hương
"We have received many groups of guests coming to see our preparation for the festival," Linh told Việt Nam News. "We are very proud to make small contributions to the festival. My family has 0.3ha of roses and we sell all year round to domestic markets."
For the festival, Linh said her family will contribute hundreds of roses to decorate the site.
Sharing the same pride, Phạm Đức Tài, owner of a garden, said he was excited and happy to prepare for the event.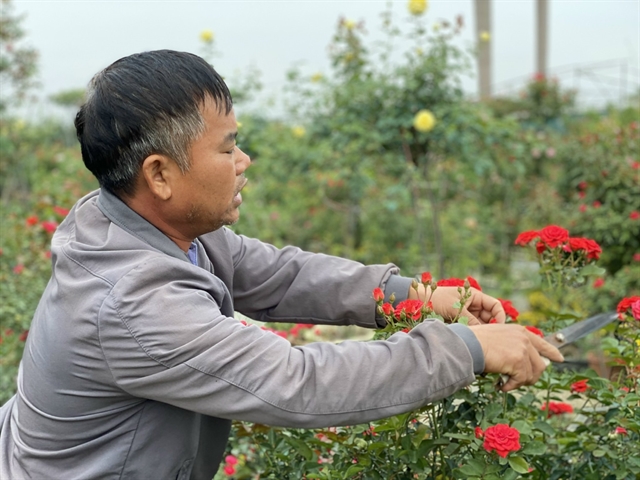 Phạm Đức Tài takes great care of his roses. VNS Photo Lê Hương
"We are 90 per cent ready for the event. We have prepared various kinds of flowers and tendered bonsai to display there. The craft of planting flowers and bonsai has developed here over 30 years," he said. "But we have no such an event like this."
Tài said he had to sacrifice the flowers and bonsai that should be for the upcoming Tet as he made them reach their best moment this weekend for the festival, which means that he will lose some profit from the Tết harvest.
Hoàng Anh Tuấn, chairman of Mê Linh District's People's Committee, said the authorities have long desired mass scale flower festivals.
"We have encouraged farmers and gardens to join in the festival," he said. "We hope to make a difference to other existing flower festivals in other localities. We will organise it in a big scale at Hai Bà Trưng Temple. The two Trưng sisters represent Vietnamese women's bravery and goodness. We want to praise the values of women and the beauty of Mê Linh flowers."
Tuấn said the event will highlight roses, an advantage of the locality.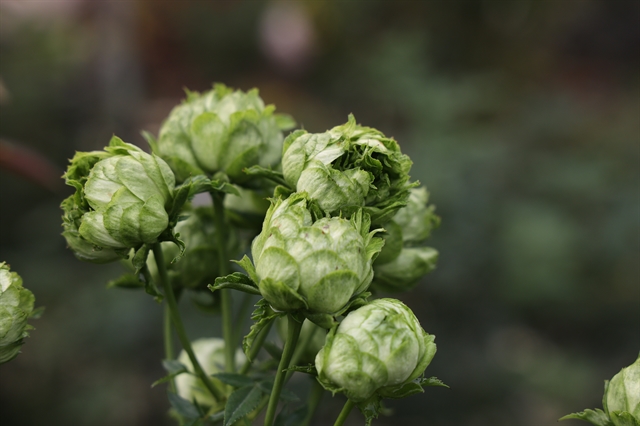 Imported Green Jane rose planted in Mê Linh. VNS Photo Hồng Vân
Local experienced artisans, who directly plant the flowers, will arrange them at the event.
Tuấn hoped the event will further connect the planting, processing and selling of the products.
"We also want to combine eco-tourism with flower planting and selling to increase the value of flowers raised in Mê Linh to improve locals' income and their living standards," he stressed.
Đặng Chu Đồng, another owner of a local garden, highly appreciated the festival.
"I intend to take several rose bonsai to join the festival," he said. "But because of the abnormally warm weather this year, the flower cannot bloom this weekend as I wanted."
Đồng suggested the event should be changed into a flower exhibition as the scale is not big enough to be a festival.
"My friends in the local rose planters' association and orchid planters' association are longing for the event and are hurrying to prepare for it," he said.
According to the plan, flowers of all kinds, mostly roses, will be arranged in 10 topics in a total area of 4,300sq.m at Hai Bà Trưng Temple. A 20m-long road with a huge heart-shaped frame will be covered with local roses together with waterfalls of flowers.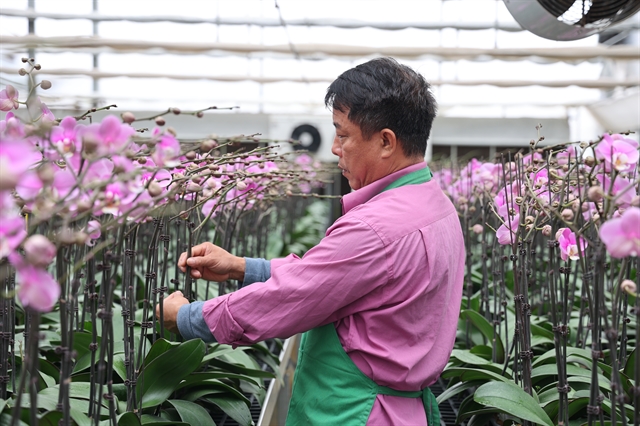 An orchid glass house of Melinh F Farm, which offers only phalaenopsis orchid. VNS Photo Lê Hương
An art show gathering famed entertainers will be organised on the night of December 9 and broadcast live on HTV channel.
Mê Linh is believed to be the homeland of the two Trưng sisters, who gathered soldiers to make a revolution against northern invaders. The two sisters were then proclaimed queen and made the area the capital of Lĩnh Nam (today's Việt Nam) in 40-43 AD.
The area hosts many historical relic sites, which can be combined with an ecological tour to local flower fields.
The district hosts 2,000ha of flowers, mostly roses. As many as 350 million flowers each year from Mê Linh are sold throughout the country. VNS