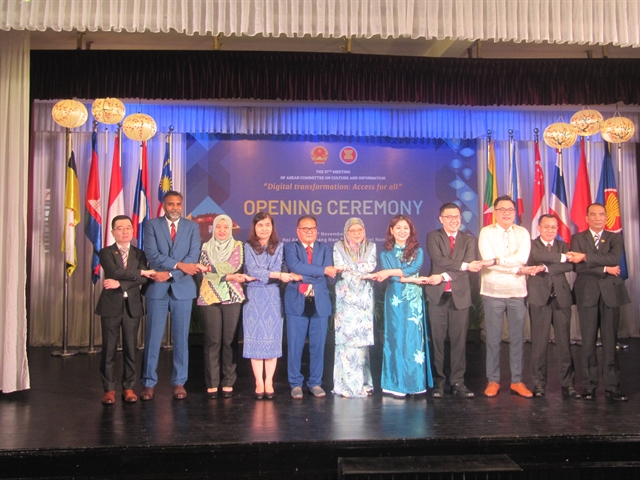 Members of ASEAN countries pose for a photo at the 57th ASEAN Culture and Information Committee in Hội An. Digital transformation in culture and information was a main focus at the meeting. VNS Photos Công Thành
HỘI AN — The development of information technology and digital communications has drawn ASEAN members closer than ever, further emphasising the importance of adapting to keep up with global growth.
Vice minister of Culture, Sports and Tourism of Việt Nam, Hoàng Đạo Cương, made the statement while addressing the opening ceremony of the 57th ASEAN Culture and Information Committee (ASEAN-COCI) meeting in Hội An on November 24.
Vice minister of Culture, Sports and Tourism of Việt Nam, Hoàng Đạo Cương said IT and digital communications had proved their vital role in dealing with challenges in recent years.
"This year will mark the 55th anniversary of ASEAN's establishment, and the cooperation on culture and information among ASEAN member countries has helped improve the awareness and knowledge of people on a unique ASEAN, promoting ASEAN's image worldwide and preserving traditional regional heritage and cultural values," Cương said.
"It's why the meeting selected the theme: Digital Transformation: Access for All in boosting a hope of wider digital applications among ASEAN countries and easing difficulties and barriers for a better life," he said.
The vice minister also stressed that the progressive cooperation in digital transformation in culture and information would contribute to the successful development of the ASEAN Socio-Cultural Community in implementing the ASEAN Community Vision 2025.
Director of the international cooperation agency under the ministry of culture, sports and tourism, Nguyễn Phương Hòa said: "Việt Nam has offered a series of initiatives in cultural activities including ASEAN musical festival, ASEAN International Broadcasting Conference, Workshop on Digital Transformation for Media Communications in ASEAN, Forum on Tackling Disinformation in ASEAN."
"We also proposed green cultural business forum, brass musical instrument performance, post-COVID-19 recovery, traditional food package and non-plastic consumption."
"As the host of the meeting, Việt Nam and ASEAN member countries shared experience and cooperative initiatives in digital transformation and ICT development for equality to all people, supporting the business community as well as sustainable development," Hòa said.
"Digital transformation will be a positive solution in dealing with global disaster and climate change while supporting ASEAN Cultural community development and inclusive growth."
The meeting also included joint action in the publication of cultural products, heritage preservation, digital transformation in culture, information and media, and fake news prevention to be implemented in 2023.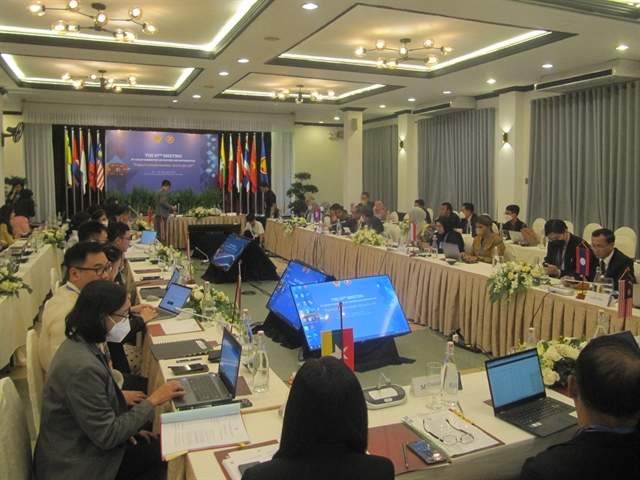 Participants from ASEAN countries share their experiences in digital transformation at the ASEAN Culture and Information Committee Meeting in central Quảng Nam Province's Hội An City.
Deputy director general of the ministry of information, Culture and Tourism of Laos, Khamphou Phiasackha, that 3.8 million people have yet to connect to digital media.
"The government is trying to provide internet and mobile phone service to remote areas soon," he said.
"Laos and Việt Nam have cooperated well in infrastructure development to help all people access the internet and digital media."
Ramon Lee Cualoping III, undersecretary and director general of the Philippine Information Agency, said COVID-19 badly impacted all social sectors in the Philippines, but shifting to digital transformation offered a solution for all, such as working from home, e-commerce and online activities.
Participants also agreed that digital transformation will be a mainstream action plan for all ASEAN member countries in building the ASEAN Community in 2025. VNS