HÀ NỘI – More than 200 events will be organised during National Tourism Year 2023, in which the central province of Bình Thuận will take centre stage.
Most of the events will take place in Bình Thuận while as many as 13 events are of national scale, officials said at a press conference held in Hà Nội on Wednesday.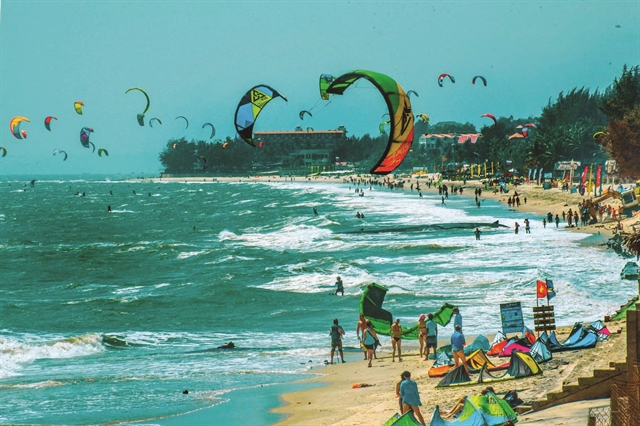 Bình Thuận has nearly 200km of coastline. Photo baobinhthuan.com.vn
According to Nguyễn Lan Ngọc, deputy director of Bình Thuận Culture, Sports and Tourism Department, the highlights of the programme will be a countdown ceremony for "Tourism Year 2023 – Bình Thuận – Go Green Come Together" in the night of December 31 in Phan Thiết City, the opening ceremony of Tourism Year 2023 in March 2023, the awards ceremony of the contest "Việt Nam Desire: Making Phan Thiết a World Leading Destination of MICE and Wellness Tourism in 2045" in September 2023, the closing ceremony of National Tourism Year 2023, and welcome the New Year 2024 on December 30, 2023.
"Besides diverse tourism activities based on natural landscapes, historical sites and traditional festivals, Bình Thuận has completed and will complete roads to connect key destinations in the province," she said.
There are nearly 600 hotels and resorts with 17,000 rooms, including 45 resorts and hotels of 3-5 star level with nearly 5,000 rooms in the province served by 13 travel agencies including eight international ones.
In 2019, Bình Thuận received over 6.4 million guests with total income from tourism reaching VNĐ15.2 trillion. The tourism sector contributed 10-12 per cent to local GRDP.
After the pandemic, in 2022, the province expects to receive over 5 million guests with income of VNĐ12.8 trillion.
Đoàn Văn Việt, deputy minister of Culture, Sport and Tourism, said after the pandemic, Vietnamese tourism has shown encouraging signs of recovery. In the first 10 months of this year, the country received 2.1 million international guests, 92 million domestic travellers and total income from tourism reached over VNĐ425 trillion.
The internet searches for Việt Nam tourism in October were 20 per cent higher than in September and 11 times higher than in March.
Việt said the Vietnamese tourism sector has bolstered advertising in the Indian and Middle Eastern markets.
"Indian guests also have an affinity for the ethnic Chăm culture in Bình Thuận Province," he noted. "Travel agencies like Viettravel are approaching the Indian market while Vietjet Air and Vietnam Airlines will open more direct routes to India from HCM City and Đà Nẵng."
Nguyễn Minh, vice chairman of the Bình Thuận People's Committee, said that with the advantage of a 192km-long coastline, Phú Quý Island, Mũi Né, and a diverse array of natural resources and people, Bình Thuận has all the conditions necessary to develop various kinds of tourism products such as relaxing, picnics, risky sports in the sea and caves, spiritual tourism to historical and religious sites and traditional festivals. VNS