Experts stand on the newly discovered Đan Trì courtyard. VNA/VNS Photo Minh Thu
HÀ NỘI — Evidence of the early Lê Dynasty's Ngự Đạo (the King's path) was recently discovered by archaeologists at Thăng Long Imperial Citadel.
According to experts, this is the most significant find from this year's excavations at the main area of the Kính Thiên Palace in the Imperial Citadel.
Thousands of other artifacts, including bricks, tiles, glazed pottery, earthenware, and even a little fragment of a model of a terracotta tower from the Trần Dynasty, and a few pieces from the pre-Thăng Long period, were uncovered during this dig.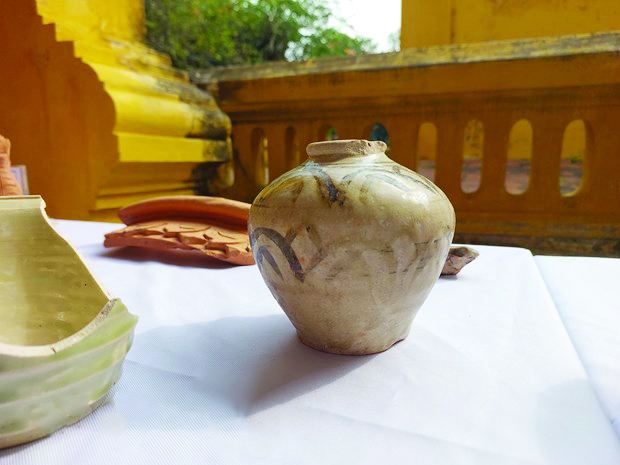 Ceramic vases and many other antiquities were discovered during the excavation at the imperial citadel of Thăng Long. VNA/VNS Photo Minh Thu
Trần Đức Cường, Chairman of the Association of Historical Sciences, expressed his delight at the results of the excavation, but added that there are still many mysteries to be solved about the detailed and overall structure of Đan Trì yard in the centre of the forbidden palace.
Cường also proposed demolishing the Department of Operations' building to broaden the scope of the excavation and gain a more comprehensive view of the Kính Thiên Palace area.
This structure separates the open square in front of Kính Thiên Palace. It is under the management of the General Staff of the Vietnamese Army during the resistance war against America and is located on the grounds of the Imperial Citadel of Thăng Long.
"It is on the list of the project to dismantle 58 houses with no historical value in Hà Nội," Cường said.
"A survey in 2007 also showed that this is not a historical site and has no use value according to the classification assessment of the City Science Council. This building, after being handed over by the Ministry of National Defence to Hà Nội City, was left empty and unused until 2010, when it was renovated to receive tourists," he added.
National Council on Cultural Heritage member Đặng Văn Bài supports the plan to remove the structure since it will not diminish the significance of the site.
"Because it is impossible to maintain the status quo of all the works on the relic site, we must prioritise what to preserve and restore. Therefore, we can consider demolishing the structure to preserve the space of the Kính Thiên Palace," Bài said.
Phạm Vinh Quang, Director of the Department of Culture, External Affairs, and UNESCO at the Ministry of Foreign Affairs, previously agreed that restoring the space of Kính Thiên Palace should be a top priority.
However, with the demolition of works in the heritage area, scientists and State management agencies also need to carefully consider and then develop a convincing proposal to submit to UNESCO for approval, Vinh said. VNS