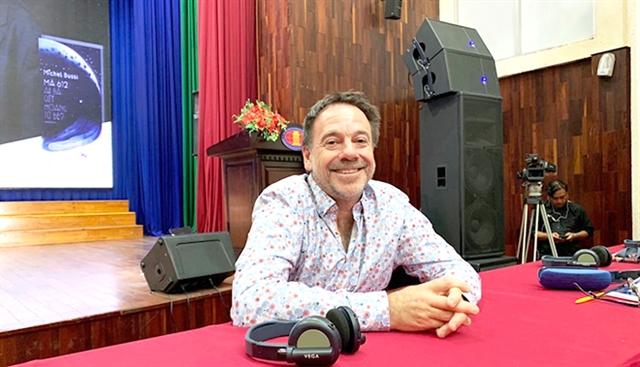 Michel Bussi at a gathering with readers in Việt Nam. Photo courtesy of Sports and Culture Newspaper
Michel Bussi is a major figure in contemporary French literature due to the originality, unpredictability and extraordinary brilliance of his work. Many of his novels, including Don't Let Go, Black Water Lilies, and The Other Mother, have been published in Việt Nam. He discusses his career and plans with Nguyễn Huy.
Inner Sanctum: Can you describe your first impression of Việt Nam?
I came to Việt Nam to celebrate the 75th anniversary of the creation of Ane de Saint-Exupéry's 'The Little Prince' and to promote my most recent work, 'Code 612: Who Killed the Little Prince?'
'The Little Prince' is a classic with the second-highest circulation behind the Catholic Bible, therefore it is not strange that many Vietnamese like this book. What surprises me is the large number of Vietnamese literary scholars familiar with Antoine de Saint-Exupéry.
They told me that his sister had worked in Sài Gòn and that he had visited and remained in the "Pearl of the Far East" for about a month.
They also believe that the author survived an accident in the desert on the way to Sài Gòn, which was the inspiration for The Little Prince.
Another thing that has surprised me is that all of my readers who visit me are young people, many of whom have read all five of my novels published in Việt Nam. In France, most of my readers are middle-aged.
Inner Sanctum: How long did it take to complete 'Code 612: Who Killed the Little Prince?'
I used to be a geography teacher before I started writing. Because I enjoy exploring and adventure literature, I spend a lot of time reading and travelling.
At some point, I felt that I had to write my own work, and I desired to continue the stories in books that I had read.
So, my writing takes the form of a re-investigative detective novel.
It took me only six months to complete this book, but 30 years focused on researching and collecting all the documents related to Saint-Exupéry's life and creative journey.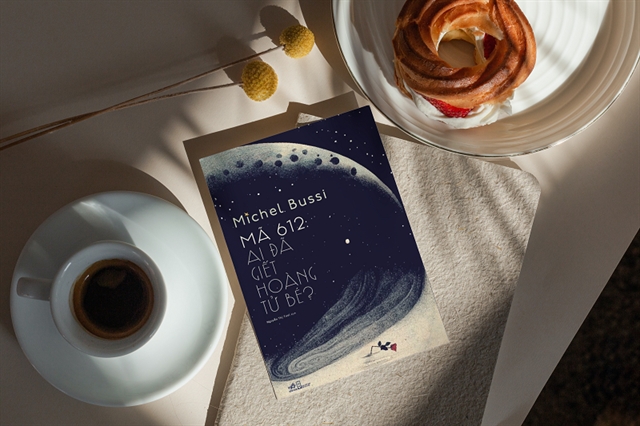 The Vietnamese edition of 'Code 612 Who Killed The Little Prince?'. Photo courtesy of Nhã Nam Publishing House
There are several striking parallels between Saint-Exupéry's life and the fate of The Little Prince.
He made history as one of the earliest French fighter pilots. He was a writer and a soldier. They never found his body when he vanished on his final mission during the First World War, which parallels the story of The Little Prince, who was bitten by a snake and never seen again.
I wondered whether the author could prophesy his future through the work, or had some other arrangement. From early on, I started to plan and make many assumptions to solve the unknowns that have haunted me for a very long time.
Inner Sanctum: Were you affected by Antoine de Saint-Exupéry's creative approach, and what is most essential to you in writing?
I'll be honest and say that Antoine de Saint-Exupéry has had a major impact on my writing style.
For me, the most vital part of writing is constructing a well-rounded narrative with surprising turns and humorous elements that will appeal to a wide variety of readers.
In my writings, I explore poetry as well as crime, and my detective novels don't always involve gory murder scenes.
I also create stories and comics for children. For me, the most important qualities in these types of works are their purity, simplicity, vividness and meanings.
Inner Sanctum: Your works have been adapted for cinema and television. Do you have a hand in the adaptation process, and how do you feel seeing your work on the big screen?
Initially, I was not involved in the position of screenwriter. Later, when more of my writing was chosen for adaptation, I was offered this responsibility.
I sense a different life of my brainchild whenever I see my story in words conveyed in visual language, with the involvement of the director's hand and the actor's performing. It is quite energetic and emotional, I must say.
Inner Sanctum: Do you intend to make a work about Việt Nam following this trip?
It seems to be fate that my trip to Việt Nam was greeted with such positive emotions. Since Việt Nam is so dear to my heart, you may expect to see Vietnamese culture and people in my next narrative. But now I cannot say anything for certain. VNS