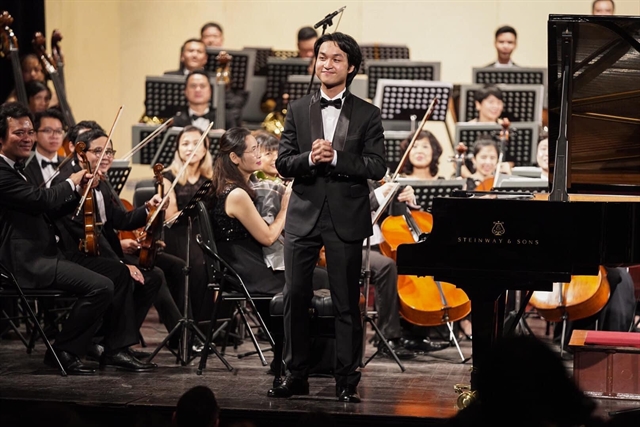 Talented pianist Nguyễn Đăng Quang will perform at the concert. — Photo courtesy of the artist
HÀ NỘI — Fresh from earning a master's degree in Canada, young pianist Nguyễn Đăng Quang will return home to perform alongside conductor Honna Tetsuji and the Việt Nam Symphony Orchestra in "Pre-booked Concert No 147".
Hoà nhạc đặt vé trước số 147 (Pre-booked Concert No 147) is part of a series of sold-out that have ran since 2005.
This is a frequent occurrence for the Việt Nam Symphony Orchestra, whose purpose is to deliver artistic performances to the public, promoting the life of classical music.
Concert performances include Prélude à l'après-midi d'un Faune, Piano Concerto No 2 in Op 22 by Saint-Saëns, and Symphony No 6 in C minor by Tchaikovsky.
Pianist Quang, son of composer Quốc Trung and singer Thanh Lam, is a fresh and promising presence at the event.
Quang, 24, was born into a family with a rich history of artistic achievement. He had a promising beginning as a pianist.
For many years, he studied under renowned pianists including People's Artist Đặng Thái Sơn and People's Teacher Trần Thu Hà.
Quang earned several local and international honours at an early age, thanks to educational background and hard work.
Conductor Honna Tetsuji, music director and principal conductor of the Việt Nam Symphony Orchestra (VNSO), will also perform at the event.
Tetsuji has been with the VNSO as a music advisor since 2001, and as music director and conductor since 2009.
He has led orchestras all around the world, including the La Scala Orchestra, the London Philharmonic, the Hungarian Symphony, and the Arturo Toscanini Orchestra.
Tetsuji conducted the Nagoya Philharmonic Orchestra on the TOYOTA CLASSIC tour through eight countries in Asia in 2001.
Quang and Tetsuji performed together in 2016 when they played S. Rachmaninoff's Concerto No 2, and in 2021 with J. Brahms's Concerto No 1.
This year, they will meet on October 1 for Pre-booked Concert No 147 at the Hà Nội Opera House, performing Saint-Saëns's Piano Concerto No 2, Op 22. VNS