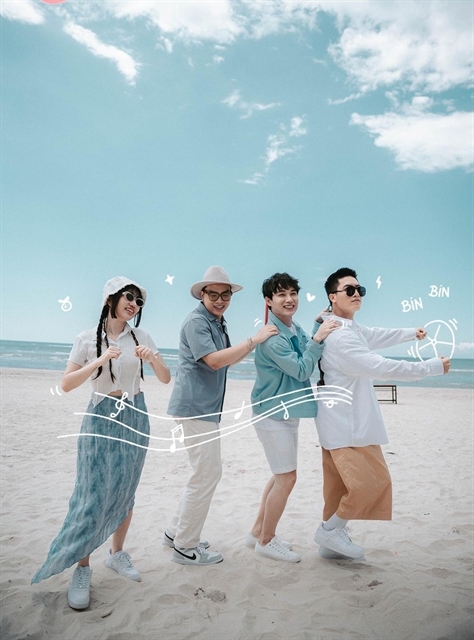 VIRAL SENSATION: Singers Orange, Hứa Kim Tuyền, Trúc Nhân and Anh Tú (left to right) are permanent performers in the new season of the street music show Xuân Hạ Thu Đông Rồi Lại Xuân. Photo courtesy of Forest Studio
HCM CITY — Xuân Hạ Thu Đông Rồi Lại Xuân (Spring, Summer, Autumn, Winter, and Spring), a street music show which went viral on social media in Việt Nam last year, is presenting its new season on YouTube.
According to the show's producer Forest Studio, having a theme of "On the Road", the show is a special music journey with stops at beautiful and famous landscapes of Việt Nam, such as HCM City, Huế and Hội An, and promises to bring more beautiful music to audiences.
The new season has new faces, singers Trúc Nhân and Orange, along with familiar faces from last season, singer Anh Tú and music producer Hứa Kim Tuyền, who are permanent singers on the show.
Anh Tú, the first runner-up of the TV reality music show The Voice Việt Nam 2017, said, "Tuyền and I are happy to return to Xuân Hạ Thu Đông Rồi Lại Xuân, and have two new members. All of us are very excited to bring beautiful songs to our beloved fans."
During the show, the singers have covered Vietnamese and foreign songs featuring different topics such as love songs, film soundtracks, and favourite Vietnamese songs.
Most of them have been popular with Vietnamese audiences for years, such as Nàng Thơ Xứ Huế (The Muse of Huế), Chúng Ta Làm Bạn Được Không? (Can We Be Friends?), Trà Sữa (Milk Tea), Em Gái Mưa (Rainy Girl), and Có Hẹn Với Thanh Xuân (Having A Date with Youth).
Trúc Nhân said, "in the show, audiences may see a different 'me'. I don't sing my songs, but cover works which have been familiar to Vietnamese audiences."
Nhân, who emerged from the first season of The Voice Việt Nam in 2012, has several hits such as Bốn Chữ Lắm (Only Four Words) and Thật Bất Ngờ (It's Very Surprising).
Four of them have collaborated with guest performers, such as pop stars Đức Phúc and Ly Ly.
Trần Minh Ngọc, a resident in Đồng Nai Province, said, "I love the show so much. It evokes beautiful feelings about my youth."
Xuân Hạ Thu Đông Rồi Lại Xuân was first broadcast on HCM City Television's channel HTV7 and YouTube last January.
Its videos have earned tens of millions of views on YouTube.
Its most liked video showcases a mashup of Ngày Chưa Giông Bão (The Calm Before the Storm) and Always Remember Us This Way sung by Hòa Minzy and Văn Mai Hương.
Four days after its release on March 5 in 2021, it ranked No 2 on YouTube trending in Việt Nam, with 2.2 million views.
The song is listed in the show's seventh extended play (EP) featuring film soundtracks, which was ranked No 1 on Apple Music Chart in Việt Nam on March 21.
The mashup has attracted nearly 85.6 million views since its premiere.
Xuân Hạ Thu Đông Rồi Lại Xuân airs every Friday on Forest Studio's YouTube channel. VNS