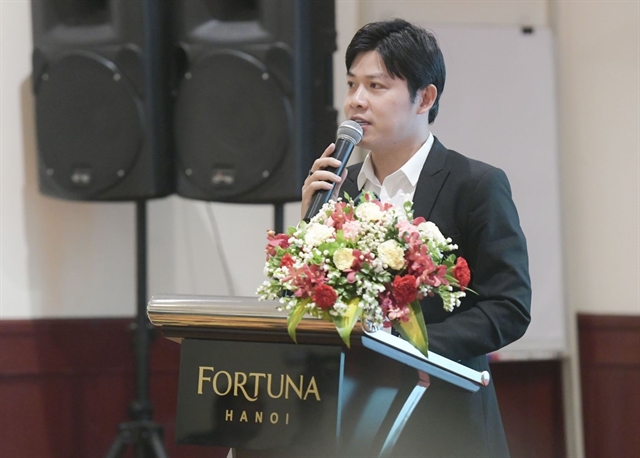 Composer Nguyễn Văn Chung speaks at the press conference in Hà Nội. Photo thethaovanhoa.vn
HÀ NỘI — Việt Nam Centre for Protecting Music Copyright (VCPMC) has been ensuring that local musicians are paid fairly for their work by helping them manage their royalty rights.
VCPMC has reported that royalties have gradually increased over the years and sharply over the past few years. In the organisation's first year of establishment, royalties were only VNĐ78million (roughly US$3,300). By 2012, that number was VNĐ48 billion; last year, it was VNĐ160 billion.
Forecasts for this year put the figure at over VNĐ230 billion.
Royalties mostly come from performing, service sectors, broadcasting, and television, a report said at a press conference held in Hà Nội.
"We collect the most royalty from revolution-themed music," said Đinh Trung Cẩn, VCPMC's director.
"This music genre is popular being used by broadcasting and television stations and cultural, social programmes. Following is pop music which are hits for a short time. The next is classical music."
The number of members has also increased over the years, as has the number of works added to the stock.
From the initial number of 240 composers, over 5,000 authors have registered for the membership.
Some said that VCPMC has helped them earn a living.
When composer Nguyễn Văn Chung joined the centre in 2006, he received over VNĐ9 million from copyright. Last year, he got more than VNĐ1.2 billion.
"VCMPC is my home," said Chung. "It gives me a legal profit and makes me believe that I make a living with music."
The centre also protected Chung in 2008. At that time, Thai and Chinese companies used his song Vầng Trăng Khóc (Crying Moon). A legal tussle ensued over who had the rights to the music.
He later asked VCPMC to send an official dispatch to the International Confederation of Societies of Authors and Composers (CISAC) for clarification.
Composer Hoài An reveals that signing a contract with VCPMC ensures his benefits.
"I have met some units that had used my music to ask them for royalties," An said. "However, many of them are not cooperative to the point that I got annoyed and gave up."
An said that the amount of royalties he earns now is a hundredfold higher than in the early days.
Artist Văn Thao also said that his family registered to transfer all works by composer Văn Cao, author of National Anthem, to the centre when it was established. Now the royalties earned are enough to support his mother, a thing that his father had long dreamt of when he was alive.
Spanning over the past 20 years, VCPMC has made a great effort to protect copyright and show its role to domestic and international members.
As the only representative and member of the CISAS, it has signed bilateral deals with 86 collective management organisations and publishers, which are applied in 160 countries and territories worldwide.
Vietnamese authors have been managed and protected through the agreements in these countries. VCPMC is also the only one to represent managing and protecting over 4 million international authors in Việt Nam.
A celebration ceremony will be held on October 7 in Hà Nội to mark the 20th anniversary of VCPMC establishment with the participation of700 Vietnamese and international delegates. VNS