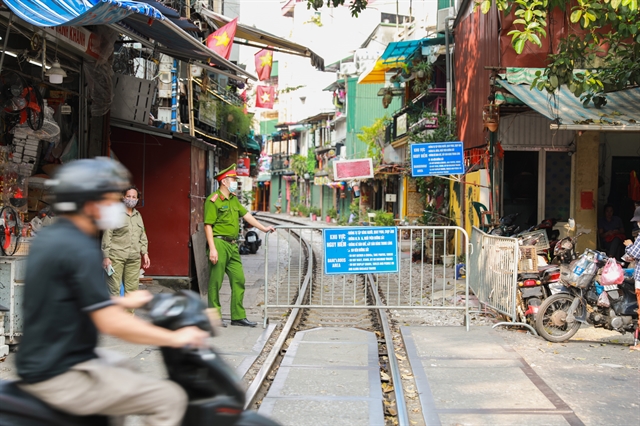 A policeman stands by a barrier blocking access to the train tracks. VNS Photo Seán Nolan
Seán Nolan
HÀ NỘI Last week, authorities in Hà Nội passed a decision that has been coming for a while, ordering the coffee shops and businesses that line the train tracks known as 'train street' to close for good.
The reasoning is sound; it is impossible to guarantee the safety of those sitting just a few feet away from a train rushing through a residential area, and a serious accident is just waiting to happen.
However, while this is the end of 'train street' as we know it, it doesn't have to be the end full stop.
With the right idea and appropriate permission, this decision could instead be a springboard to further capitalise on the tourism revenue that 'train street' provided.
While patrons are rightly no longer allowed to lounge on seats next to the track, a glass-fronted establishment in one of the buildings along the track would ensure that trade could continue in a safe way.
Patrons could sit and sip a cà phê sữa đá or nibble a cake while watching the train pass a few feet in front of them, from behind the safety of the glass-fronted establishment.
Taking the idea a step further, if two establishments were to open opposite each other, and with all the correct planning in place, what is to stop them connecting via a bridge over the tracks? People could then stand above the tracks while a train passes safely below and cross the line without endangering themselves or anyone else.
This unique area could be so much more than a series of coffee shops capitalising on the train tracks too. In the heart of the city, 'train street' could be fashioned into a cultural centre à la the Barbican Centre in London, dedicated to Việt Nam's urban past while showcasing the brilliant present.
Now, I'll be the first to admit that these ideas are big ones and would require a significant amount of investment, planning and redevelopment in the area.
However, the popularity of 'train street' cannot be denied and to give it up entirely, along with the associated tourism revenue, would be a real shame.
The decision to close the businesses on 'train street' was the right one. However, that shouldn't spell the end of 'train street' forever. On the contrary, perhaps, I hope could be the start of a new beginning. VNS