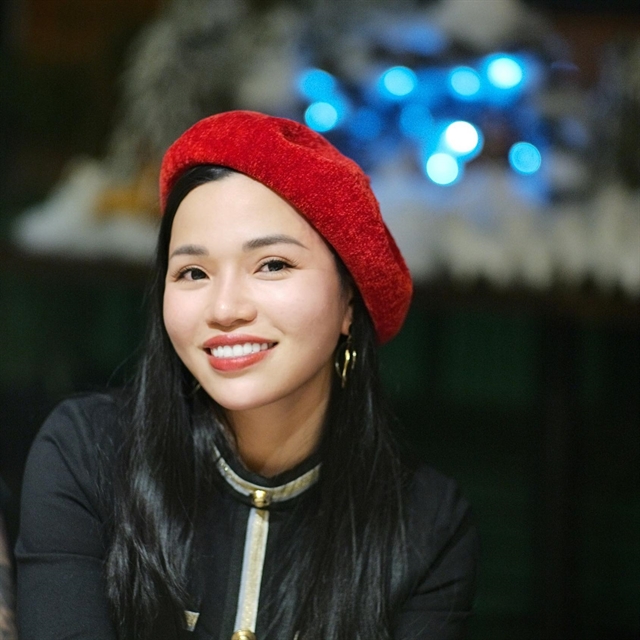 Opera artist Nguyễn Thị Hiền.
Soprano Nguyễn Thị Hiền released her first album Yêu Và Mơ (Love And Dream) last month which includes eight songs sang in four languages Vietnamese, Italian, Spanish and English. She graduated from Conservatorio di Milano and decided to return to Việt Nam despite a job offer at Teatro Olimpico in Roma.
Hiền spoke about her career development in her homeland.
Since you returned five years ago, you have released three music videos, performed one concert and produced the first album. It's been quite a busy time for you?
I love music through my mother's lullabies. My parents love music but they don't have chance to enjoy it because my grandfather prohibited it. Luckily, my parents know my passion for singing and they try their best helping me develop a singing career even though my family is not rich.
I don't have a good voice, my teacher told me that. But she said that a good voice must come from my soul. I believe in my teacher and I try my best. I think that if I keep singing with my heart and soul, then surely, the audience will feel sincerity and love.
You choose to be an independent artist not working in a theatre. What changes did you have to make?
I used to sing in an operatic style but after the music videos and the concert I felt that I needed to change my singing style. On the album, I relax more and find myself in singing. I sing to combine classical and semi-classical with jazz, dance and Latin.
I hope that my audience will appreciate my creative efforts.
I'm lucky to be able to study with enthusiastic teachers Ngọc Lan and Bích Thủy. I'm the first student generation of teacher Bích Thủy since she returned from Austria. I learn from her the resilience and relentless efforts to always believe in myself.
Could you tell about your studies in Italy?
Studying in Italy is the dream of all opera students and other students as well and I'm no exception. Italy is the cradle of opera. In the first year of studying, I set a goal to learn Italian well to find a scholarship in Italy.
After two years of learning Italian, I got a two-month Italian advanced training course at the University for Foreigners in Perugia. During this time, I also visited Milan to get to know how to enter art colleges.
After returning, I applied for scholarship at Milan Conservatory and I received an Italian government scholarship. I'm the only Vietnamese student there.
I remember that my mother gave me VNĐ7,000,000 (roughly US$300). I had to sleep at the airport for a few nights to wait for my room to be ready.
It was a real milestone in my studies and my career. I felt more purposeful, more useful and more in love with music.
Every night, I listened to music. Sometimes, I cried and sobbed to each opera and each character. The more I learn about opera, the more I love it. I have to experience more and more.
You were offered to work at Teatro Olimpico in Roma but you decided to return home. Do you regret your decision?
The theatre representative watched me performing before they invited me to join the theatre choir. I'm the second Asian artist to be invited by the theatre. It was an honour for me.
But perhaps, my dream does not stop there, something urges me to return to Việt Nam.
It is true that there's a time I regret returning. I find it difficult and I have to struggle because I had no job and no audience.
I used to think that I will have a live concert at Hà Nội Opera House. If I perform in a theatre, I will challenge myself and the audience as well. I want to bring classical music closer to the audience through outdoor shows as many artists in the world have done.
You said that you want to help talented students to have chance to learn abroad. How can you do this?
There are talented students but they do not know how to develop their studies. I have experiences and I want to help them find scholarships through education projects and master classes with foreign professors.
I came back to Italy to meet my teachers, working with them to help Vietnamese students. I have a desire to connect Vietnamese and Italian cultures through music products. — VNS