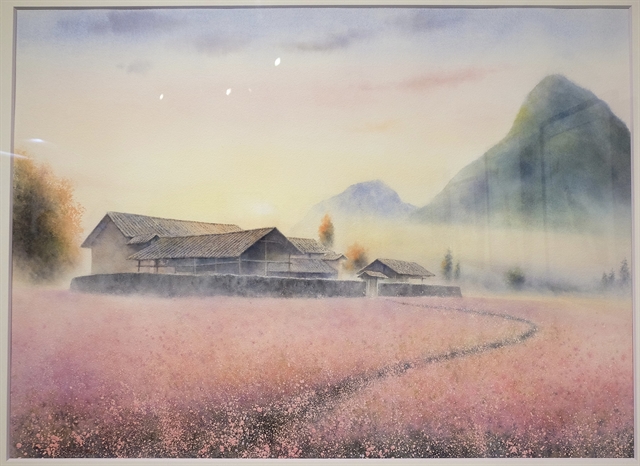 A painting capturing the majestic mountains in the northwest of the country by artist Lục Thum.
HÀ NỘI – An selection of Vietnamese watercolour painters from around the world have gone on display at 29 Hàng Bài Street, Hà Nội.
The exhibition, entitled Hội Ngộ Sắc Màu (Colours Gathering), is a place for watercolour artists active in the art scenes of Việt Nam, Poland and France to showcase their works.
Some of the 80 works on display show Vietnamese culture, love and nature.
Vietnamese watercolour painting has fallen behind other mediums such as lacquer, oil on canvas and acrylic in recent years, according to Lương Xuân Đoàn, chairman of Việt Nam Fine Arts Association.
"I highly appreciate the artists in the exhibition," said Lương Xuân Đoàn, chairman of Việt Nam Fine Arts Association at the exhibition opening ceremony.
"Vietnamese watercolour art has not been paid strong attention in recent years. I think it is a pity for fine arts lovers. The artists are talented enough to create artworks that leave an impression on exhibition viewers."
Works brought by the artists to the exhibition are the result of a long process of artistic labour in the past time.
Natural scenery inspires Nguyễn Ngọc Phương, Phan Thái Hoàng and Lục Thum.
Phương's works depict the beauty of Vietnamese islands and seas whilst Hoàng and Thum feature the mangrove forest in Mekong Deta Province of Cà Mau and majestic mountains in the northwest of the country.
Phương has taken part in international watercolour exhibitions in Italy, Switzerland, France and Australia.
Phạm Thị Thơm is one of the artists to have most flower paintings. She doesn't like arranging flowers in her house because she doesn't want to remove dead flowers. Therefore, she depicts the beauty of the flowers in the painting.
While working as a 3D game artist, she took up watercolour in 2018 as a means of pursuing her passion for painting in her free time.
Poland-based artist Minh Đàm's two paintings at the exhibition feature a girl standing on stones and playing with waves.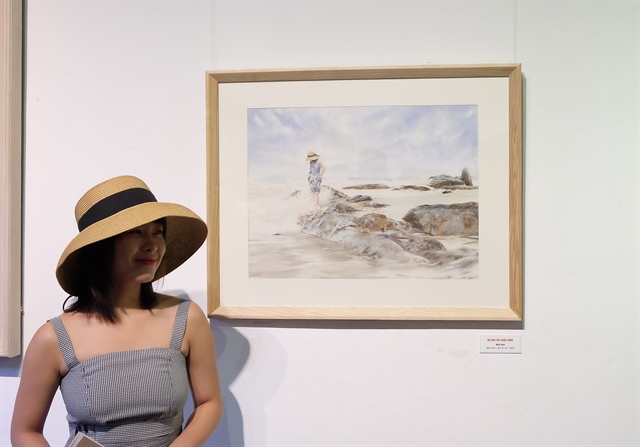 A visitor and a painting by Minh Đàm. VNS Photo Nguyễn Bình
Minh is currently one of the most influential young watercolour painters in Poland. He is also a co-founder of the Polish Watercolour Association.
Although most of his efforts concentrate on watercolour techniques, he keeps on bringing his artistic involvement to whole new areas.
One of the youngest artists is Nguyễn Thị Diệu Hà. She is a high-schooler and a self-taught painter. Her painting Thời Thơ Ấu (Childhood) reminds the viewers of the folk game chơi chuyền (bamboo jacks) which was the favourite game of almost small girls a long time ago.
Her art focuses on portraying beautiful visual representations of the surrounding world. Each of works of her captures the beauty of humans, scenery, animals and the wonderful moments that happen around her.
Hà attended Global Art Connection Watercolour Exhibition France & Poland 2022 in March. Other works by Nguyễn Thu Hương Bùi Việt Hùng, Chu Quốc Bình, Đỗ Hiền, Nguyễn Thùy Anh and Nguyễn Tuyền are impression colours at the exhibition.
France-based Hương is a co-representative of the International Watercolour Society in Việt Nam. She works to connect and promote Vietnamese artists and watercolour art.
Đoàn hopes that more artists will use watercolour mediums in their artistic creativity.
The exhibition runs until August 7. - VNS