Dutch hockey fanatic finds a home in Việt Nam
Editor Choice
Dutch woman and field hockey lover Anniek Voesenek has found a home in Việt Nam three years after arriving in the country.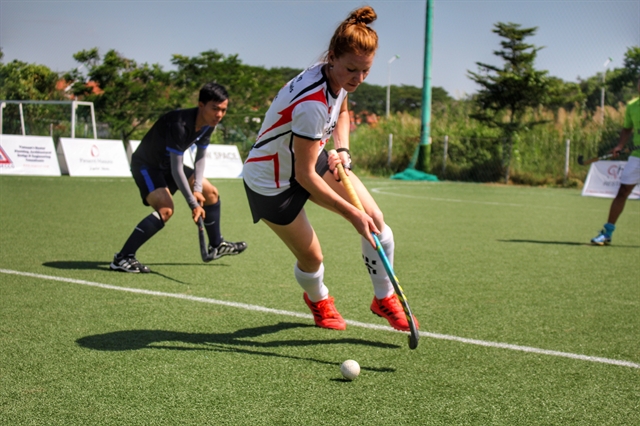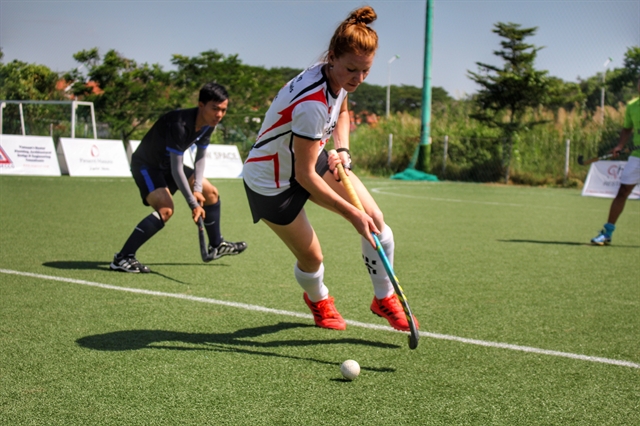 Thanh Nga
Dutch woman and field hockey lover Anniek Voesenek has found a home in Việt Nam three years after arriving in the country.
"Four years ago, I made the decision to quit my job in the Netherlands. Earlier, I worked for a hotel chain for five years from almost right after I graduated from my studies of international hotel and hospitality management. Loving to travel and also having internships abroad made me realise I wanted to live abroad for at least a few years," the 33-year-old told Việt Nam News.
"And so, I did. In February 2017, I packed a bag with a one-way ticket and travelled in the Philippines, Chinese Taipei and ended up in Việt Nam where I had once been many years ago. I wanted to see the country in a different perspective so bought a motorbike and drove from HCM City to Hà Nội with a backpack on the back.
"In Hà Nội, I quickly found an apartment. I also adopted a dog and got a job with a craft beer brewery and that's where my Việt Nam life began," said Voesenek.
"Now I love to stay in Việt Nam as I feel very much at home here," Voesenek added.
Voesenek said she has plenty of stories of how helpful people have been over the years, like when her bike breaks down someone is always willing to help.
"In general, I think that I come from more of a culture that everyone minds their own business, and here it feels that everyone is taking care of each other way more, people are more caring," said Voesenek.
After living in Hà Nội from June 2017 till May 2018, Voesenek moved to HCM City, but she still has fond memories of the capital.
"Although the winter felt pretty rough due to the conditions, I was definitely not prepared for the climate being that cold. I only came to Việt Nam with one backpack with summer clothes!
"As I am from the Netherlands where it's cold a lot of the time, I didn't expect to be actually cold and had to buy a lot of winter clothes for the Hà Nội cold! But the city is awesome. However, my heart is in HCM City now.
"The job at the brewery made me move to HCM City which I immediately accepted as I liked the city a lot, there's a lot to do in HCM City. Nightlife is more active and I can play field hockey here which was non-existing in Hà Nội," said Voesenek.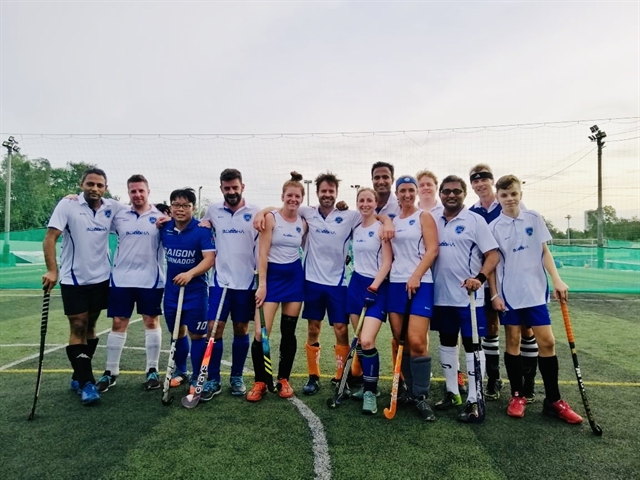 Living with passion
Moving to HCM City, Voesenek started playing field hockey with Saigon International Hockey Club which was originally founded in 2008 by a Dutch player and she quickly became the captain of the team.
"Every time the captain would leave, another Dutch player took over so that's what I did when the previous captain left," Voesenek explained.
The Saigon club gas about 25 active players of 10 different nationalities. They play once a week with five-a-side games and always have some of the Saigon Tornados (the local Vietnamese team) join as well.
"This year has been interesting. Normally we would have a lot of people coming and going but this year everyone stuck around due to the COVID-19 pandemic which actually has been very positively impactful for the quality of our hockey," said Voesenek.
"The team is mixed, women and men and also of different ages, our youngest player is currently 13 years old and plays with us and also with the Kids Field Hockey," Voesenek added.
Voesenek took over the organisation of Kids Field Hockey this year and teaches children in HCM City from five years old.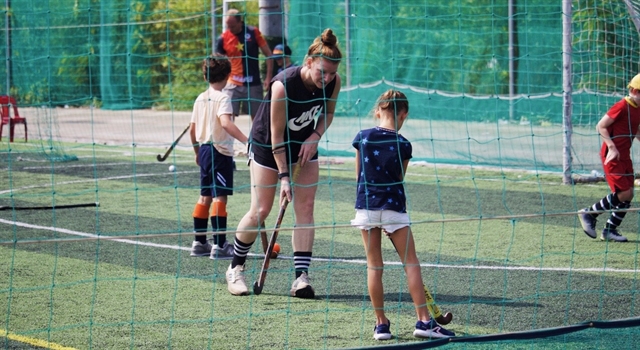 "Mostly I like the sport because every team I've played in created a tight bound and the players/coaches/trainers became family which is exactly how the team feels here in HCM City.
"The team even though are all so different, not only different ages but also different cultures is special to me that we are very tight outside of the games," said Voesenek.
Hockey has been her favourite sport since she was five years old and she started playing when she was old enough to hold the hockey stick.
Voesenek's plans for the future are for the moment staying in Việt Nam, seeing if she and her friends can increase the amount of field hockey players in Việt Nam.
"I love to see the increase of players in Việt Nam and also the level increase over the past years from the local players we've been playing with. There's a lot of enthusiasm about the sport from locals.
"The HCM City Hockey Federation was established last August so we should be able to get the sport as a curriculum in the local universities but also increase the sport in the expat community as there are already a lot of players and countries where the sport is familiar so that will also help to increase the awareness," said Voesenek.
Voesenek also hopes the number of local tournaments will increase and once borders are open, more teams will get into the country for bigger tournaments.
"I'm very excited that field hockey is now an official sport and I would like to see how I can help as much as possible to increase the amount of players.
"The Vietnamese team are also going to focus on indoor hockey for the ASEAN Cup in November which is very exciting," Voesenek added.
"Việt Nam to me is my current home and I feel that the way of living here, especially now during the pandemic, we are in a way better situation here. But also the amazing people who I have met in the past years, friendships have been created and the culture is something I would have never wanted to miss," said Voesenek. — VNS
Source: VNN
Maybe You Also Interesting :
» Vietnam to host annual national esports contests
» Thanh Hóa ready for V.League 1 under coach Ljupko Petrovic
» Expressway construction comes up against difficult terrain