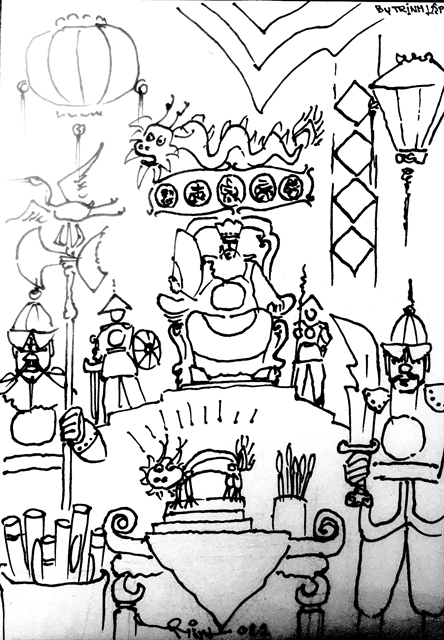 Illustration by Trịnh Lập
by Nguyễn Mỹ Hà
It has recently been circulated that the most beautiful seal of the Nguyễn Dynasty is up for auction in France.
It was cast in gold in the fourth year of King Minh Mạng's reign in 1823. It weighs nearly 11kg and was handed down from King Minh Mạng before finally reaching the last king of the dynasty, Bảo Đại.
According to French auction house Millon, the sale, which was scheduled on October 31 in Paris, was postponed due to "the strong interest of the Vietnamese state" to obtain the seal and bring it back to where it belongs.
Before the scheduled auction, representatives of the Nguyễn Phúc Clan Council in Việt Nam co-penned a letter to French President Emmanuel Macron, appealing to intervene and stop the auction until further investigation could be carried out.
"We were shocked to see the treasures of our ancestors be traded like ordinary objects of gold," wrote Nguyễn Phước Bửu Nam, president of the Clan Council.
He stated that the seal, categorised as Lot 101, and the gold bowl, known as Lot 100, belonged to King Khải Định and were national treasures and must be returned to the country where they belonged.
As this column goes to print, the bowl has been sold for 680,000 euros. While the gold square seal with a twisting dragon as handle has a starting price of about 2-3 million euros.
The letter explained in detail how the Nguyễn Dynasty's seal, handed down within the Nguyễn Royal Court for 200 years to King Bảo Đại, stating that both items in Lots 100 and 101 were national treasures and should be protected by a UNESCO Convention, where Việt Nam along with more than 100 other countries signed to protect the cultural property of nations.
"The State Parties to this Convention recognise that the illicit import, export and transfer of ownership of cultural property is one of the main causes of the impoverishment of the cultural heritage of countries of origin of such property and that international cooperation constitutes one of the most efficient means of protecting each country's cultural property against all the dangers resulting from there," the letter said.
"The import, export or transfer of ownership of cultural property effected contrary to the provision adopted under this convention is illicit."
Decades of wars have led to the haemorrhage of many precious antiques from Việt Nam, and these objects are just two examples.
On August 30, 1945, King Bảo Đại, the lawful owner of the seal, handed it and a royal sword over to representatives of the Việt Minh Government, declaring the end of Nguyễn Royal Court ruling of the country, with a statement touching millions of hearts. He said, "I'd rather be a citizen of a free country than the King of an enslaved one."
But the French later came back to occupy Hà Nội, Huế and other cities, pushing the Việt Minh Government led by President Hồ Chí Minh to withdraw to the countryside and jungle in what became a nine-year-long resistance war that ended with Việt Minh's victory over the French army at the Điện Biên Phủ battle.
But before then, the French captured the seal and the sword and returned them to Bảo Đại, who self-proclaimed Head of State of the French-occupied Việt Nam.
After being toppled by Ngô Đình Diệm in 1955, Bảo Đại left South Việt Nam and went on living in exile in France. After he died, the treasures stayed with his French wife, Monique Baudot, until she died. These antiques were then put up for auction.
As news of the auction was announced online, Việt Nam's Ministry of Culture, Sport and Tourism did its duty to bring these treasures back home. Antique experts from the Department of Cultural Heritage have confirmed that the seal was one-handed over by King Bảo Đại to Việt Minh on August 30, 1945.
The seal must be returned to Việt Nam, not as a purchased object, but as a lawful act by the French Government according to the UNESCO Convention.
This is not an unprecedented move. French President Macron, in 2018, called for thousands of African artworks in French museums taken without consent during the colonial period to be returned to the countries of origin and said he wanted it to begin within five years.
"I cannot accept that a large part of the cultural heritage of several African countries is in France," he said in Burkina Faso's capital in 2021. "There are historical explanations for this, but there is no valid, lasting and unconditional justification."
What he had said about African cultural heritage must now be applied to Indochinese art and cultural property.
The Guimet Museum in Paris, the French national museum of Asian Arts, has the world's most extensive collection of Asian antiques, where a Vietnamese signature Đông Sơn bronze drum is on display.
President Macron did what he promised. In November 2021, 26 objects of art were returned to Benin, and in February this year, an exhibition presented the long-lost artworks to Benin's public.
In Paris, works held by the Musée du Quai Branly, a museum focused on non-European cultures, found that about 46,000 of its 90,000 African artefacts were "acquired" between 1885 and 1960 and may have to be returned.
If the Vietnamese ministry of culture wishes to acquire the seal to repatriate it to Việt Nam, any spending should not be made with the taxpayers' money. Taxpayer contributions should be spent on other social projects such as poverty eradication, clean water supply or supporting the elderly, who will make up most of the country's population in the future.
On the golden seal, four words were carved that mean "The King's treasure". And having been handed down from the second King of the Nguyễn Dynasty to its last, the 13th, the seal signifies that it's the country's treasure, not that of one particular King.
It must be repatriated back to Việt Nam, where it originated and belonged. VNS