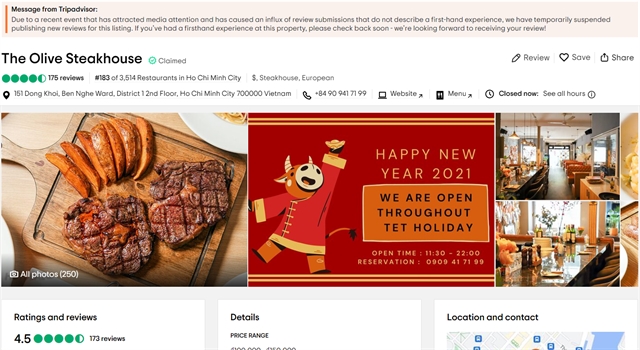 Screenshot of The Olive Steakhouse's account on TripAdvisor on June 7. The global travel website has issued a message to temporarily suspend reviews for the HCM City-based restaurant.
Bảo Hoa
Social media is a powerful tool that helps businesses advertise their brands and engage with customers. But it can also be a double-edged sword due to the uncontrollable, unfiltered user-generated content.
A restaurant in HCM City says it is being put out of business after the owner admitted killing about 20 stray cats that lived in the building where it's located.
The Olive Steakhouse sits on the second floor of an old residential building on Đồng Khởi Street in District 1.
Several Facebook posts emerged on May 27, accusing the restaurant of killing cats and calling on people to boycott it.
Attached were photos of some of the cats, which appeared to have been rescued and being treated at an animal shelter, and hashtags such as #fairformorethan20cats and #boycottTheOliveSteakhouse.
A day later, the owner admitted on the restaurant's Facebook page to poisoning the cats due to the overwhelming amount of faeces, urine, and the bad odour they left in the building.
It was a lengthy post, which was shortened by four-fifths afterwards, where she explained the situation and described the efforts made by co-residents to keep the building clean, and how feeling "too tired and pressured for a long time" led her to the "stupid, negative and foolish" action.
She also apologised and asked for a chance to make amends.
But animal lovers did not let it go. Harsh comments kept coming, analysing, and criticising what she wrote.
On June 2, Olive Steakhouse's account was removed from Foody.vn, one of the most popular online food delivery platforms in Việt Nam.
Animal supporting Facebook groups such as Vietnam Animal Eyes and Tôi Yêu Động Vật (I Love Animals) asked their thousands of followers to send emails to global companies like Grab and TripAdvisor, asking them to delete the restaurant's account from their service and travel platforms.
The email template reads: "On the behalf of Vietnamese who care about animal welfare in Việt Nam, we kindly ask you to remove The Olive Steak House account from your platform.
"The Olive Steak House killed 20 stray cats living in the building their restaurant is located in after receiving money from a foster and promising to take care of the cats.
"Their action is cruel, unnecessary, and violates the professional ethics. We urge you to consider and remove this account and ban them forever from your platform."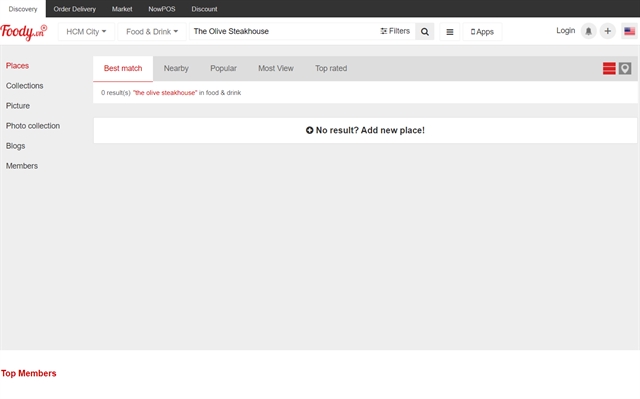 Screenshot of the online food delivery platform Foody.vn, which shows no results were found for a search of "The Olive Steakhouse".
Speaking to Việt Nam News on Tuesday, the restaurant's owner, who preferred to be known as Y.L, stressed that she understood what she did was wrong.
"After that incident, I realised, yes, my behaviour was so negative, so wrong. I'll have to change and never do that again, because I do feel, personally, that the action was not right," she said.
"But it was because I was so mad I lost all common sense. I have learned my lesson and will never go down that road again."
She added that it was just as wrong for the online community to boycott her business only based on what they read on social media, without making efforts to understand what she had been going through.
"The consequences it leaves on my business and brand are inevitable. It's inevitable for me to avoid them," she added. "I accept that, because there's no point crying over spilt milk, there's nothing I can do.
"But since the incident happened I have never closed the restaurant. We are still open whether the customers are coming or not, still selling food, and I'm still prepared to handle everything, it's not that I'm scared of what had happened.
"The more people try to boycott us online, the more I find it irrelevant. It makes me feel like I don't want to use social media ever again because I feel like the purpose they use social media for is even more immoral than what I did. Their insults are terrible.
She also claimed that Foody.vn contacted her and asked to temporarily suspend the restaurant's account on their platform, but no authorities had issued any word of warning to her since the incident happened.
The owner added: "Those who used the building gathered so many times to discuss moving the stray cats away. But there were so many of them there was no way we could do it. Stray cats are not easy to catch. It's not simple."
The People's Committee of Bến Nghé Ward did not respond to Việt Nam News's requests for comments.
There is no justification for what Y.L did, and animal lovers – especially cat enthusiasts – have every reason to be furious.
But in a way, it's such a pity that a service business is being boycotted for reasons that have nothing to do with its services.
Running an independent restaurant is hard, especially in the service-centred metropolitan of HCM City where there are nearly eight thousand restaurants of all kinds, including franchises. Earning 4.5 out of 5 stars on Foody and TripAdvisor surely says something about Olive Steakhouse's food and service quality.
But all those efforts have gone to waste, in only one week, because of the fast, far and wide effect that information about the "cat massacre" – as someone puts it – created on social media.
This is not to say that if social media didn't exist, killing cats would be a right thing to do.
But if social media didn't exist, what Y.L did might have been easily covered up, treated as a community affair, and settled among residents in the neighbourhood. The restaurant might still have a chance of survival.
This case should be taken by marketing executives as a prime example of the power of social media and how it can affect businesses.
It should also set off alarm bells for businesses in terms of maintaining good professional ethics and investing in crisis communication.
As for the Olive Steakhouse, it is hoped that the case will act as a reminder for business owners and everyone that human values should be retained and nurtured, even when no one is looking. VNS