To check or not to check? That's the big post COVID question
Is it essential to carry out an extensive post COVID-19 health checkup of just about all parameters for those who have recovered from COVID-19?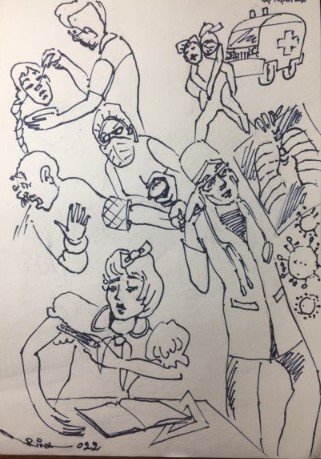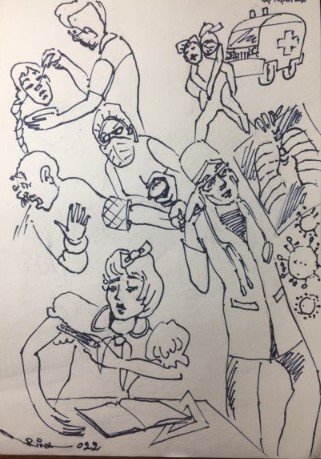 By An Phương
Is it essential to take an extensive post COVID-19 health check-up of just about all parameters for those who have recovered from the disease?
Is a lung detox necessary or advisable for such people?
These are questions of serious concern that are being asked by many HCM City residents recovering from the pandemic.
Having been infected with the coronavirus myself, I wanted to book a complete checkup package for myself, so I spoke to a few friends about it and got some interesting feedback.
Thanh Tâm, 29, felt relieved when doctors found no severe damage, especially in her lungs, after the checkup.
"I experienced multiple symptoms of COVID-19 for a week, including high fever, sore throat, body ache and others. Though I felt strong most of the time, a week of illness is cause for concern as it can develop long-term complications that affect the organs," Tâm said.
"My doctor told me that the immune system of our body constantly works to protect and shield the body from a variety of infections and diseases caused by viruses and bacteria. But, even fully recovering from COVID-19 infections, some people may experience conditions such as fibrosis in the lungs, renal failure, neurological problems, diabetes, and sometimes cardiac arrest," she said.
Checkups have become quite "crucial" for people wanting a heads-up about what could potentially happen to their body.
Tâm had her post COVID-19 checkup at an international hospital in District 7. Given a standard and an extensive option, she decided to go for the latter, which cost approximately VNĐ17 million.
"Numerous tests on my metabolism, lipid profile, liver function, renal function, coagulation, lungs and exercise capacity and many other things were done. The number of tests performed and the hospital's quality service has justified the hefty price tag for me," she said.
Xuân Phú, 27, another friend, said that he was experiencing sleep problems and anxiety attacks though his encounter with COVID-19 was mostly asymptomatic.
"Many people recommended that I go for a check-up as COVID-19 complications like mine are common. But then I had a second thought: If they were that common, shouldn't we look at them in a lighter way?"
To be honest, as much as I would like to book an appointment for a post COVID-19 check-up, Phú's point of view has made me think again. In addition to time and money, it is necessary to think about whether we really need it.
Now, I am thinking about exercising regularly and taking health food for at least a month before having a check-up. I would like to see how my body naturally recovers, and go from there.
"The basic thing for being healthy is to have a balanced diet and exercise regularly. How long the coronavirus lasts in the body varies from person to person, exposure to the virus and severity of infection," said Ngọc Ánh, 38, yet another friend I discussed the issue with.
Ánh and her family of four were recently infected with the virus and she ended up being a primary caregiver for everyone.
"It was a stressful time for me. However, because I had prepared for this day, I focused on minimising the stubborn health impacts of COVID-19 as much as possible by cooking nutritious meals and encouraging my children and husband to stay active after the fever was gone," Ánh said.
"It is more time-saving and cost-effective if we take good care of ourselves before and during COVID-19 infection. I am more worried for the elderly and people with serious underlying conditions such as diabetes, various immunodeficiency disorders, cancers or chronic diseases. They are more at risk of developing post COVID-19 complications and thus, should go for the in-depth health check-up," she added.
Natural healing
Multiple post COVID-19 treatments have been advertised via various social platforms and other media. A recent VnExpress article cited doctors being particularly concerned about how stem cell therapy, worth hundreds of millions of Vietnamese đồng, was being 'hyped up' to detox and cure post COVID-19 complications.
Since medical facilities which offer these kinds of therapy usually draw a dramatic picture of how viruses accumulate in the two lungs and affect neighbouring organs or how life-threatening it is when only 70 to 80 per cent of the lung capacity is working, the folk feel the urge to get an appointment and get themselves out of danger.
What doctors say
Dr Nguyễn Huy Hoàng at the Việt Nam-Russia Tropical Centre under the Ministry of Defence said post COVID-19 complications were attracting more concern now because the pandemic had cooled down and many medical facilities could easily take advantage of people's anxiety to advertise healthcare products and services at high prices.
"In fact, most of them have no proven scientific basis and can even make the disease worse," Hoàng said, adding that so far, post-acute sequelae of COVID-19 was still a mystery with no specific treatment regimen or drug to cure.
"There is no such thing as lungs being poisoned after COVID-19 infection or drugs helping purify and detoxify the lungs. In fact, no official medicine is available for the post COVID-19 period," said Dr Trương Hữu Khanh, vice chairman of the HCM City Infectious Diseases Association.
"Worry about post COVID-19 complications is understandable, but this should not be exaggerated. The body needs time to fully heal from any disease and COVID-19 is no exception," said Dr Nguyễn Viết Chung of E Central Hospital.
So, let us remember that our body is already equipped to deal with health issues, especially in the first few months of post-COVID recovery. Whether people should go for a complete health check after being infected with the novel coronavirus is, of course, a personal decision, but most of my friends and I, who are between 25 and 40, are agreed that our focus should be on staying healthy and alert. - VNS
Source: VNN