Life & Laws
Pham Thi Lan washed and combed her calf-length hair and sat on a chair as she prepared to get it cut for donating to cancer patients.
Four international DJs will perform at 'Da Nang Electronic Carnival - Take Me To The Sun' rave in central Da Nang City on July 13-14.
In the U.S. I never saw anyone gossiping about high school and college examinations, simply because they are normal stuff for children over there.
Hue's famous abandoned dragon-themed Thuy Tien Water Park serves as the main setting for Italian electronic dance music group Meduza's video 'Bad Memories'.
In the face of dangerous infectious diseases like COVID-19 and dengue fever, the Government leader said proactive prevention and control of monkeypox must be carried out with the spirit of "one step ahead, one level higher" to avoid concurrent outbreaks and to protect people's lives and public health.
HCM City has instructed its districts to set up more COVID-19 vaccination sites for children in August.
Acting Minister of Health Đào Hồng Lan on Tuesday raised concerns about the risk of concurring diseases in Việt Nam in near future and urged COVID-19 vaccination be sped up to ensure medical material supplies.

Tags:
The Heath Ministry said 41 people died of dengue fever in January-June, up 31 cases compared to the same period last year.
K (Cancer) Hospital and Roche Pharma Vietnam will work together in improving cancer diagnosis and treatment as part of a Memorandum of Understanding signed on August 2.
Hanoi opened its first dedicated dog park allowing animal lovers and their furry friends to unleash themselves on 1,650-square-meters of land.
In days gone by, rubber sandals were very much the preferred footwear in Vietnam. Made from tyres of military vehicles seized during the war just about everyone wore them. A local brand Vua Dép Lốp (King of Rubber Sandal) is helping to bring them back in a big way, thanks in part to their sustainability.
Tags:
Lê Tấn Sang is a senior student at the Phạm Ngọc Thạch Medical University in HCMC and a volunteer fighting the pandemic. He shared his story of overcoming adversity to help save lives during the darkest hours of last year's outbreak.
Hành trình Đỏ (Red Journey), the country's largest-scale blood donation campaign, has contributed to changing awareness of people about voluntary blood donation.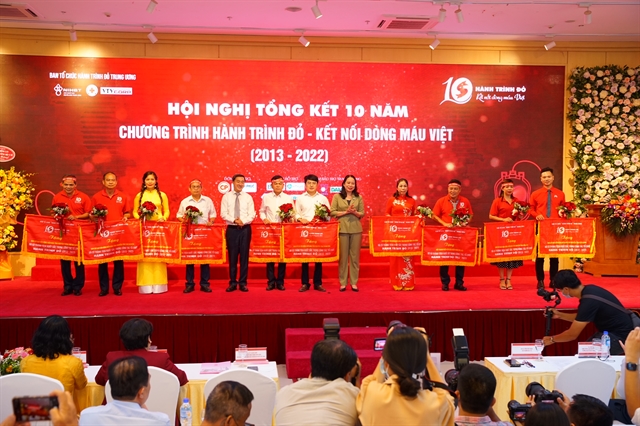 Tags:
Page 7 of 3261