Hi-Tech & Internet
Digital transformation has become indispensable trend of every country since 2020 as the COVID-19 pandemic has accelerated the process around the world.
Tags:
The country's biggest automobile and motorcycle exhibition, the Vietnam Motor Show, will not be organised this year due to the Covid-19 pandemic and will return in 2022, the organising committee has announced.
Tags:
Car sales in Việt Nam increased by 52 per cent last month after five consecutive months of decline, showing positive signs for the car market at the end of the year.
As well as striving to vaccinate all eligible residents, the northern province of Quảng Ninh is also working hard to take the lead in the application of information technology to fight COVID-19.
Auto sales in Vietnam plunged 50 percent year-on-year to 13,537 units in September as Covid-19-triggered social distancing forced dealers to close.
Apple Inc is likely to slash production of its iPhone 13 by as many as 10 million units due to the global chip shortage, Bloomberg News reported on Tuesday, citing people familiar with the matter.
The International Telecommunication Union (ITU)'s Digital World 2021 opened with a launch ceremony yesterday evening in Hà Nội.
Automaker VinFast, a subsidiary of conglomerate Vingroup, sold 3,497 vehicles in September, posting a month-on-month surge of 51.4 per cent despite the COVID-19 pandemic.
Tags:
Cloud-Ready Data Center solutions from Juniper Networks enable businesses to simplify operations and experience with a modern, automated data center.
Scientists and specialists have spoken highly of Phenikaa's ability to meet the practical needs of socio-economic development.
Tags:
Việt Nam and Singapore will continue to expand their cyber security cooperation in preventing transnational crimes, according to Minister of Public Security Tô Lâm.
Tags:
As many as 76 information, communication and technology (ICT) firms honoured in the Top 10 leading ICT companies in Việt Nam in 2021 have a revenue of VNĐ186.6 trillion (US$8 billion), accounting for nearly 61 per cent of the whole industry.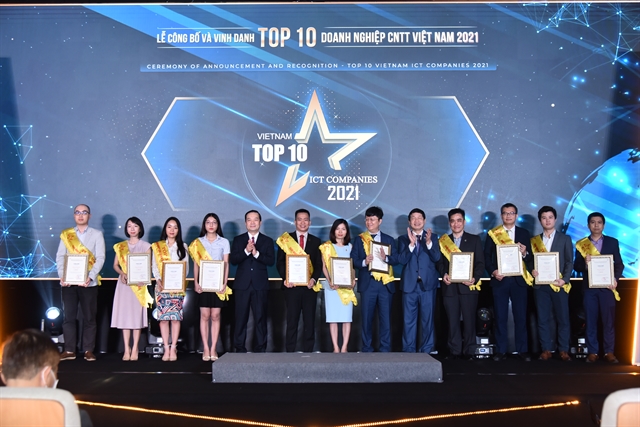 Tags:
Page 8 of 58