Hi-Tech & Internet
The International Telecommunication Union (ITU)'s Digital World 2021 opened with a launch ceremony yesterday evening in Hà Nội.
Automaker VinFast, a subsidiary of conglomerate Vingroup, sold 3,497 vehicles in September, posting a month-on-month surge of 51.4 per cent despite the COVID-19 pandemic.
Tags:
Cloud-Ready Data Center solutions from Juniper Networks enable businesses to simplify operations and experience with a modern, automated data center.
Scientists and specialists have spoken highly of Phenikaa's ability to meet the practical needs of socio-economic development.
Tags:
Việt Nam and Singapore will continue to expand their cyber security cooperation in preventing transnational crimes, according to Minister of Public Security Tô Lâm.
Tags:
As many as 76 information, communication and technology (ICT) firms honoured in the Top 10 leading ICT companies in Việt Nam in 2021 have a revenue of VNĐ186.6 trillion (US$8 billion), accounting for nearly 61 per cent of the whole industry.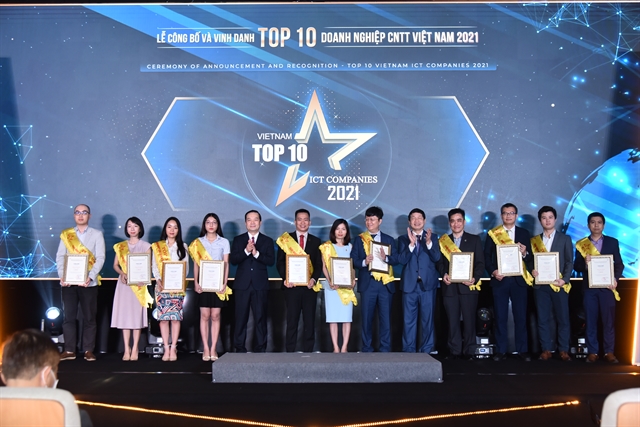 Tags:
Mercedes-Benz Vietnam is recalling more than 1,700 C200 cars locally assembled from 2014 -2018 to remove a generator related software bug.
Google in cooperation with the National Cyber Security Centre has launched the Google Safety Centre and the Safer Programme with Google for Vietnamese users.
Tags:
The International Telecommunication Union (ITU) Digital World 2021, a global digital conference and exhibition, will be held virtually from October 12-14, according to the Vietnamese Ministry of Information and Communications (MIC).
Tags:
A residential-commercial complex being developed in the heart of newly formed Thu Duc City in HCMC offers a modern lifestyle of great convenience and comfort.
HÀ NỘI - Small and medium-sized businesses (SMBs) in Việt nam are exposed, under attack, and more worried about cybersecurity threats than before, Cisco Secure announced a study in an online press conference in Hà Nội on Thusday afternoon.
Tags:
The Ministry of Finance has recommended that registration fees for electric cars must be half that of gasoline vehicles to encourage usage.
Automobile companies on the stock market had prosperous earning results in the first half of this year compared to the same period last year despite the impacts of COVID-19 pandemic.
Tags:
Page 9 of 59