By Lê Hương
(with additional interview by Cao Ly Ly)
Flowers have played an important part of everyday traditions in Hà Nội in particular and Việt Nam in general.
They are used for worship, making tea and of course decorating homes.
Learning about flowers to understand Vietnamese culture is a fresh idea for a tour.
Comida Ngon, a flower service in downtown Hà Nội, has offered such tours for some months since the country opened doors after the pandemic to tourists on March 15, 2022.
"Our flower service was born during the pandemic when our travel company closed temporary," Phạm Văn Hà, in charge of the company's business, told Việt Nam News.
Hà said the service has been a great success.
"Many Hanoian housewives have chosen our flower service," he said. "When tourism activities returned, we introduced the tradition and culture of Hanoians to international guests, which is a wonderful experience."
The company has conducted trial tours and lured many guests.
"Now the flower tour has been an indispensable part of the travelling schedule of many foreign visitors in Hà Nội," he said.
Hà said the company aims at international tourists who want to experience cultural traditions.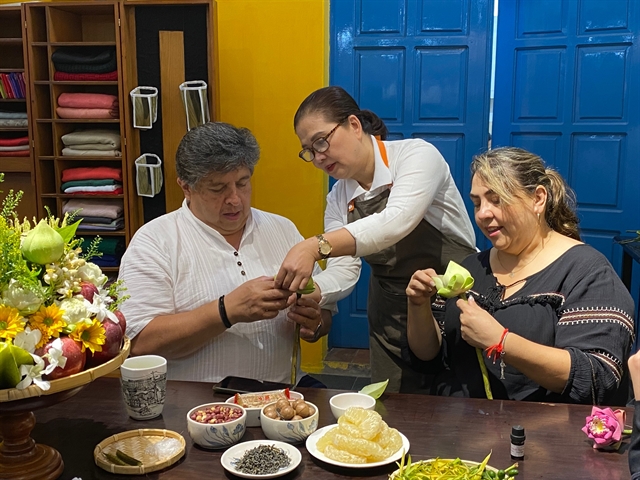 Nguyễn Kim Thanh (middle) guides Gonzalez Diaz Ildefonso and his wife on how to fold a lotus. VNS Photo Lê Hương
"Most of them are middle aged or above," he said. "They are often well-to-do people and want to learn about Vietnamese culture up close."
The workshop includes a summary of popular flowers in Việt Nam, teaching guests how to arrange flowers in the Vietnamese style, covering guests' eyes and letting them smell some flowers and try to guess which flower it is.
Then, guests can taste local snack delicacies, fruits, try lotus scented tea and local wine while talking to the flower expert.
"Guests can smell, taste, touch and sense how vivid Vietnamese culture is," he said.
According to Nguyễn Kim Thanh, a flower expert who explains local flowers to the tour participants, she wants to tell foreigners that Việt Nam has many beautiful, fragrant and valuable flowers that we appreciate and we hope they will admire such flowers as well.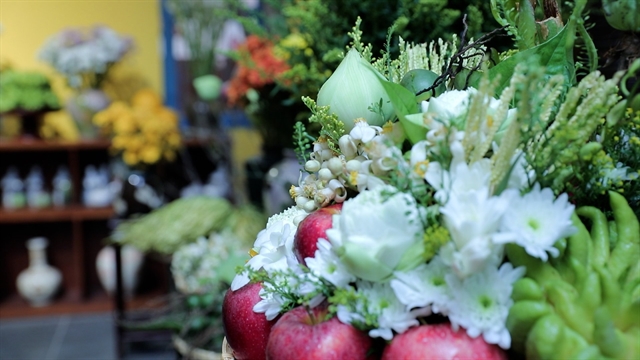 A space full of flowers. VNS Photo Minh Phương
The experience in offering flower products to locals has taught her that Vietnamese people like a life which is green, clean and beautiful.
"That's why Comida Ngon flower service aims to offer traditional flowers used for worshipping purposes and daily decoration that are green, clean and beautiful," she said.
Thanh said her daughter and son-in-law are working in tourism companies serving foreigners.
"I wondered why in the tourists' Hà Nội city tour schedule did not have a stop for the visitors to learn about Vietnamese flowers with sweet scents," she recalled.
Thanh said she learnt popular greetings and simple sentences in different languages to get close to the guests.
"Language is the most challenging obstacle," she said.
The flowers introduced are sweet-smelling like pomelo flowers, magnolia, tuberose, areca flower, cananga odorata, and lotus, which are used for worship.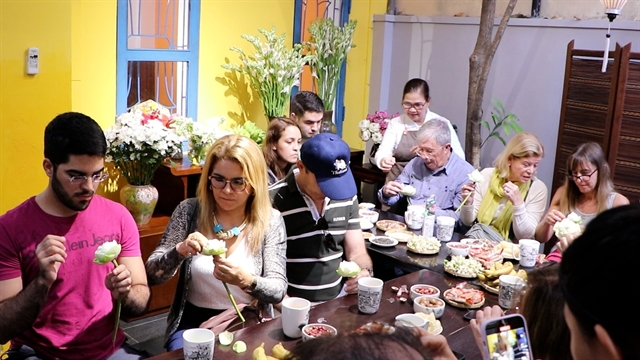 Every guest is excited with the workshop. VNS Photo Minh Phương
And each flower can tell an inspirational story about customs, culture, religion and history.
Positive feedback
Every participant at the workshop is enthusiastic with the flower lesson.
They attentively follow the expert to fold petals of lotus in the local way and show their happiness when they succeed.
"I think it's fantastic," Gonzalez Diaz Ildefonso, a middle-aged tourist from Mexico. "In Mexico, we have flowers, some are the same like flowers here; but we haven't experienced them so close like we did in this tour."
Ildefonso admitted that he enjoyed the trip to Việt Nam with his wife.
"Everything is very wonderful here," he said. "We have learned much about Vietnam on the internet. But when we can hold, touch, keep things in our hands and see things by our eyes, things are much different."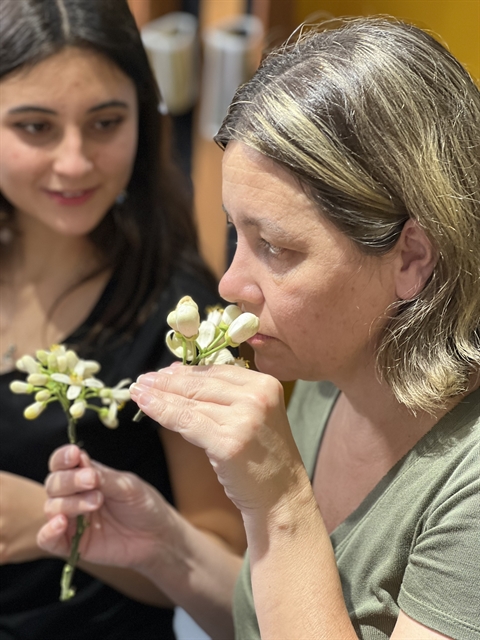 A guest enjoys pomelo flowers. VNS Photo Lê Hương
The workshop impressed younger people, too.
Maria Victoria from Argentina said: "After experiencing this flower workshop, I feel very relaxed. As I learnt about Vietnamese traditional culture, my spirit goes high."
Her friend, Agustin Risciolese admitted that Việt Nam is a peaceful country with friendly people.
"Other young visitors and I have learnt a lot from the workshop. Vietnamese flowers are very beautiful and fragrant," he said.
Hà said the company receives on average four to five groups of tourists each day. Each group ranges from two to 20 people.
"We prefer keeping the group small so that participants can have a certain quietness to enjoy the flowers," he said.
The company is planning to offer more experiences like drawing calligraphy, and workshops on coffee.
"In an aromatic space, visitors can learn about Vietnamese culture in a slow and relaxing way," he added.
Hà said some guests even order trays of flowers to pay tribute at pagodas or temples they visit after the workshop.
"People can read praise on TripAdvisor about our workshop," Hà said. "The comments have surpassed our expectation." VNS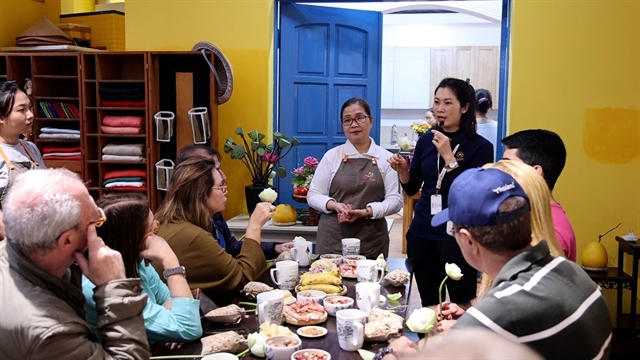 A relaxing lesson on Vietnamese culture. VNS Photo Minh Phương