During over nearly three decades in Viet Nam, Unilever deeply understands that Tet is a precious occasion for Vietnamese people to reunite with families and celebrate together. Unfortunately, many still cannot go home with their loved ones or afford a fulfilling Tet. With great empathy for the unsung heroes and the unfortunate people, Unilever partnered with local authorities and different organisations to conduct a programme named "For a loving Tet season" including many activities to bring Tet closer to people in need. These activities are also parts of the company's long-term commitment to building a more sustainable and inclusive society.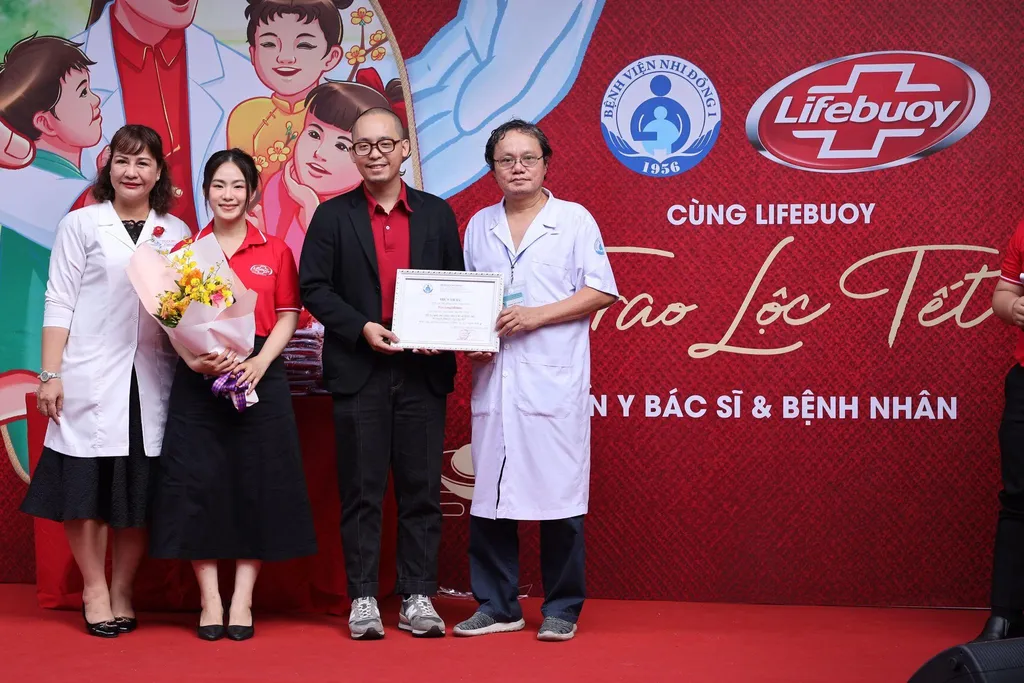 Unilever and Lifebuoy delivered Tet gifts to healthcare professionals
As an effort from to make a more warming Tet for "soldiers in the white shirt" who constantly strives for a healthier Vietnam through their dedicated care for the patients, 12,000 gifts were sent to doctors and medical staff across 12 hospitals located in Hanoi, Ho Chi Minh City and Dak Lak.
In collaboration with Vietnam Women's Union, Unilever has catered out the "Tet of Solidarity - Tet of the Border" project to deliver 750 gifts to support Vietnamese heroic mothers, families under preferential treatment policy, women in need, orphans, and disadvantaged children in 6 provinces: Thua Thien Hue, Kon Tum, Gia Lai, Tay Ninh, An Giang, Dong Thap.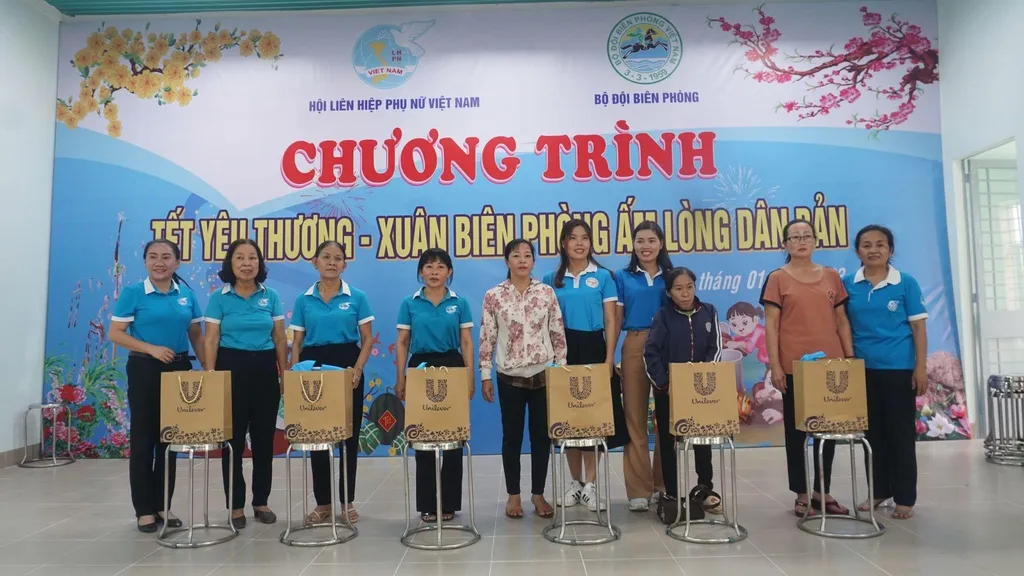 Unilever and Vietnam Women's Union gave Tet gifts to Vietnamese heroic mothers, women and families in need.
As a part of the "Plastic Reborn" campaign, Unilever Vietnam also sent more than 1,000 Tet gifts to independent garbage collectors to honour and accompany these unsung environmental heroes for their hard work in keeping the sanitation and urban aesthetics of Viet Nam.
Together with Environmental Development Action in the third world (ENDA) and HCMC Urban Environment Company (CITENCO), the brand OMO from Unilever Vietnam carried out the campaign "Grateful for action, dirty with pride" to honour the professions in quiet "dirty" business and bring values to the community. This campaign delivers 550 gifts as tokens of appreciation and support to the force of garbage collectors who keep the streets clean and beautiful to have a more fulfilling Tet.
Moreover, in cooperation with POWAI (Power of Wisdom and Integrity) Co., Ltd, 300 gifts were sent to children orphaned by COVID-19 in HCM City and their caretakers with hopes to bring a warm Tet closer to the children and express gratitude towards the generous hearts who have helped and taken care of underprivileged children.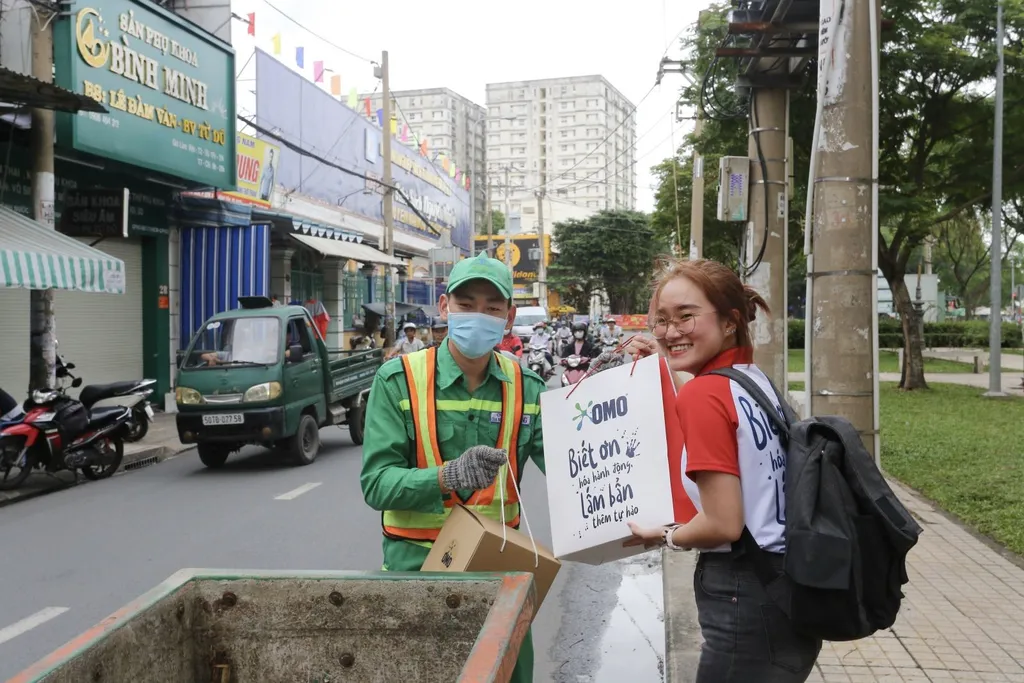 Representative of Unilever and OMO handed gifts to environmental workers
Furthermore, Unilever also coordinated with the Ministry of Education and Training (MOET) to send 400 Tet gifts to support teachers and students in Viet Nam's remote areas. This is among the extended actions by Unilever to express gratitude to teachers and encourage students in underprivileged and deprived areas.
In HCM City, Unilever Vietnam joined hands with the People's Committee of District 7, sending 300 gift packs, including personal care items, to underprivileged children in the campaign "Year of Water Cat Spring Festival".
The company also partnered with the Ho Chi Minh City Association of Industrial Park Enterprises (HBA) to give 1,000 gifts to industrial park workers in difficult circumstances affected by the COVID-19 pandemic, natural disasters, storms, floods, or who do not have enough conditions to celebrate Tet in their hometown.
"People always want to be home with their families during Tet. However, not everyone has the opportunity to celebrate a well-rounded Tet. Some people have to spend the holiday far away from their loved ones. Some people cannot afford to have a prosperous Tet. Some people sacrifice their own family time to make sure others can have a safe and happy Tet. We do not want to leave them behind. We are happy to bring gifts – personal care, home care, beauty, and nutrition products – to underprivileged people and honour those who make sacrifices and contributions to society, and spread warmth and happiness," said Ms. Le Thi Hong Nhi, Head of Communications and Corporate Affairs at Unilever Vietnam.
Ms. Nguyen Thi Hoai Linh, Director of ENDA Vietnam, said: "On behalf of Environmental Development Action in the third world (ENDA) Vietnam and 250 people of the self-founded waste collectors force in Dong Tam Cooperative Union, I would like to express my sincere thanks to OMO and Unilever Vietnam. These gifts not only represent support but also an act of affection, care, and respect for garbage collectors, the unsung heroes who play an essential role in the daily-life solid waste management of HCM City. This programme helps them feel cared for, loved, and appreciated, making Tet a warmer and happier occasion."