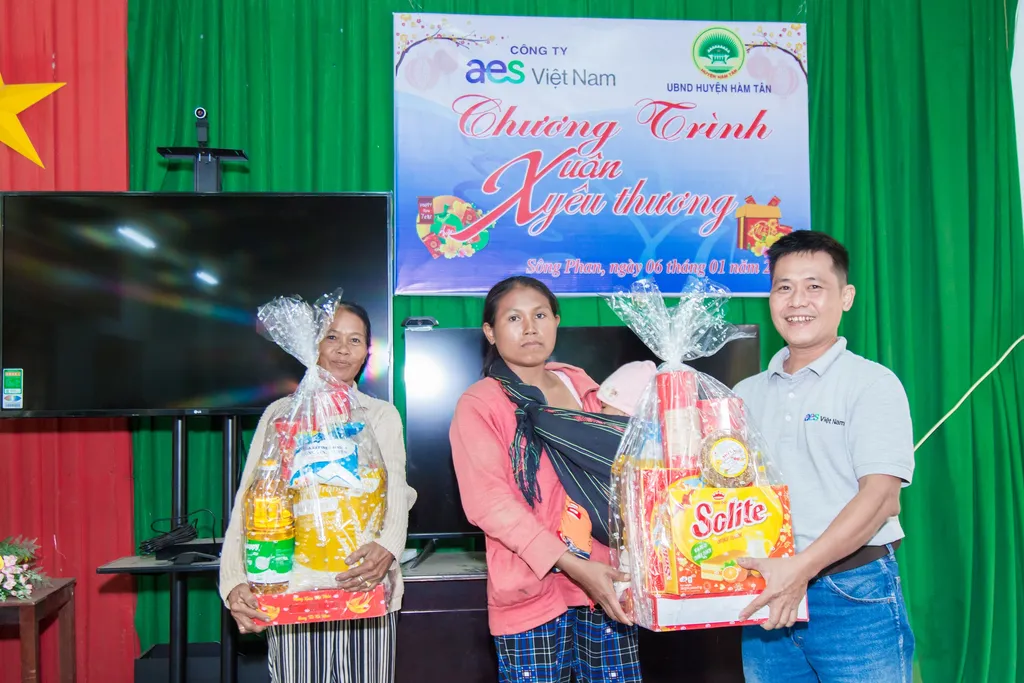 Representatives from AES Vietnam presented Tet gifts to a number of disadvantaged households in Binh Thuan Province.
The ceremony was organised in cooperation with the People's Committees of Song Phan and Son My Communes, with the attendance of representatives from local authorities, beneficiary households, and AES Vietnam.
Following the handover of Tet gifts in Binh Thuan Province, in mid-January 2023, AES Vietnam's representatives will come and present Tet gifts to disadvantaged households and children in Quang Ninh Province. Each household receives a gift set valued at VND500,000, which includes basic commodities for Tet.
Speaking about the initiative, Mr. Joseph Uddo, President of AES Vietnam, said, "At AES, we are committed to social and economic development by providing safe, affordable, and reliable energy to Viet Nam. 'All together' is one of our important values and we want to bring this value to the communities in which we operate. With this activity, we hope to offer a warmer and more meaningful festive period to the poor, so Tet can be celebrated in every household and no one is left behind."
Mr. Hoang Tuy, Vice Chairman of the People's Committee of Son My Commune, said, "AES Vietnam has provided significant support for the locality and community since 2020 in the fields of Education, Healthcare and facilities. Taking this opportunity, on the behalf of the local authorities and people, I would like to express my sincere thanks to the leaders and employees of AES Vietnam for their support and contributions to the locality. I appreciate the company's cooperation with us to visit, support and encourage disadvantaged households in the community during the upcoming Lunar New Year."
The donation of Tet gifts is part of AES' social impact programme, which aims to improve the quality of life for local communities. Over the past 15 years, AES and its subsidiaries have implemented 135 CSR programmes, focusing on four key pillars – Health, Education, Livelihoods and Infrastructure – contributing to making a permanent difference and improving the quality of life of more than 200,000 people in local communities in Viet Nam.
About AES Vietnam
AES Vietnam is a leading power company in Viet Nam that provides safe, reliable and affordable energy. Our 2.2 GW combined cycle gas turbine (CCGT) power plant and LNG terminal project which are under development will bring in $3.2 billion investment to Binh Thuan Province and will significantly enhance the local economy. Together, the plant and terminal will play a major role in shaping Viet Nam's energy future by diversifying the energy mix with imported LNG as well as meeting the country's increasing demand for sustainable and affordable electricity.
AES, through its subsidiary, AES Mong Duong Power Company Limited, successfully developed and arranged financing for the Mong Duong 2 Power Project of 1,242 MW with total investment of approximately $2.1 billion. To learn more, please visit
About AES
(NYSE: AES) is a Fortune 500 global power company. We provide affordable, sustainable energy to 14 countries through our diverse portfolio of distribution businesses as well as thermal and renewable generation facilities. Our workforce is committed to operational excellence and meeting the world's changing power needs. Our 2019 revenues totaled $10 billion and we own and manage $34 billion in total assets. To learn more, please visit . Follow AES on Twitter .