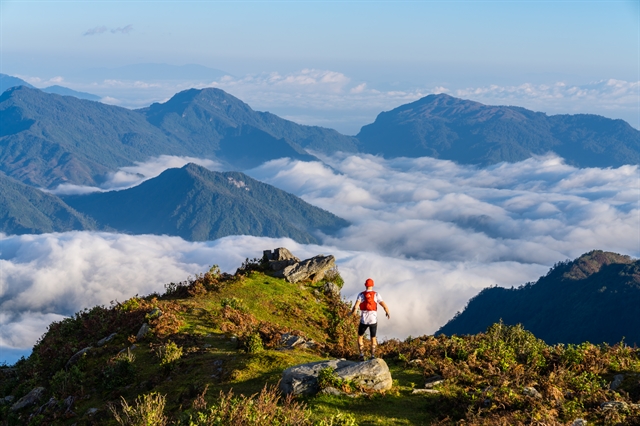 A runner enjoy the beauty spot during the Việt Nam Mountain Marathon. — Photo courtesy of VMM
By Thanh Nga
For many, a vacation is a time to relax, kick back, and put up your feet. But there are some tourists out there who love combining their travels with keeping fit.
Taking part in marathons may not be everyone's idea of a perfect holiday, but this type of getaway is becoming more and more popular in Việt Nam.
The Hạ Long Bay Heritage Marathon was successfully held in Quảng Ninh on Sunday with more than 6,000 domestic athletes, including 1,200 international runners taking part. That marks the resurgence of local tourism.
With four distances of 5km, 10km, 21km, and 42km, the tournament is suitable for tourists who love sports and want to explore Quảng Ninh.
British runner Ian Burns competed his 42km category. After the tournament ended, he stayed for three more days to explore Hạ Long Bay and Cát Bà Island.
"I came down to this race because of the view behind me," he told Việt Nam News. "It's the most beautiful race I have ever done. My wife and I normally go to beautiful races around the world.
"I have travelled around 70 countries. I see Việt Nam is amazing, especially Hạ Long Bay. It is really stunning, interesting and beautiful."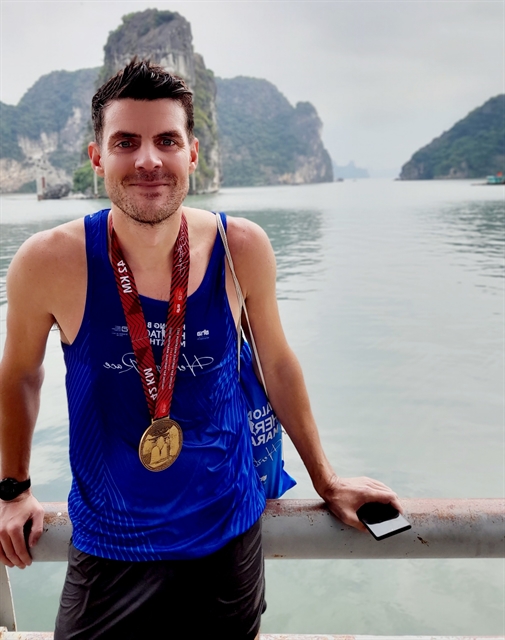 Ian Burns from the UK loved to compete in the Hạ Long Bay Heritage Marathon because of the beautiful view of Hạ Long Bay. — VNS Photo Thanh Nga
After visiting Quảng Ninh, he continued to explore Hà Nội and Sa Pa Town in Lào Cai Province before returning to Singapore where he works.
Hanoian Nguyễn Hữu Dũng also ran at the event with his whole family.
"My whole family participates in marathons with the main goal of travelling," he said.
"We all ran in the Hạ Long Bay event, I ran 21km, my wife and two children ran 5km. The tournaments are usually held on weekends, so it is also convenient for combining both running and travelling.
"Quảng Ninh has many beautiful tourist spots. Following the marathon, our family explored Đá Chồng Mountain in Bằng Cả Commune, Hoành Bồ District where we camped."
According to Dũng, Đá Chồng Mountain has majestic natural scenery. This place is ideal for those who love to explore and experience the countryside. It has a unique shape with dozens of natural stones piled on top of each other at an altitude of hundreds of metres, protruding from the edge of the forest. There are contact points between two stones only about 1sq.m wide, creating a unique challenge for professional climbers who want to conquer the top of the mountain.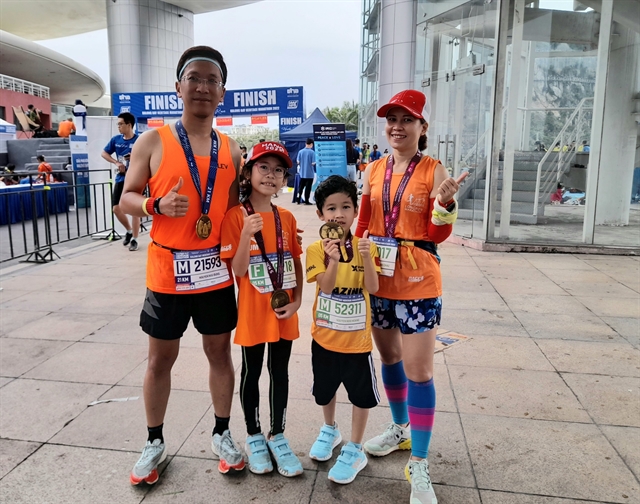 Nguyễn Hữu Dũng's family often take part in marathons to combine travel with sports. — VNS Photo Thanh Nga
Phạm Huệ's family, who live in Hưng Yên Province, also combine running and travelling. They have three children, aged between five and 10. This year they decided to take their children to Huế to take part in the VnExpress Marathon Imperial Huế in April.
Huệ said her children are excited about this form of tourism combined with sports because after running, they can rest at the hotel and bathe in the swimming pool. Huệ's family also went to Hạ Long City in July to participate in the VnExpress Marathon Amazing Hạ Long. The whole family came here for four days and three nights because the children were on summer vacation.
The marathons held in the northern mountainous province of Hà Giang, the top 10 attractive destinations in Việt Nam voted by CNN, also always attract many runners.
Phan Hữu Vũ, from Huế, has just participated in the "Running on Happiness Route" international marathon in Mèo Vạc District in October.
Vũ said: "I have travelled to many places, participated in many marathons combined with tourism, but Hà Giang is the place that left a deep impression on me because of its friendly people, majestic scenery, unique cuisine. Next year, I will definitely come back to Hà Giang."
The TMG Hội An Discovery Marathon within the framework of the National Tourism Year – Quảng Nam 2022 took place in September with nearly 1,000 domestic and international athletes. Runners enjoyed the charming scenery of rice fields, fishing villages, and green coconut forests at dawn in the two heritage regions of Hội An and Duy Xuyên.
In addition to running, activities related to the type of sport tourism that are loved by Vietnamese people include mountain climbing at places like Lảo Thẩn Mountain in Y Tý Commune, Bát Xát District, Lào Cai Province which is over 2,800m above sea level; Bạch Mộc Lương Tử Mountain, Việt Nam's fourth highest peak in Lào Cai Province and a perfect venue for viewing sunsets and catching clouds; Bà Đen Mountain in Tây Ninh Province.
More and more runners compete in trail marathons such as Dalat Ultra Trail and Việt Nam Mountain Marathon (VMM) to enjoy the beautiful sites of mountains and forests. The VMM is the oldest and largest terrain marathon in the country. This year, it attracted 5,200 athletes competing in seven distances.
After the COVID-19 pandemic, sports tourism has become more and more popular and welcomed by a large number of tourists. Recently, the United Nations World Tourism Organisation (UNWTO) has assessed this as one of the fastest growing types and is playing an important role in promoting tourism.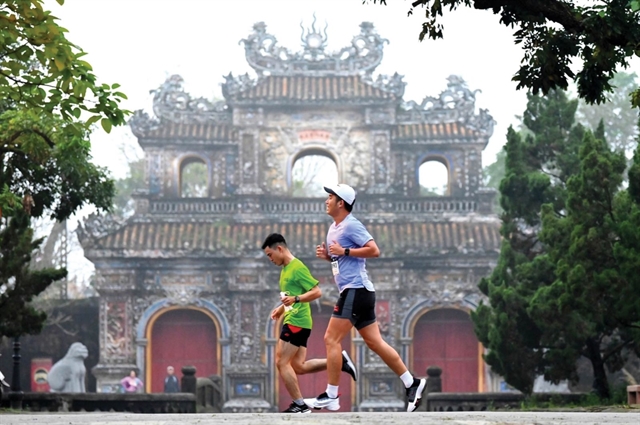 Runners compete in the VnExpress Marathon Huế. This is an opportunity for them to experience and visit the landscapes in the ancient capital. — Photo baothuathienhue.vn
Sports tourism not only satisfies the passion for sports of travellers, but also brings great profits to the local tourism sector hosting the event.
According to Nguyễn Văn Phúc, Director of Thừa Thiên - Huế Department of Tourism, during the VnExpress Marathon Imperial Huế this year, the total number of tourists to the province was estimated at 23,500, the revenue from tourism-related activities was estimated at VNĐ41 billion and the average occupancy rate of accommodation establishments was 65 per cent. VNS