Lê Hương
The northern province of Sơn La has been among the most recommended for travellers.
Located over 300km to the northwest of the capital Hà Nội, visitors can enjoy spectacular mountains and traditional cultures of various ethnic groups.
The province is also famous for hosting various sites with beautiful natural landscapes for camping.
Áng Village's Pine Forest
This top camping site is situated some 2km from the town of Mộc Châu. Covering a total area of 43ha, the forest offers a fresh atmosphere with romantic landscapes.
An immense green pine forest stretches along red soil hills. A big calm lake is a highlight of the area, which is surrounded with vacant land in the middle of tall pine trees. The land area is suitable for making tents.
The pine forest has been allocated as a tourist destination, where visitors can camp, enjoy the scenery, and take photos.
Various services are available at the site at reasonable prices.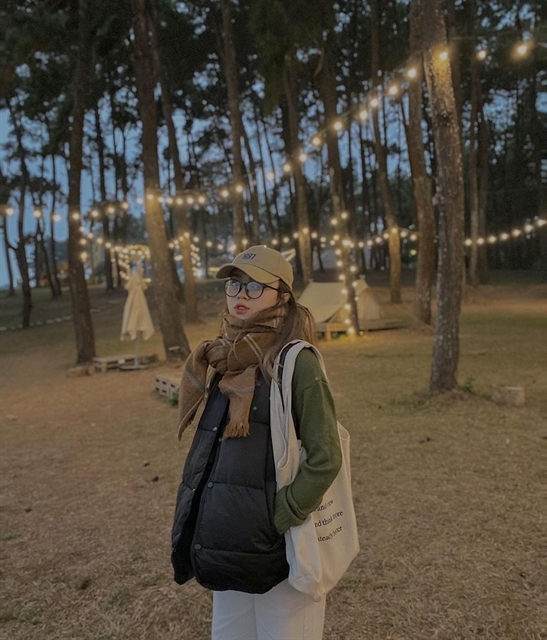 Cool night at Áng Village Pine Forest. VNS Photo Ngô Linh
"Camping in the middle of green pine trees, chewing snacks and chatting with friends is just relaxing," said visitor Hoàng Thu Hiền from Hà Nội. "Or just lying down and closing your eyes to hear the birds twittering. That's enough."
Hiền said Chimi Farm nearby offers strawberry picking and various snacks made from strawberries.
"The trip will be perfect if you drop by the farm and pick strawberries for fun," she said.
Tà Xùa Wind Peak
For travellers who like nature, the Wind Peak in Tà Xùa of Bắc Yên District is a must-go place.
The Wind Peak has been considered a paradise for cloud hunting in Sơn La and is located some 3 km from Tà Xùa Commune centre. The path to the peak is not too challenging.
Wind Peak in Tà Xùa. VNS Photo Lê Quốc Huy
A barren land is on the top of the peak, which is suitable for camping overnight to admire clouds and see the sunrise the next morning.
"This place is really suitable for people who like experiencing fresh feelings, who are not afraid of obstacles and really want to belong to nature," said mountain hiker Nguyễn Thành Trung from Gia Lâm.
Trung said the weather on the peak is always cool.
The peak is not the highest peak of Tà Xùa mountain range, but you still can see the whole magnificent natural painting here, he said.
Trung said he was told that this peak is perfect also to see the sunset in Sơn La, when orange, yellow and bright red colours cover all the clouds and mountains.
"The moment is really breathtakingly beautiful," he said.
Locals said between November and April, trekkers can see scenery at a far distance and all the mountain ranges of Sơn La.
At dawn, white clouds appear clear, almost too beautiful for taking photos.
Pu Nhi Hill
Pu Nhi Hill hosts a convenient and beautiful camping site.
The hill belongs to Phiêng Ban Commune, Bắc Yên District, which is often compared to Đà Lạt, Tam Đảo and even alluring landscapes in western countries.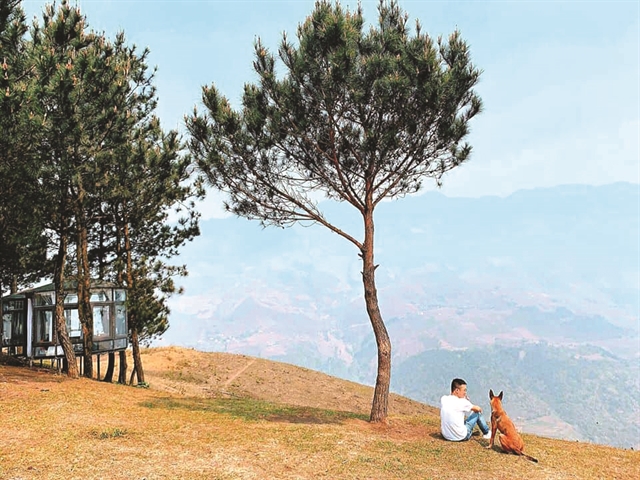 On top of Pu Nhi Hill. Photo courtesy of Pu Nhi Farm
The once pristine hill has become more developed since it was chosen as a camping site a few years ago.
The immense green grass field in the middle of pine trees is dotted with wooden houses.
"I feel as if I were in Đà Lạt thanks to the wooden warm houses under lush green pine trees and bright colourful flower gardens," said visitor Đỗ Quân from HCM City.
Quân said the site has beautiful corners where one can sit for hours to admire up and down the mountain and hill ranges in the far distance.
At night, the temperature drops low, and you will feel the typical chill of the northwestern region, he said.
Here, you can choose renting tents or wooden bungalows to enjoy convenient facilities. Warm rooms with glass windows can help visitors enjoy the scenery from inside.
Táu Cave
A primitive village of the Mông ethnic group in Chiềng Hắc Commune, Mộc Châu District, is a newly discovered area that has quickly become among the top destinations to explore.
The area is a small valley in the middle of an old primeval forest, where you can escape from the normal hustle and bustle into a different world – a world of simple Mông people, houses made from rough wood and immense grass fields.
Returning to the past in Táu Cave. Photo hodongdo.vn
"There are no modern services like those in big towns, everything here is very basic," said Huy Nguyễn from Hải Phòng. "It feels like returning to the past, a few decades ago. Locals keep cattle and hens by letting them running freely around their houses."
There are many big vacant pieces of land suitable for camping.
"Here we can experience a primitive life, making a fire to cook food," he said. "No deadline, no job. It's so relaxing."
Depending on the camping site you choose, you should bring along necessary equipment. All you need is the readiness to mingle with nature! VNS