AES Corporation and PV Gas granted Investment Registration Certificate for Son My LNG Terminal
The terminal will play an important role in supporting Viet Nam's energy transition and economic growth.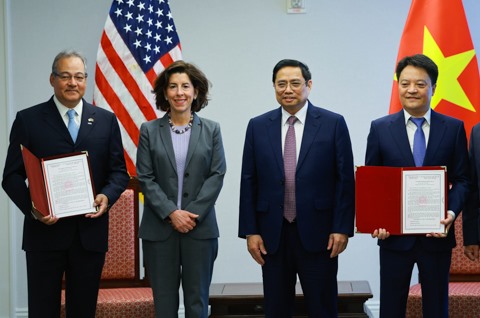 Today, AES and PetroVietnam Gas JSC (PV Gas) representatives were granted an Investment Registration Certificate for the Son My LNG terminal project.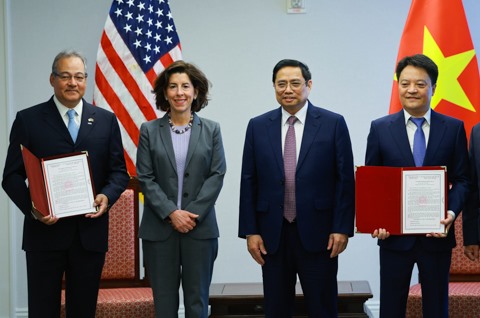 Viet Nam Prime Minister Pham Minh Chinh (second from right) and the US Secretary of Commerce (second from left) at the awarding ceremony of the Investment Certificate and business registration for Son My LNG.
AES Executive Vice President and Chief Operating Officer Bernerd Da Santos, and PV Gas President and CEO Hoang Van Quang, received the Certificate from Viet Nam's Minister of Investment and Planning Nguyen Chi Dung at a ceremony in the presence of Vietnamese Prime Minister Pham Minh Chinh, US Secretary of Commerce Gina M. Raimondo as well as Vietnamese and US government officials.
The Investment Registration Certificate is a significant enabler for establishing the Son My LNG terminal project company, which is formed by PV Gas and AES affiliates. The terminal will have an installed capacity of 450 TBtu and represents a total investment of about US$1.4 billion.
The terminal is expected to achieve financial completion in 2023 and begin commercial operations in 2026.
"This is an important milestone for developing the Son My LNG terminal project, which will supply LNG to southern Vietnam and play a major role in shaping Vietnam's energy future by diversifying the energy mix with imported LNG," said David Stone, President of AES Vietnam.
The Son My LNG terminal complements AES' project in the Son My 2 Combined Cycle Gas Turbine (CCGT) power plant. Together, the plant and the terminal affirm AES's commitment to Vietnam's economic growth and energy transition through developing gas and renewable infrastructure while helping Viet Nam meet its energy transition goals and increasing the demand for sustainable and affordable electricity.
As a leader in clean growth and innovation, AES has been leading the energy industry with cutting-edge technologies in LNG to power, renewables, digital innovation, and battery energy storage while creating the greener, smarter energy solutions the world needs.
AES has extensive experience in developing LNG to power projects, including LNG terminals in the Dominican Republic in 2003 and in Panama in 2018, providing cleaner, more cost-effective and sustainable energy solutions for the Caribbean and Central America.
About AES in Vietnam
Our vision is to be a leading sustainable power company in Vietnam that provides safe, reliable and affordable energy.
Through its subsidiary, AES Mong Duong Power Company Limited, AES has successfully developed and arranged to finance the Mong Duong 2 Power Project of 1,242 MW with a total investment of approximately $2.1 billion.
This is Viet Nam's first Build – Operate – Transfer coal-fired power project, representing about 2.3 per cent of the country's installed capacity. To learn more, please visit https://aesmongduong.vn/.
In November 2017, AES signed an MOU with PV Gas in the presence of US President Donald J. Trump and Vietnamese President Tran Dai Quang to develop the $1.3-billion Son My LNG Terminal Project.
In November 2019, AES also signed an MOU with the Ministry of Industry and Trade to develop a 2.2GW combined cycle gas turbine (CCGT) power plant under the BOT scheme in Binh Thuan Province.
In October 2020, AES Vietnam and PV GAS inked a Term Sheet of the Joint Venture Agreement for the Son My LNG terminal. Together, the CCGT and terminal are expected to play a significant role in shaping Viet Nam's energy future by diversifying the energy mix with imported LNG and meeting the country's increasing demand for sustainable and affordable electricity. For more information, visit: www.aes-vietnam.com
About AES
The AES Corporation (NYSE: AES) is a Fortune 500 global energy company accelerating the future of energy. Together with our many stakeholders, we're improving lives by delivering the greener, smarter energy solutions the world needs.
Our diverse workforce is committed to continuous innovation and operational excellence while partnering with our customers on their strategic energy transitions and continuing to meet their energy needs today. For more information, visit www.aes.com.
Source: VNN
Maybe You Also Interesting :
» FDI down 9 percent to $14 bln
» Đà Nẵng City calls for investment
» Việt Nam forges multi-faceted cooperation with Oman, UAE