Onsen ecosystem - the great value that turns Quang Ninh into a leading wellness tourism destination
Thank to possessing a hot mineral resource with great values and an onsen ecosystem under construction by Sun Group in addition to Quang Ninh's well-planned strategy from now to 2030, Quang Hanh is being shaped into a regional wellness tourism centre.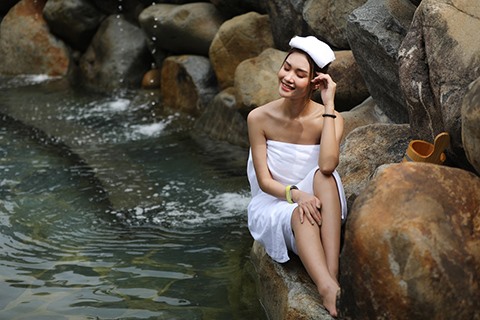 Thank to possessing a hot mineral resource with great values and an onsen ecosystem under construction by Sun Group in addition to Quang Ninh's well-planned strategy from now to 2030, Quang Hanh is being shaped into a regional wellness tourism centre.
Global hot trend
Wellness tourism is a specific type of tourism intended to promote and maintain a positive state of health of the body, mind and soul. This is a prevailing trend in the world, especially in the current context of the COVID-19 pandemic.
As reported by Market Insight Solutions, the global wellness tourism market size was valued at $728.17 billion in 2019 and projected to reach $1.29 trillion by 2027. This market is poised to grow at a compound annual growth rate of 7.7 per cent over the next 7 years. Particularly, Asia will see a boom in this industry with over 257 million wellness trips, generating more than $136 billion in revenue.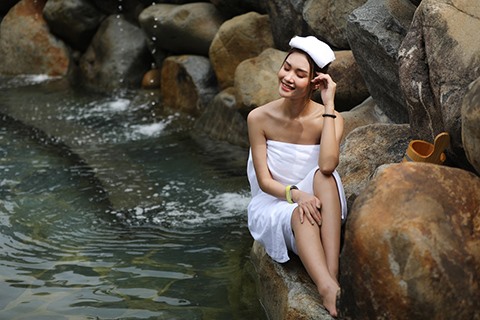 Thermal/Mineral Springs tourism is holding a particularly impressive position in that trend. Figures from the Global Wellness Institute in 2017 showed that the global thermal/mineral springs businesses earned $56 billion in revenue in 2017 and are projected to reach $77 billion in 2022. Japanese-style Onsen services are heavily concentrated throughout East Asia and Southeast Asia.
These are foundations for Viet Nam to unlock its great potential to develop wellness tourism; especially thermal/mineral springs tourism. The country has hundreds of hot mineral sources, many of which are highly appreciated by foreign experts such as Quanh Hanh (Quang Ninh Province), Thap Ba (Khanh Hoa Province), Binh Chau (Ba Ria - Vung Tau Province), Kenh Ga (Ninh Binh Province), Quang Xuong (Thanh Hoa Province), or Tram Tau (Yen Bai Province) and Dam Rong (Lam Dong Province), etc.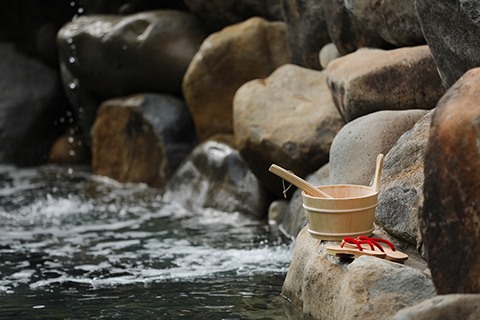 Quang Hanh hot springs is a typical example. Not only disclosed in the French colonial period as one of the most valuable sources of minerals in Viet Nam, the spring was also proven by Japanese experts to be one of the mineral water mines with the highest content of hot mineralized Bromine in the world. Therefore, hot mineral water in Quang Hanh helps eliminate toxins, relieve muscle and joint pain, promote blood circulation, support the treatment of skin diseases, refresh the mind and reduce stress, etc., which is suitable for all ages.
At the Seminar themed "Quang Ninh tourism in the new normal state: Opportunities and Challenges" on October 30, 2021, Mr. Pham Ngoc Thuy, Director of Quang Ninh Department of Tourism, said that: "The future of Quang Ninh tourism will be resort tourism and wellness tourism and will be associated with the sea and islands - an advantage that is probably not available in any other province."
Based on the above research results and global trend forecasts along with a breakthrough management mindset, Quang Ninh Province has promote its vision to turn Quang Hanh into a regional wellness tourism centre.
Awakening the source of wellness from the ground
To realise this big goal, Quang Ninh Provincial People's Committee requested Sun Group to join hands to awaken valuable hot mineral resources in Quang Hanh. In May 2020, Sun Group put into operation Yoko Onsen Quang Hanh hot spring resort. The orientation of the leaders of Quang Ninh Province in addition to the heavy investment by Sun Group in the standardisation of onsen resorts based on the Japanese onsen style affirmed the right direction of the province.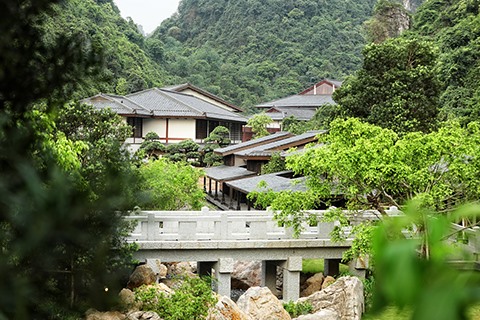 Surrounded by the green nature of the mountains in Cam Pha, Yoko Onsen Quang Hanh is like a peaceful and quiet Japanese village with villas in traditional Japanese architecture besides bonsai garden and zen gardens delicately and sophisticatedly designed by Japanese artisans.
The attraction of Yoko Onsen Quang Hanh not only comes from the pure Japanese space but also from the thermal/mineral springs experience that meets Japanese rigorous standards. Twenty-seven mineral baths are equipped with state-of-the-art filtration systems, helping to remove impurities while retaining minerals beneficial to health and beauty. Each type of bath is built and equipped with its own technology, providing many different uses. Dynamic bath with hot water jets for body massage and gentle relaxation is highly efficient in reducing excess fat and eliminating toxins. Jacuzzi bath for full-body massage helps promotes blood circulation and makes the skin smoother thanks to the air bubbles in the water.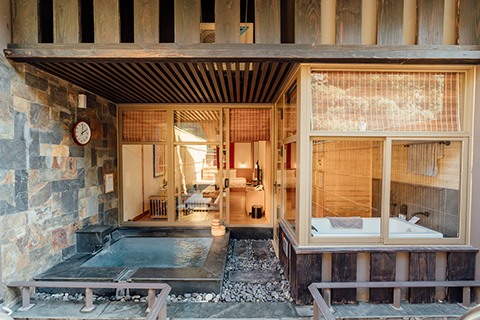 The use of Quang Hanh hot mineral source is even maximised with a wide range of auxiliary services such as hot stone sauna, hot sauna, cold sauna, and Japanese-style spa. Snacks, mochi cakes made at the counter by good chefs or a cup of hot Japanese-style tea after a mineral bath in addition to delicate care to every little detail have raised the value of Quang Hanh hot mineral source after years of sleeping underground and give visitors a truly value-for-money experience.
That's why Yoko Onsen Quang Hanh is always full of guests from its opening, except during the social distancing due to the COVID-19 pandemic.
Raising the great value and creating an onsen ecosystem
Besides optimising the great value of hot mineral resources, Sun Group also continues to create a high quality ecosystem, joining hands with the province to gradually turn Quang Ninh into a world-class wellness tourism paradise.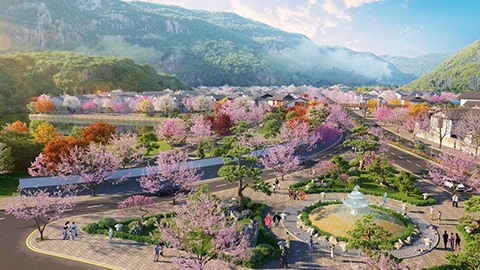 Artist's impression of Sun Onsen Village – Limited Edition villa area
In the near future, there will be a Japanese-style resort town within close proximity to Yoko Onsen Quang Hanh. Sun Onsen Village - Limited Edition villa system is designed as a miniature Japanese-style resort. Each villa will have its own mineral source with full Japanese-standard onsen bathing systems and procedures. Moreover, the town will have a high-end hotel and a high-quality hospital for therapy, counselling, health screening and rehabilitation, which is expected to be operated by Kitahara Medical Strategies International, a group that is operating a chain of international hospitals, rehabilitation hospitals, and professional high-quality clinics in Japan. Yoko Park complex of hot springs, a 5-star resort, and a club for the elderly will also be built, giving customers the privilege of enjoying the great value from natural mineral resources.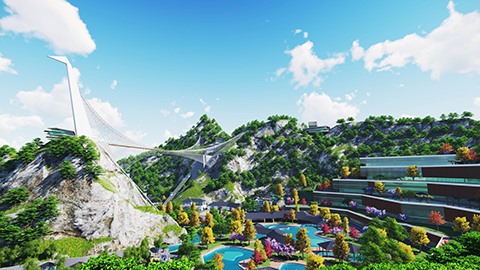 Artist's impression of hot spring park in phase 2 of Yoko Onsen Quang Hanh project
Quang Hanh will become a regional wellness tourism centre by 2030. Quang Ninh is very close to this goal with the onsen ecosystem developed by Sun Group.
Source: VNN
Maybe You Also Interesting :
» Businesses urge PM to fully reopen international borders in May
» New year brings more of same problems for tourism workers
» Lắk Lake, a peaceful spot in the Central Highlands