Come to Hon Thom to 'Live Healthy, Live Happy and Live Fancy'
The new concept of A Happy Life for those who long for conducting an abundant and colorful life is the concept that consists of the following three core values: healthy living, fun living and fancy living.
The new concept of 'A Happy Life' for those who long for an abundant and colourful life consists of three core values: healthy living, fun living and fancy living.
From this definition, Hon Thom Island is truly the island for happy residents.
Be healthy, both physically and mentally, living on Hon Thom Island
As a unique jewel in the south of Phu Quoc Island, there is no doubt that Hon Thom Island won the title of "The paradise on earth" thanks to its magnificent natural scenery, its pure atmosphere, and its abundance of marine life and forest ecosystem.
This one-of-a-kind island has majestic and poetic natural scenery with pristine white sand beaches like Lang Tay Beach covered with green coconut groves, green hills and white-foam-lapped. As if that isn't enough, under the waters of Hon Thom is a fantastic sea world of more than 116 species of coral with species dating back millions of years, not to mention 22 species of rare fish.
Trào Beach with ivory-white sandbank and green coconut groves
While sitting on the world's longest sea-crossing three-wire cable car to Hon Thom, you will clearly see the island's green energy. Endless activities will blow your mind, from bathing in the cobalt water and discovering the ocean floor to relaxing on a hammock under the shade of a coconut tree while taking a sip of a tropical cocktail.
This joyful mixture will bring you a completely relaxing sensation of living in harmony with nature and feeling small in front of nature. Hon Thom Island gives the feeling of being cared for by Mother Nature, both in your soul and via your stomach. Many say they want to be permanent residents of this mini paradise by the end of their trip.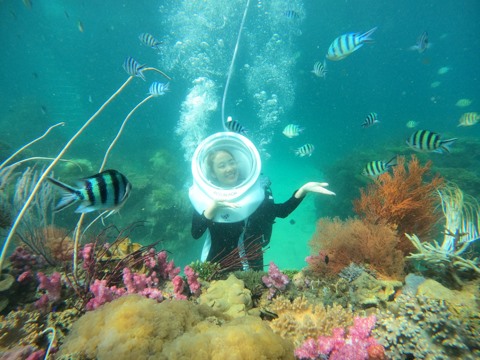 Walking under the sea to admire the coral at Hon Thom Island
Not only offering physical and mental therapies with the beauty of nature but Hon Thom is also shaped to become a super complex of entertainment and investment resorts, where residents will be cared for by the international standard Wellness Center.
Hon Thom Paradise Island has high-class healthcare services dedicated to physical and emotional care by balancing body and mind.
Island "immune" to sadness
With an ideal beach space and countless entertainment activities at Sun World Hon Thom Nature Park, Hon Thom is where residents feel immersed in the feeling of happiness.
The opportunities are endless: challenging slides at Aquatopia Water Park - the leading water park in Southeast Asia; exciting moments when sitting on a wooden roller coaster, like riding on the back of a giant "wooden snake" in a rage; the panoramic view of the magnificent Hon Thom island in the deep blue ocean from the "Eagle Eye" observatory at the height of 120 m; sea games such as parachute canoes, banana buoys and kayaking; a leisurely moment sipping a cocktail and swaying to Aboriginal dances. The list goes on...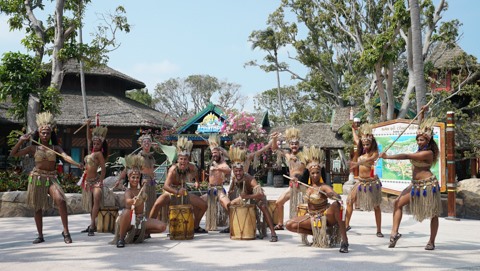 Aboriginal dances create a vibrant atmosphere for Sun World Hon Thom Nature Park
In the near future, Hon Thom will bring endless experiences, prolonging passion for visitors, when the island is invested in becoming one of the most famous paradise islands in the world, competing with the Maldives, Bora Bora or Monaco.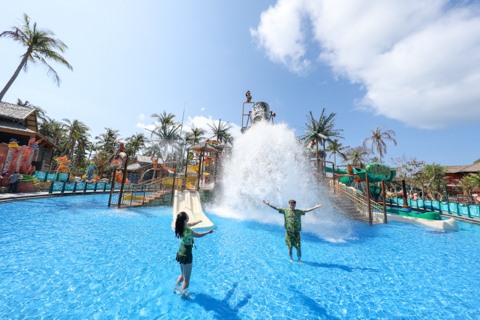 Aquatopia Water Park at Sun World Hon Thom Nature Park
A series of high-class service facilities meeting all needs and ages of visitors are available, such as the culinary village, clubhouse, outdoor performance area, dolphin bay, beach club, shopping and festival area.
All will turn Hon Thom into a bright destination day and night so that tourists can have endless fun, immerse in the sea, return to their childhood and live in true happiness.
Living in luxury with "diamond" real estate
Built to become a world-class resort, entertainment and investment super-complex, Hon Thom Paradise Island has redefined the paradise island in Viet Nam - it's not just an island with wonderful nature but a symbol of a prosperous lifestyle.
The prosperous lifestyle crystallizes in architectural masterpieces with utilities and services that are not for the majority. Right at Bai Trao, the Canh Buom building has a design like a windy sail reaching out to the ocean with a 360-degree view from above, which will bring a perfect resort space with a classy shopping mall infinity pool, Sky club, spa, and more.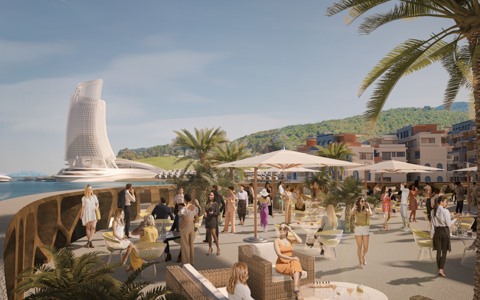 Hon Thom Paradise Island promises to attract a large range of high-class tourists (illustration image)
Embracing the pristine beach of Bai Trao, The Sailing Bay villa complex is based on the mountain facing the sea and is a fresh living space immersed in nature with high-class utilities from the marina port, helipad and seaplane, to the casino and commercial complex gathering prestigious brands.
Hon Thom is an island of residents who are passionate about a luxurious life, and will also be a magnet for domestic and international tourists. Residents of Hon Thom Paradise Island will not only enjoy an elite lifestyle but also be investors in a prosperous future.
Investing in Hon Thom is an investment for a prosperous future - the ultimate core value to bring True Happiness.
Source: VNN
Maybe You Also Interesting :
»  'Bike to school' campaign launched in Pleiku for a greener and healthier future
» LIVE: Vietnam vs. Dortmund
» LIVE: Vietnam 0-1 Dortmund