Del Monte-Vinamilk launches new products, targets 10% dairy market share in Philippines
The new product selection includes Del Monte-Vinamilk Fresh Milk, IQ Smart Flavoured Milk, YoGurt Drink and Tea Bliss Milk Tea.
HÀ NỘI — Del Monte-Vinamilk, the joint venture of Del Monte Philippines Inc (DMPI) and Vietnam Dairy Product JSC (Vinamilk), has launched a new range of dairy products to consumers in the Philippines, marking its entry into the third-largest economy in the ASEAN.
The US$6 million joint venture, established on August 17 this year, aims at pushing the standards of delicious nutrition in the second most populated country in the region. People's income and dairy product consumption per capita is rising rapidly in the country.
The new product selection includes Del Monte-Vinamilk Fresh Milk, IQ Smart Flavoured Milk, YoGurt Drink and Tea Bliss Milk Tea.
These products have been put on shelves of the largest supermarkets in the Philippines, including Puregold and SVI Group, retail outlets and Del Monte's official stores on Shopee and Lazada. The products have received positive feedback on taste, variety and packaging design.
At a virtual briefing on Tuesday to launch the new products, Vinamilk's CEO Mai Kiều Liên said: "We highly appreciate Del Monte's supportiveness and cooperativeness during the past time and hope that we will together develop a successful joint venture in the Philippines for mutual benefits."
"Vinamilk is confident that we can provide Filipino consumers, through this joint venture, with healthy dairy products, giving them more choice in nutritional products that meet the international standards."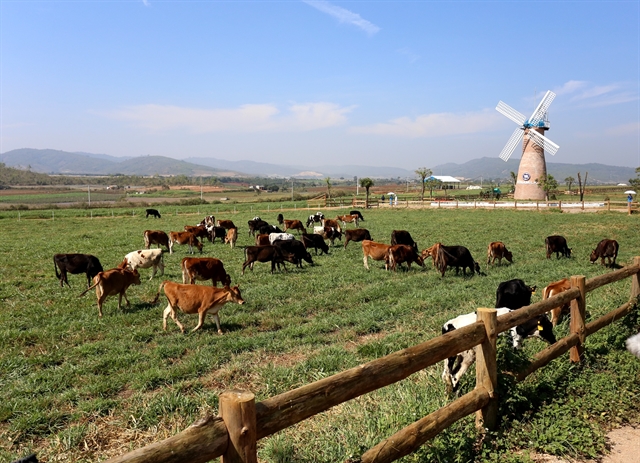 In the Philippines, as well as in many countries around the world, there has been an increased focus on maintaining good health, including proper nutrition, as part of a holistic plan to guard against COVID-19.
The joint venture's representative said the COVID-19 pandemic has changed the daily life of Filipino families with parents working from home and children attending online classes. Therefore, products from Del Monte-Vinamilk will be new nutritional solutions, contributing to solving parents' concerns about healthy nutrition in the new normal conditions.
With a focus on providing suitable nutritional solutions that meet the needs of consumers, the joint venture aims to capture 10 per cent of the local dairy market share.
In September, braving huge challenges due to the spread of the virus in Việt Nam, Vinamilk completed the production and exportation of the first shipment for the joint venture with a cumulative value of more than $1 million.
Despite the adverse impacts of COVID-19, the Filipino economy is gradually recovering, leading to a growth in consumer demand in the latter half of this year. This provides a solid foundation for the company's expectation of $9 million in first-year revenues and the potential for compound growth of about 50 per cent per year in the medium term.
Del Monte-Vinamilk possesses the brand strength and competitive advantages of two companies, Vinamilk and DMPI. It is expected to bring more dairy product options to local consumers, contributing to the development of the Filipino dairy industry in the long term.
Luis Alejandro, President of Del Monte-Vinamilk and COO of Del Monte Philippines Inc, believes Vinamilk is an ideal joint venture partner because the two companies share common values in nutrition and health, investment orientation in the dairy industry and have the same desire to bring to Filipino consumers healthy dairy products that suit their taste at a reasonable price.
Del Monte Philippines Inc is a subsidiary of 95-year Del Monte Pacific Limited, a trusted food and beverage business in the island nation. DMPI currently owns a wide distribution network with more than 100,000 retail outlets in the Philippines.
In Việt Nam, with its vision and sustainable development strategy, Vinamilk not only leads the domestic dairy market but is also ranked 36th in Plimson's list of the world's largest dairy companies in terms of revenue. Vinamilk is also the only representative of Southeast Asia in Brand Finance's Top 10 most valuable dairy brands in the world in 2021.
Source: VNN
Maybe You Also Interesting :
» Vinamilk profits continue to fall
» Singapore utility to invest $540 mln in Vietnam renewable energy
» Singaporean national utility invests $540 mln in Vietnam energy sector