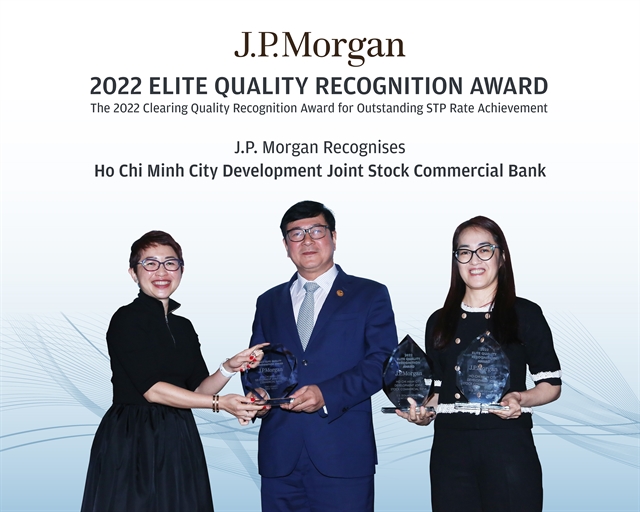 Trần Hoài Nam, deputy general director of HDBank, receives the award from J.P Morgan Chase. — Photo courtesy of HDBank
HCM CITY — HDBank has won two more coveted international awards adjudged by leading global banking and financial experts for meeting stringent criteria in terms of total assets, net profit, growth index, business orientation, and others.
It won The Asset Triple A Award for best bank for sustianable finance in 2022 from The Asset.
It also received the 2022 Elite Quality Recognition Award from J.P. Morgan Chase Bank for its MT202 EUR Rate, underlining its exceptional performance in international payment services.
The awards continue to underscore HDBank's status in the domestic and international financial markets and its sustainable growth and role as an important capital mobilisation channel, it said.
According to The Asset Triple A Awards jury, HDBank has always been at the forefront of environmental, social and governance (ESG) activities - one of the most important sustainability factors in evaluating sustainable and responsible businesses.
During its journey of promoting sustainable finance and practicing ESG, HDBank has made efforts to attract external capital to increase resources and encourage projects meeting ESG criteria in the domestic market.
At the end of 2021, in just three months, HDBank attracted more than US$700 million from foreign partners to promote green financing.
As of today it has disbursed more than VNĐ13 trillion (US$551.2 million) to finance projects meeting ESG criteria.
The bank is set to expand its green portfolio in response to the interest from foreign investors who want to provide long-term capital solutions for this segment.
The Asset also highly appreciated the bank's business results in 2022 such as its profitability, capital adequacy ratio, return on equity, return on assets, stand-alone non-performing loans ratio.
This is the first time HDBank won the MT 202 EUR award from J.P. Morgan Chase Bank, but for a fifth year in a row the US's largest lender has honoured it for other international payment services.
In 2022 HDBank achieved a straight-through processing rate of 99.95 per cent for MT202; 99.73 per cent for MT 103 and 100 per cent for MT 202 EUR, which kept it among banks with the best STP rates for international electronic payment in the world.
Last year HDBank reported its best ever results with pre-tax profit jumping to VNĐ10.27 trillion ($435.8 million) and total assets rising to an all-time high of more than VNĐ416 trillion ($17.7 billion).
Its capital adequacy ratio and performance indicators were among the best in the banking sector.
HDBank made a strong impression with a year-on-year increase of 53 per cent in service revenues last year.
In the 2019-22 period HDBank achieved a compounded growth rate of 56.3 per cent in service revenues, among the best in the sector.
The bank has constantly promoted comprehensive products and services on digital platforms to meet customers' diversified demands and deliver greater customer experience.
Recently HDBank became the first bank in Việt Nam to deploy the Swift Go service for international payments.
Over the next five years the bank will maintain its high growth rate of more than 25 per cent on average, affirming its ability to ensure safe and sustainable operations. — VNS