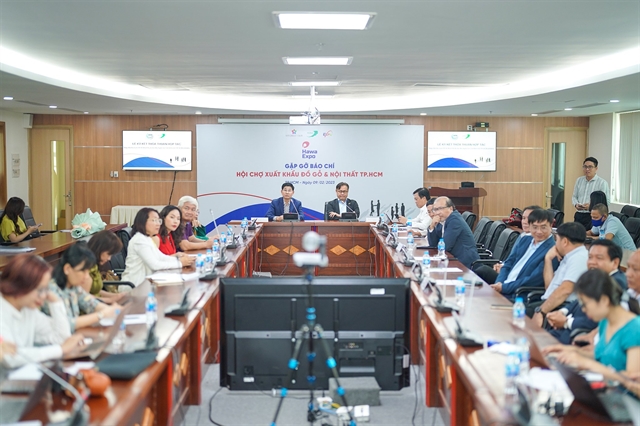 At a press briefing to introduce the Ho Chi Minh Export Furniture Fair - HawaExpo 2023 in HCM City on February 9. — VNS Photo
HCM CITY — The Ho Chi Minh Export Furniture Fair - HawaExpo 2023 will be held in HCM City from February 22 to 25 as part of a pact among five wood processing industry associations across Việt Nam.
The Vietnam Timber and Forest Product Association (VIFOREST), the Handicraft and Wood Industry Association of HCM City (HAWA), the Bình Dương Furniture Association (BIFA), the Handicraft and Wood Industry Association of Đồng Nai, and Forest Products Association of Bình Định has announced a strategic cooperation for joint development.
Accordingly, the trade promotion activities of the five associations, from now on, will no longer be isolated but attributed under one name, Viforest Fair.
"The cooperation aims to create concerted strength and more conditions for firms in the industry to expand, thereby raising the position of Việt Nam's wood processing industry in the world furniture export market," said Đỗ Xuân Lập, VIFOREST's chairman.
The fair is expected to create a push in trade promotion for Việt Nam's wood processing industry and contribute to help the industry reach an export goal of US$20 billion by 2025, he said.
Taking place at the Saigon Exhibition and Convention Centre, HawaExpo 2023, the first event of the cooperative effort, will feature 1,600 booths of nearly 200 furniture manufacturers, including big names in the industry such as AA Corporation, Interwood, Sanyang, Lâm Việt, Đại Thành, Tiến Đạt, Trường Thành, An Cường, Woodslands, and Scansia Pacific.
It is the first fair in a series of furniture fairs across Asia that will include fairs in Malaysia, Indonesia, Thailand and China.
The fair will include activities such as a networking cocktail, business matching, specialised workshops, and evening showroom visits.
In addition, after the close of the fair, the organisers will organise factory tours from February 25 to 28 to help international buyers look at large manufacturing plants in HCM City and neighbouring provinces.
The organisers have so far received nearly 1,000 registrations to visit the fair from 18 countries and territories, including those from the US, Europe, the Middle East and Asia.
HAWA and the HCM City Tourism Association has also signed an agreement that promise to offer a comfortable and relaxing experience for international buyers during their stay in Việt Nam.
Việt Nam ranked first in Southeast Asia, and second in Asia in wooden furniture exports, but its trade promotion activities via fairs were still inferior to other countries in terms of scale, and not commensurate with the woodworking industry, said Nguyễn Quốc Khanh, HAWA's chairman.
"Therefore, the five associations are determined to link up to organise a furniture fair on a par with that elsewhere in the world," he said.
HCM City boasts a prime location to host large furniture fairs. It only takes 30-45 minutes for foreign buyers from HCM City to visit major manufacturing factories in the neighbouring provinces of Đồng Nai, Bình Dương, Long An and Tây Ninh.
"This is a great advantage of Hawa Expo fair compared to fairs held in other countries," he said.
Lập said the industry has achieved double-digit export growth rates for many years thanks to high global demand and improvement in manufacturer production capacity. With such favourable market conditions, most local businesses in the industry have focused on the production and paid little attention to trade promotion activities and connections with markets.
This has pushed woodworking firms into a passive situation when market demand declines. In order to develop sustainably, businesses must also focus on trade promotions, he said.
Nguyễn Liêm, chairman of BIFA and Lâm Việt JSC, said "Hawa Expo 2023 is expected to bring great opportunities for woodworking firms, including those from Bình Dương."
"Despite the fact that e-commerce has developed quite strongly, in the furniture industry, foreign buyers also pay great attention to the structural and aesthetic factors of products as well as materials used. They also want to directly see and touch products and want to visit factories to grasp their productivity and management system," Liêm said.
According to a report by the General Department of Forestry, wood and furniture exports reached $16.9 billion last year, up 6.1 per cent over 2021, the lowest growth rate in recent years.
Many firms faced a shortage of export orders in the second half of last year. Companies have gotten some new orders this year, but not many.
This year, the industry has set a modest export target of $17.5 billion, a year-on-year increase of 2.5 per cent, Lập said. — VNS