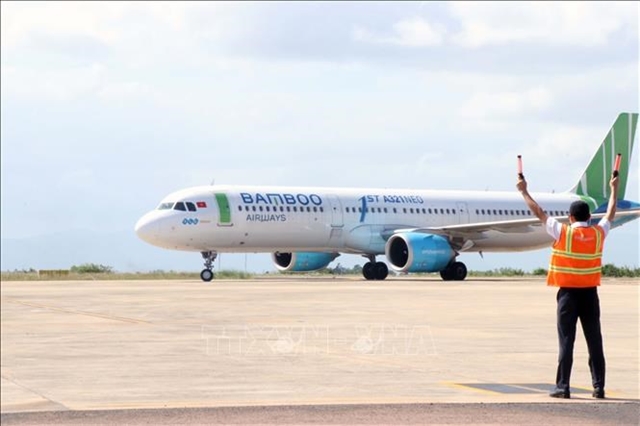 An aircraft prepares for take-off at Phù Cát Airport. VNA/VNS Photo
HÀ NỘI — The Ministry of Transport (MoT) is considering the feasibility and practicality of upgrading Phù Cát Airport in the central province of Bình Định to an international airport.
Located in the Phù Cát District, just 30km northwest of Quy Nhơn City, the airport has already been upgraded to meet the operational standards of larger aeroplanes such as the Airbus A320 and A321 in recent years.
In addition, the airport facilities have also received major upgrades to accommodate up to two million passengers a year to meet rising tourism demand in Bình Định and other neighbouring provinces.
Phù Cát was still classified as a domestic airport in the national air travel infrastructure development plan 2021-2030, with a long-term vision to 2050.
However, in recent years the airport has been given the green light to operate irregular international flights as the ministry looks to encourage Vietnamese and international airlines to establish additional flight paths that include the airport.
"The MoT will monitor the airport's demand and operations for a set period. Once all the requirements are met, the airport will be upgraded to international airport status," said a spokesperson from the transport ministry.
The ministry stressed the importance of strictly following international standards such as those set by the International Civil Aviation Organization (ICAO) in upgrading the airport's status, among which is the road infrastructure connecting the airport to nearby towns and national highway systems such as the 180-kilometres, four-lane Quy Nhơn-Pleiku Highway project, which will break ground in 2030.
Provincial authorities have been tasked with overseeing the highway's construction under a public-private partnership model. The highway will play a key role in socio-economic development in the southcentral region and the central highlands. VNS