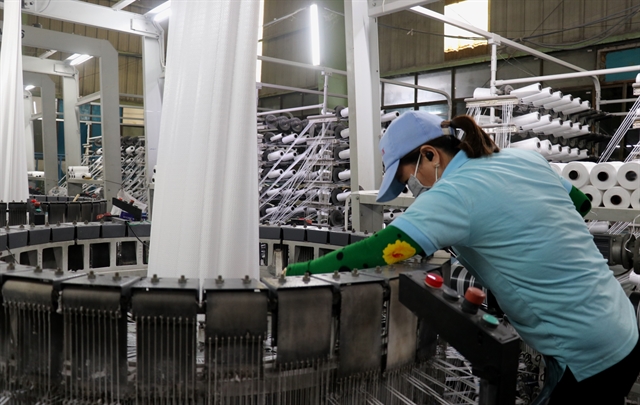 Packaging production at Hà Tiên Packaging Joint Stock Company in Kiên Giang Province. — VNA/VNS Photo Lê Huy Hải
KIÊN GIANG — The Cửu Long (Mekong) Delta province of Kiên Giang strives for industrial production value to reach more than VNĐ48.18 trillion (US$2.04 billion) this year, a year-on-year increase of 8 per cent.
The industrial production value of Kiên Giang Province was more than VNĐ44.6 trillion last year, reaching 105.3 per cent of the plan, up 13.7 per cent compared to 2021.
Director of the Department of Industry and Trade Trương Văn Minh said that since the outbreak of the COVID-19 pandemic, this had been the first year that the province's industrial growth reached double digits.
It showed that the process of recovering production and business of industrial production facilities in the area has had many positive changes and strong development, he said.
Among them, the processing and manufacturing industry was the main growth driver of the whole industry, accounting for 95.3 per cent of the total structure of industrial production value of the province.
Accordingly, most industrial products have positive growth. Leather shoes, bricks of all kinds, packaging, beer, frozen seafood, and stone mining have a growth rate of over 13 per cent compared to 2021.
This result is due to the fact that the supply chain of goods has been restored after the COVID-19 pandemic, and the purchasing power increased sharply again.
Enterprises have been proactive and have appropriate business solutions, and timely implementation of supply contracts, which have contributed to the overall growth of the whole industry in the province last year.
The vice chairman of the provincial people's committee Lê Quốc Anh said that the province had stepped up the activities of the province's steering group on restoring industrial production to synchronously and effectively deploy solutions to restore industrial production to support enterprises to accelerate the recovery and development of production and business activities.
The province would strengthen support for investors and businesses to soon complete and put into operation investment projects to enhance the capacity of the industry in the new year, especially key investment projects. — VNS