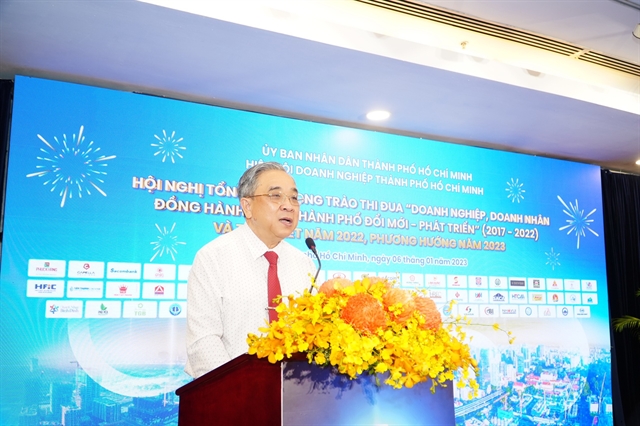 Nguyễn Ngọc Hòa, chairman of the HCM City Union of Business Associations, speaks at its review meeting in HCM City on January 6. — VNS Photo
HCM CITY — The HCM City Union of Business Associations has a number of measures in place to help the business community overcome challenges this year.
Nguyễn Ngọc Hòa, its chairman, told a meeting held on Friday (January 6) to review last year's performance that it would also work with the city administration to improve the investment environment, promote economic development and ensure social security.
This year HUBA would focus on organising programmes such as the 2023 HCM City Economic Forum for voting for the city's 'Typical Products and Services' and the Green Business Awards.
It would also continue with its regular activities such as 'Business Café', trade promotions in both the domestic and overseas markets, trade fairs to showcase Vietnamese goods, and attracting membership and increase their connectivity.
Due to the uncertain global social-economic situation, businesses were expected to face difficulties this year, and HUBA would continue to work with the city to advocate sound policies and act as a bridge between the administration and businesses to resolve difficulties faced by the latter.
It also planned to co-ordinate with partners to organise training in digital transformation and others for its members and help them expand trade with other countries.
It wanted the State Bank of Vietnam to continue rescheduling of medium- and long-term loans, and bring down bank loan interest rates to support businesses.
The Government needed to keep the VAT rate at 8 per cent for all sectors, not just a few as at present, until the end of 2024, and ensure tax refunds to businesses in a timely manner.
It needed to roll out policies to promote the development of the bond and real estate markets, and speed up public spending to enable enterprises to maintain operations and create jobs.
Nguyễn Phước Hưng, the association's deputy chairman, said last year HUBA took many measures post-pandemic to help business revival and co-operation, and acted as a bridge in connecting the Government and businesses.
Bùi Tá Hoàng Vũ, director of the city Department of Industry and Trade, appreciated HUBA's contributions to the business community and completion of all the tasks assigned by the city.
Considering the challenges this year, it is again expected to make a significant contribution to the economy and businesses, he added. — VNS