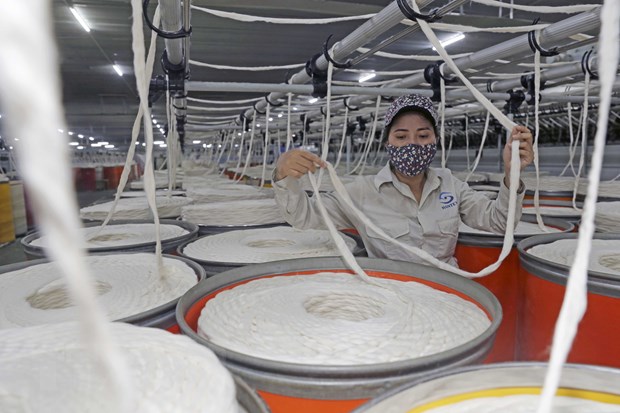 Hà Nam Textile Company. Focus will be placed on promoting the production of raw materials to ensure sustainable exports for the garment and textile industry. — VNA/VNS Photo Trần Việt
HÀ NỘI — The Vietnam Textile and Apparel Association (VITAS) forecast garment exports to reach more than USS$45 billion in 2023, higher than this year value of $44 billion, driven by the opportunities provided by new-generation free trade agreements (FTAs).
VITAS President Vũ Đức Giang said that although difficulties would remain for the textile and garment exports in the first half of 2023, there were silver linings it could pin hopes on for the second half.
The European and the US markets were expected to warm up from the second half of 2023, together with opportunities provided by new-generation FTAs, Giang said. For example, under the EU – Việt Nam FTA (EVFTA), many products exported from Việt Nam to the EU would enjoy zero tariff from 2023.
The visit of Prime Minister Phạm Minh Chính to Europe would also open significant opportunities for attracting investment in the garment and textile industry, especially in the production of raw materials.
The Vietnam National Textile and Garment Group (Vinatex) said though forecasts had been made early, its members were still surprised at unpredictable changes in 2022 such as the Russia-Ukraine conflict and surges in oil prices, inflation, and interest rates, which have caused demand to nose-dive in importing markets.
Yet Vinatex estimated its 2022 consolidated revenue at over VNĐ19.53 trillion VND ($826.84 million), up 15 per cent from last year and 8 per cent higher than the target, and consolidated profit at more than VNĐ1 trillion, up 14.6 per cent from the target. These figures are assessed as encouraging amid numerous market difficulties.
Pointing out three scenarios, Vinatex chairman Lê Tiến Trường said in the best-case one, the global economy will become stable and geopolitical conflicts over by the end of the second quarter, meaning exports in 2023 may go up 4 – 5 per cent from 2022.
In the middle-case scenario – instabilities will linger on, inflation remain, and interest rates still increase until Q3 - exports may stay unchanged compared to this year. And in the worst-case one where the world economy will enter a recession, the 2023 revenue may be about 5 per cent lower than that of this year.
Meanwhile, VITAS forecast its export revenue this year is likely to stand at nearly $44.5 billion, up 10 per cent from 2021.
For 2023, textile and garment exports may reach $47-48 billion in the positive scenario and $45-46 billion in the lower-case scenario, Vinatex noted, adding that how enterprises adapt to changes in markets will affect their growth in any circumstance.
In the positive scenario, instabilities in the global market will be brought under control and all activities of the sector may have recovered by the end of next year's first quarter. In such case, $48 billion in revenue is achievable.
Giang, however, said that in the second scenario, under which the global market will recover in the latter half of 2023, export turnover may reach $45 billion.
In the current context, when international markets do not place long-term textile and garment orders, businesses can switch to producing lower-value items. In 2022, as they have started to diversify markets and products, growth is still sustained.
In any scenario, textile and garment markets will be unable to bounce back at least in the first half of 2023.
However, experts held that there are still certain bright spots next year, noting the COVID-19 pandemic is being put under control, the world getting used to a new normal, the Asia-Pacific predicted to be the fastest-growing region in 2023, China easing the zero-COVID policy, and logistics costs showing signs of declining.
Giang said that an important factor underpinning the growth of the textile and garment industry was the ability of domestic supply of raw materials which increased year over year. Domestic supply now meets 45-47 per cent of the demand for raw materials for garment and textile productions.
Increasing the local procurement rate was very important because only with this can Việt Nam enjoy preferential tariffs under FTAs, Giang said, adding that this was a great motivation for Việt Nam's garment and textile industry to invest in fiber, yarn and raw materials production as well as to attract foreign direct investment (FDI).
Sustainability
Domestic garment companies are also switching to green production to meet the demand of the import markets.
According to Trường, raw materials production is the first step to implementing greening as required by the import markets like the US and Europe.
Therefore, Vinatex organised the production of yarn from recycled or organic materials. In the past five years, the production of fiber made from organic ingredients in cotton accounted for 30-35 per cent of the total output. In addition, factories were equipped with solar power which met around 20 per cent of their energy consumption.
Green production was the new standards that were introduced to push us to increase the capacity and be able to participate in global supply chain, Trường stressed.
Vitas submitted a draft strategy for the development of the garment and textile industry in 2021-30 period with a vision to 2030 to the Ministry of Industry and Trade and the Government for consideration.
According to Giang, the strategy would be an important basis for realising the industry's sustainable development goals, from which enterprises would develop practical solutions to catch up with the global trends.
The focus would be placed on calling investment in establishing the supply chain of raw materials to solve the shortage of the domestic supply, greening the garment and textile sector and training of workforce to meet the demand, he said.
Investments in technology, automation and digital management would also be enhanced together with ensuring a transparent production and business market, he added. — VNS