Vinamilk's organic fresh milk launched at China's leading trade show
Editor Choice
Việt Nam's leading dairy producer Vinamilk has launched its premium products – "double standard" organic fresh milk – at Shanghai Global Food Trade Show (FHC) in an effort to expand its presence in Chinese market.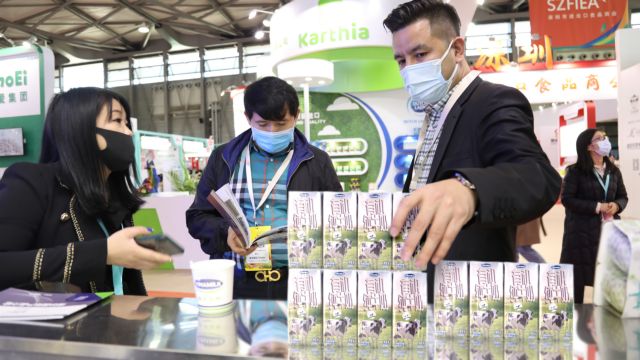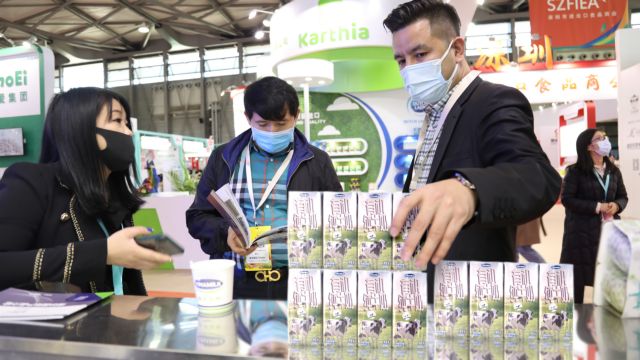 SHANGHAI — Việt Nam's leading dairy producer Vinamilk has launched its premium products – "double standard" organic fresh milk – at Shanghai Global Food Trade Show (FHC) in an effort to expand its presence in Chinese market.
FHC is a long-established international food trade show developed over the last 25 years. With the huge market demand of China's food and catering industry, the expo provides an important platform for major multinational companies to enter the Chinese food and beverage market.
During November 9-11, Vinamilk presented its premium products, including organic fresh milk, fresh skimmed milk and pasteurised fresh milk, to international customers at this event. They are also the first fresh milk products officially exported to China and has been available in Jindong's retail outlets in Shanghai and will be launched soon on online platforms.
Organic fresh milk with double standards
Organic fresh milk is a premium product in Vinamilk's fresh milk range. Organic fresh milk with double standards – European Organic (EU Organic) and Chinese Organic – is considered an outstanding product that will help enhance Vinamilk's competitive advantage in the Chinese market with more than 1.3 billion of consumers.
Lucy Lu, a representative of Vinamilk's business partner in China, said Shanghai is a very important market with good potential for high-end products as people have high-income and are willing to spend on healthy and nutritious products.
"We expect that organic fresh milk imported from Vinamilk will be well received by consumers thanks to the "double-standard" and delicious, light taste," Lu said, adding many orders of organic fresh milk were signed on the first day of the exhibition, showing the market's positive reaction for this product line.
China is considered one of the fastest growing markets for organic dairy products in Asia. The organic milk market in China reached nearly US$1.16 billion in 2020 and is expected to grow strongly over the next five years thanks to the increasing awareness of Chinese consumers about the healthy and environmentally friendly organic products.
Pioneer in promoting organic trend
With an existing dairy farms and domestic factories that meet European organic standards, Vinamilk has quickly earned the adequate organic certification to meet the requirements of the Chinese market. This is a prerequisite for exporting products to this market and is also a stage in which Vinamilk has invested a lot of time in the research and development process.
In addition, other factors such as packaging and product design are also invested to meet individual tastes but still ensure product quality during transportation and distribution in the market. On each milk box, in addition to the "Organic" symbol, there is a series of numbers for traceability and quality control according to Vinamilk's two organic standards.
Braving challenges caused by social distancing in many provinces and cities due to COVID-19, Vinamilk completed the first shipment of organic fresh milk and fresh milk products to Shanghai, China. The company has also promoted this product to business partners and consumers as soon as Shanghai returned to the "new normal" and resumed trade promotion activities.
"Vinamilk will maximise opportunities to reach consumers, expand its networkd and enhance the brand recognition," said Võ Trung Hiếu, Director of International Sales at Vinamilk.
"We expect Vinamilk's dairy products will not only successfully enter this market but from here will open up many new opportunities."
In recent years, Vinamilk has promoted the export of fresh milk products alongside the strong traditional products such as powdered milk, nutritional powder and condensed milk. The company exported organic fresh milk and fresh milk with refined bird's nest to Singapore as well as some Southeast Asian markets. With the increasing production of organic fresh milk ingredients, especially when the organic dairy farm project in Laos comes into operation in early 2022, this product line will be further promoted in both domestic and international markets.
In 2021, Vinamilk continues to affirm its leading position when being the sole representative of Southeast Asia on many global rankings. It was placed 36th in the world's Top 50 dairy producers by total sales in the 2021 ranking by UK-based Plimsoll Publishing Ltd and was listed in Brand Finance's Top 10 Most Valuable Milk Brands in the world with the valuation of $2.4 billion and the Top 5 strongest food brands. — VNS
Source: VNN