VN's shrimp exports expected to increase by year-end
Created
14 September 2021
Editor Choice
Many local seafood export enterprises forecast that the US and European markets will have high demand for importing shrimp at year-end.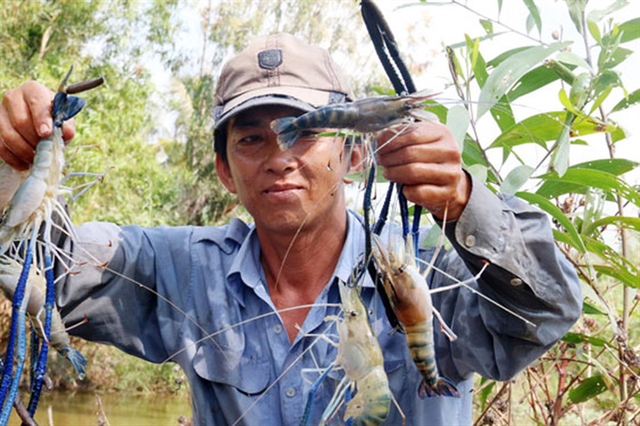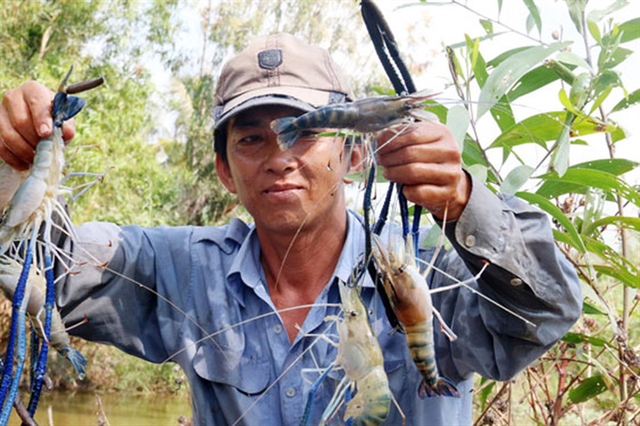 HÀ NỘI — Many local seafood export enterprises forecast that the US and European markets will have high demand for importing shrimp at year-end.
Lê Văn Quang, chairman of the Minh Phú Seafood Corporation's Board of Directors, said that the corporation had signed contracts with partners to supply shrimp until the end of the year. Now, its factory runs at full capacity but there is not enough shrimp supply for customers.
The export markets have high demand for large-size shrimp with 10-30 units per kilo. If farmers harvest shrimp in November, the shrimp would be exported to the European and US markets. After November, the shrimp will be sold to China, Japan, and South Korea, according to Quang.
The selling price of a 20-shrimp kilo is at VNĐ195,000-198,000, so the farmers could gain a profit of VNĐ50-60 million per tonne of shrimp.
According to Võ Quan Huy, chairman of the Mỹ Thanh Shrimp Association in Sóc Trăng Province, shrimp producers and traders in the province said that now they have gained good results in shrimp exports.
The Việt Nam Association of Seafood Exporters and Producers (VASEP) reported in the first seven months of 2021, Việt Nam's shrimp exports reached US$2.2 billion, up 14 per cent over the same period last year. Of which, shrimp exports reached $584.6 million to the US (up 34 per cent year on year) and $320 million (up 26 per cent) to the EU.
However, domestic shrimp production is facing difficulties, according to the Directorate of Fisheries.
Shrimp production facilities in the Southern localities reduced their output by 30-40 per cent from early July and 50 per cent from August 15. Some of them are even temporarily suspending operations.
Besides that, in localities applying social distancing measures under the Prime Minister's Directive 16/CT-TTg, shrimp consumption is currently suspended because the supermarkets and stores must implement those distancing measures or close.
Some shrimp processing factories must stop working or implement the "3 on-site" model, which involves on-site production, dining and rest, so the capacity has decreased, leading to the risk of the domestic shrimp supply chain breaking while the global demand for shrimp is increasing.
Quang of Minh Phú said that it is very difficult to transport shrimp to its processing factories. The difficulty in consuming shrimp means farmers will not have plans for reproduction. Meanwhile, the fourth quarter often sees high demand for shrimp, so there could be a serious shortage of raw materials.
A representative of the Kiên Giang Department of Agriculture and Rural Development said that in the last months of the year, the Directorate of Fisheries and the association should have an assessment and forecast of the consumption market because there is very little information.
A representative of the Sóc Trăng Department of Agriculture and Rural Development said State agencies should have more effective solutions in managing feed prices, and consider a proposal on 10-30 per cent reduction for power bills of shrimp farmers. At the same time, there are loan programmes for processing factories and input suppliers.
The Directorate of Fisheries said the production activity is also on a downward trend, because businesses purchasing, processing, and providing input materials have to temporarily suspend operations due to COVID-19. Therefore, supply of shrimp is forecast to fall in the last months of this year.
Amid the impact of COVID-19, farmers need to participate in production chains to overcome those difficulties. The localities should create favourable conditions and promote purchasing of shrimp from farmers.
At the same time, it has called on traders and seafood processing factories to continue purchasing shrimp and not to force farmers to sell at low prices at present when the farmers have difficulties in consumption.
The directorate has also suggested the localities strengthen measures encouraging farmers to continue brackish-water shrimp production. That will help avoid a shortage of raw materials for processing and export in the last months of 2021 and next year. — VNS
Source: VNN