Vietjet remains a rare bright spot on bleakish global aviation map in third quarter
Editor Choice
Vietjet's business results in the third quarter of 2020 can be seen as one of few bright spots on the global aviation map darkened by the COVID-19 pandemic.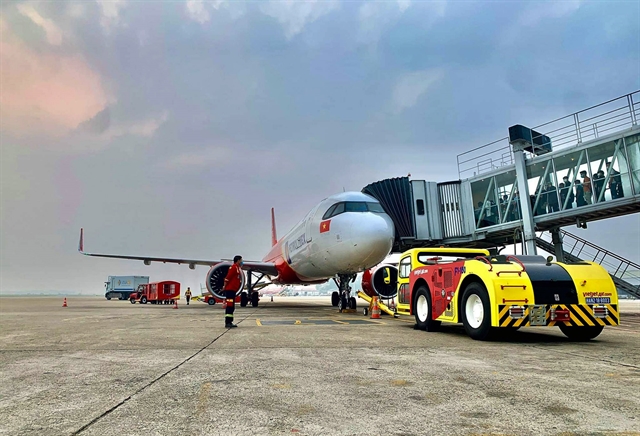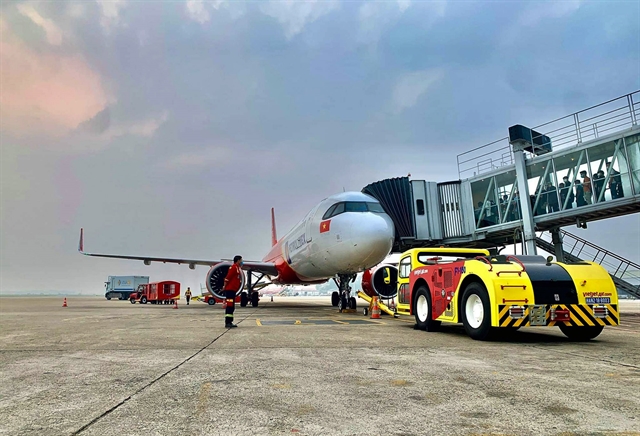 HCM CITY - Vietjet Aviation Joint Stock Company (HOSE: VJC) has released its third quarter 2020 financial statement with a slight increase in air transport revenue over that of the previous quarter despite the second outbreak of COVID-19 in Việt Nam.
The pandemic has caused a substantial impact on the airline's core business, air transportation, with its revenue surpassing VNĐ2.8 trillion (about US$120.8 million) and a post-tax loss of VNĐ926 billion ($39.9 million).
The consolidated third quarter results reported revenues of over VNĐ2.8 trillion ($121.1 million) and a post-tax loss of VNĐ971 billion ($41.8 million).
The results turned out to be better than expected, however, and were deemed positive compared to other airlines in Việt Nam and the world, Vietjet said.
According to the report, Vietjet's total asset was VNĐ45.26 trillion ($1.99 billion) with the owner's equity at VNĐ16.32 trillion ($745 million) including treasury shares.
Vietjet's current liquidity ratio remained at 1.14 while debt to equity ratio stood at a low level of 0.74, both of which were among the lowest in the global aviation industry. That allowed the airline to proceed with its mid- and long-term financing plans in order to strengthen its financial position.
The carrier's capital flows also significantly increased thanks to the full resumption of its domestic flight network.
During the third quarter, Vietjet operated up to 15,000 flights safely, serving more than three million passengers in the domestic market. The airline also conducted 32 international flights, bringing 7,440 stranded Vietnamese back home from Japan, South Korea, Taiwan, Indonesia, Brunei and the Philippines strictly in line with safety regulations of the Ministry of Health and the aviation authorities.
Regarding commercial flights, Vietjet acted swiftly to reopen international routes to Tokyo (Japan), Seoul (South Korea) and Taipei (Taiwan) since September 29 when the pandemic was put under control in Việt Nam and a number of countries in the region.
During the first nine months of this year, the airports were notably no longer overloaded with Vietjet's On-time Performance (OTP) reaching an average of 91 per cent and the aircraft reliability rate at 99.64 per cent.
Vietjet also introduced big promotion campaigns and many products bringing new values to customers during this period.
In September, the carrier launched a completely brand new ticket class called Deluxe in addition to the current SkyBoss and Eco classes. They came with attractive benefits and privileges specifically designed for different customer segments in order to meet the travelling demand of the passengers, diversify the airline's customer base, increase sales and generate extra revenue.
Meanwhile, Vietjet also initiated new business ventures including the self-handling ground operations at the Nội Bài International Airport to optimise operating costs, independently monitor its operations and facilitate extra ancillary revenue at the airport, as well as to better manage service quality.
The carrier proactively carried out cost-saving measures such as optimising operating costs per block hour and constantly negotiating with various suppliers which so far have helped cut expenses for aircraft leasing and maintenance. All in all, Vietjet's operating costs were down by between 50 per cent and 70 per cent.
The Government's support has lifted great pressure off the domestic airlines with the introduction of Circulars 10/2020/TT-BGTVT on September 1, 2020.
Accordingly, Vietjet and other domestic airlines are granted a 50 per cent fee waiver for flight operating services and especially for take-off and landing and ground operations until the end of 2021.
The Government has also waived the environment protection tax on jet fuel and offered preferential loans for the airlines. It has helped Vietjet cut costs and strengthen its internal strength for a robust recovery post COVID-19.
Vietjet's business results in the third quarter of 2020 can be seen as one of few bright spots on the global aviation map mostly darkened by the COVID-19 pandemic.
Third-quarter financial statements of several airlines all point to big losses. Experts, however, believe the aviation industry has hit rock bottom in the third quarter and will begin its recovery in the fourth quarter.
US carrier American Airlines reports a quarterly revenue of $3.2 billion, a decrease of 73 per cent year-on-year. Another US carrier, Southwest Airlines, posts a quarterly revenue of $1.8 billion, down by 68.2 per cent year-on-year. The UK's British Airways, meanwhile, said it had to cut a majority of flights and brought most of its operations to a halt.
As the domestic market is now in full swing, Vietjet, being well prepared with comprehensive resources and backed by the low-cost carrier business model, is expected to stand firm, with fast recovery and robust growth to follow once the global aviation market bounces back. — VNS
Source: VNN
Tags:
Maybe You Also Interesting :
» Vietjet sells two million discounted tickets to celebrate Vietnamese Teachers' Day
» Vietjet, UPS team up for global cargo transportation from Asia
» Vietjet posts $39.8 mln loss