Vietnamese firms hear how to promote exports to Southeast Asia at seminar
Editor Choice
Vietnamese firms need to improve product quality and research market trends and consumer tastes in Southeast Asian countries and take part in trade promotion programmes there to promote exports.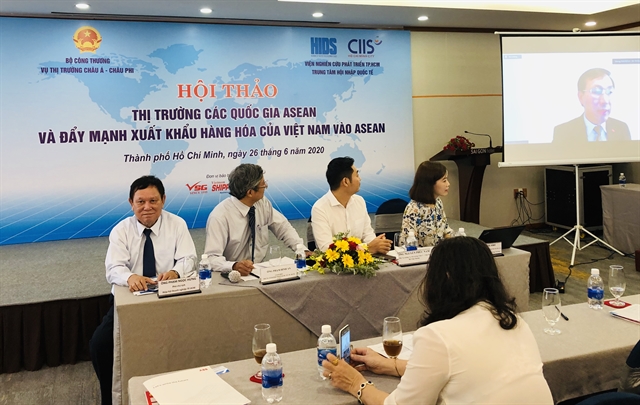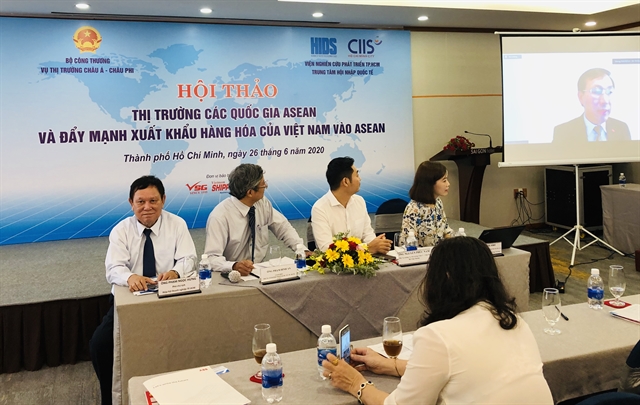 HCM CITY — Vietnamese firms need to improve product quality and study market trends and consumer tastes in Southeast Asian countries as well as take part in trade promotion programmes there to promote exports, industry insiders have said.
Nguyễn Phúc Nam, deputy director of the Asia - Africa Market Department under the Ministry of Industry and Trade, said besides tariff incentives under bilateral and multilateral free trade agreements, Southeast Asia is a promising market for Vietnamese firms with a large population of nearly 650 million, cultural similarities and consumption trends favourable to Vietnamese goods.
The region is Việt Nam's fourth largest export market after the US, China and the EU with exports of US$25.2 billion last year.
Thailand, Malaysia, Indonesia, Singapore and the Philippines are the biggest partners in the region.
Việt Nam's key export products to the region include iron and steel, phones and accessories, computer, electronic products and accessories, and agricultural products such as rice, tea, coffee and seafood.
"The structure of Việt Nam's exports to ASEAN has shifted from agricultural, aquatic and mineral products to industrial goods and processed products with higher value addition," Nam told a seminar in HCM City last week.
Although tariff barriers within ASEAN have been removed, Vietnamese enterprises have not exploited all the advantages available to them to boost exports to member countries, he said.
Phạm Ngọc Hưng, deputy chairman of the HCM City Union of Business Associations, agreed, saying: "Vietnamese businesses have not focused on intra-ASEAN export though there are many incentives."
He attributed it to the region's inconsistent policies and market demand compared to the US and EU.
"In addition, there is fierce competition with Chinese goods and high-tech goods from Japan, South Korea and India. With their low production technologies, many Vietnamese products are mainly suitable for Laos, Cambodia and Myanmar."
Nam said Thailand has high demand for dried fruits while the Philippines and Indonesia require telecommunications products, power generators and water pumps. There is also high demand for shrimp, pangasius fish, fruits and vegetables, rice, processed foods, machinery and apparel products in many countries in the region, he said.
Lê Thị Mai Anh from the Asia - Africa Market Department said wood products are also in high demand, especially in Malaysia, Indonesia and the Philippines.
"Despite facing fierce competition since countries in the region have similar products, there is still much room for Vietnamese products in the regional market."
To promote their exports in the region, Mai said: "Vietnamese businesses should focus more on improving their product quality by understanding standard and quality regulations set by countries in the region, investment in upgrading production and preservation technology, and improving packaging, design and package size."
Besides, firms need to constantly update themselves on consumer trends, participate in trade promotion activities, and tie up with reputed distributors, she said.
Hưng said amid the tough times caused by the pandemic, local firms should "restructure to suit the new situation, improve product quality by adopting advanced technologies and that of human resources, and apply digital technologies in management, market access and transactions with customers.
"They should also take advantage of the support of commercial counsellors and organisations abroad to find potential business partners and promote their products."
Hưng said like other markets in the world, countries in the region also have technical barriers to protect domestic production and firms need to understand them to facilitate their exports.
Trương Xuân Trung, head of the Việt Nam Trade Office in Indonesia, said Vietnamese firms should be careful when looking for business partners online since they could otherwise be cheated.
With a large proportion of the region's population being Muslim, Vietnamese firms must have proper cultural interaction and ensure their products meet Halal standards, he said. — VNS
Source: VNN
Maybe You Also Interesting :
» Việt Nam shrimp exports to surge as demand increases
» Sơn La to export $9 million of longan
» Tea businesses need restructuring to add value