Analysts praise VIB's business strategies at meeting for Q2 business results
Editor Choice
The online meeting discussed three main topics including VIB's strong business results in the first half of 2021, key business strategies that has helped VIB become the top retail bank in Việt Nam and digital banking - the future of retail business.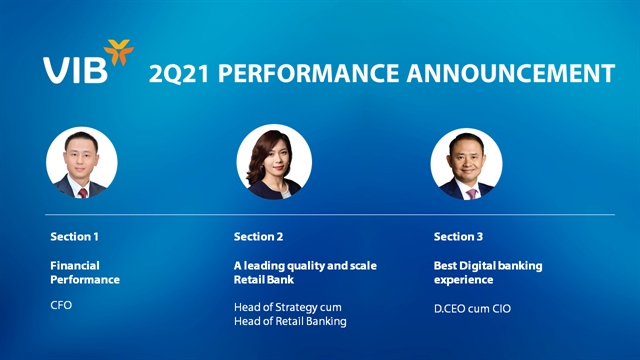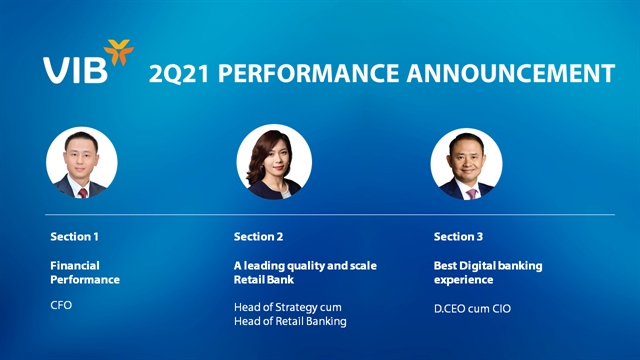 HÀ NỘI — The Vietnam International Bank (VIB) organised an online meeting with the participation of more than 180 representatives from large funds, securities companies, independent analysts and the press.
The online meeting discussed three main topics, including VIB's strong business results in the first half of 2021, key business strategies that have helped VIB become the top retail bank in Việt Nam and digital banking - the future of retail business.
During the event, VIB representatives reported on the bank's business results in the first half of 2021 while sharing the strategy of maintaining high and sustainable growth momentum that the bank has ensured for many years and its support for customers and the community amid complicated developments of the COVID-19 pandemic.
Since the pandemic hit Việt Nam, VIB has offered many reductions in lending interest rates for corporate and individual customers to help them overcome this difficult time.
The bank has restructured debt for more than 3,000 customers under the Circular 01 and 03 issued by the State Bank of Việt Nam, VIB Chief Financial Officer Hoàng Linh said at the event.
It has also slashed lending rates by between 0.5 and 2 per cent for nearly 10,000 clients affected by the pandemic, he said.
Recently, VIB continued to reduce lending interest rates for individual and corporate customers with an average interest rate reduction of 1.5 per cent from July 15, focusing on customers severely impacted by the pandemic, Linh added.
Thanks to VIB's timely and effective assistance, the outstanding balance of the restructured loans was paid in full and on time by most customers, helping the bank's total loan balance decrease.
NIM expansion
Meanwhile, VIB has also continued to expand its Net Interest Margin (NIM) by promoting the development of the retail segment and optimising funding costs.
A report from the bank showed that the NIM trend in the last six quarters had improved significantly due to the reduction in Cost of fund (COF). VIB's COF decreased from 5.4 per cent in the first quarter (Q1) of 2020 to 3.8 per cent in the second quarter (Q2) of 2021. Meanwhile, NIM increased from 3.9 per cent in Q1/2020 to 4.6 per cent in Q2/2021.
Linh said the bank has actively optimised the funding cost by promoting the growth of Current Account Savings account (CASA) while increasing low-cost funding sources on the international market.
Recently, the bank signed a syndicated loan worth US$260 million over three years with the Asian Development Bank (ADB) and a number of international financial institutions.
"VIB is also implementing a plan to digitise all CASA and deposit products to further grow this capital source," Linh said.
As of June 30, VIB's total assets reached over VNĐ277 trillion; its credit balance was over VNĐ185 trillion, 8.1 per cent higher than the beginning of the year, while deposits from customers increased over 12 per cent year-on-year.
VIB's NPL ratio decreased to 1.3 per cent. With strict risk management, the bank has maintained its risk indicators and prudential ratio. Capital adequacy ratio (CAR) according to Basel II was recorded at 10.3 per cent, the loan-to-deposit ratio stood at 73.1 per cent.
Effective retail business strategy
With its effective retail business strategy, VIB's outstanding retail balance experienced positive growth at 14.2 per cent in the first six months of this year, accounting for nearly 90 per cent of total outstanding credit balance amid the pandemic.
The retail portfolio has also helped VIB reduce concentration risks and better adapt in the current volatile market environment. It is also one of the banks that has the highest retail credit portfolio in the country.
In her speech at the event, Trần Thu Hương, Head of Strategy and Head of Retail Banking, outlined mortgage loans such as real estate, automobiles, credit cards, and insurance as VIB's market-leading business segments.
After five years of transformation, VIB was among the Top 4 joint-stock commercial banks in terms of retail loan balance by the end of 2020 and this position may change in 2021, Hương said, adding that the retail segment accounted for 70 per cent of the bank's pre-tax profit in 2020, from 21 per cent in 2016.
"VIB's business strategies prioritise gradually receiving positive results from the automation and digitisation of sales and after-sales service in the retail segment," Hương said.
Also at the event, analysts questioned that as the leading bank in terms of auto loan market share for five consecutive years, whether VIB had difficulties in bad debt management and debt recovery, especially in the context of social distancing and the impact of the pandemic.
Hương said: "VIB is not only the leading bank in terms of sales but also the industry leader in risk management of the auto lending segment. VIB applies a strict risk appetite right from the product development stage and the customer's debt repayment requirements, the loan to value (LTV) ratio is always below 80 per cent, closely evaluates collateral, and at the same time with selective lending: 90 per cent of auto loans are new car loans for consumers, concentrating on the top car brands in the market."
"Thus, with a tight risk appetite from the upstream, after 18 months since COVID-19 pandemic started, the bad debt ratio of the retail segment in general and the auto segment in particular at VIB has almost remained unchanged," Hương said.
Talking about VIB's outstanding areas of bancassurance and credit cards, Hương said VIB is currently ranked in the Top 1 and Top 2 for many consecutive years in the bancassurance business. Despite social distancing, VIB has maintained its top bancassurance sales in recent years, thanks to digital sales platforms and digital solutions that have been implemented by VIB in the last two years.
"The cake is huge for everyone to join in and do a good job. Việt Nam's bancassurance premium to GDP ratio is less than 1 per cent, compared with an average of about 10 per cent of other countries in the region."
Regarding the credit card business, Hương said the bank's credit card opening and card spending rates reached the highest-ever level in the bank's history as VIB is a pioneer in applying modern technologies to daily life. From the opening stage to usage, it is completely online, besides others outstanding features that VIB applies in Việt Nam.
After more than two years of strong implementation of the credit card business, the bank has successfully applied artificial intelligence (AI) and big data processing (Big Data), along with modern technologies such as e-KYC and e-Signature in the credit card approval process, setting a new record for processing and approval period until the card is used: only 15-30 minutes, equal to 1/500 of the average time in the market. As a result, VIB continues to be in the top position in terms of growth in the number of credit cards and spending on cards, ranked second in the whole market, according to a report by the Vietnam Card Association.
"This confirms that our credit card development strategy is promoting our strengths in technology, unique product features, and the outstanding customer experience in the market," Hương said.
Answering questions from some fund representatives on whether VIB would consider expanding its customer base through developing strategic partnerships with other companies, Hương said that VIB focuses on developing digital banking, with digital solutions to be able to reach a diverse set of customers instead of targeting a few specific customer groups.
In her speech, VIB's representative also expressed optimism and confidence in the policies of the State Bank of Việt Nam and the Government in both protecting the community against the pandemic and facilitating economic activities.
Pioneering in digital banking
VIB has the leading technology platform in the market. The bank has pioneered the application of technologies such as Big Data, AI, and cloud computing in transactions to make the online payment experience of customers easier and more convenient.
Trần Nhất Minh, Deputy Chief Executive Officer and Chief Digital Officer, said VIB's digital banking experienced an impressive registration growth of 130 per cent in 2020. Customers can easily open cards for payment, account opening, online savings, money transfer, and other banking services at home instead of going to a branch.
VIB has also offered many 100 per cent digital products while cooperating with partners such as Ho Chi Minh City Securities Co (HSC) and VNDirect securities company to better support customers.
"The bank's CASA ratio is currently at 13 per cent and there is much room for growth in the future, helping to maximise capital expenditure and expand NIM. These factors help VIB become one of the top banks in terms of online transactions which account for 91 of the total number of transactions," Minh said.
In the future, VIB representatives said the bank will continue the outstanding achievements of the 10-year transformation programme to maintain its leading positions in retail and technology in particular and at the same time exceed its challenging business goals in 2021.
Source: VNN
Maybe You Also Interesting :
» VIB, Microsoft team up to to boost service speed and innovation
» VIB maintains strong growth momentum
» VIB posts profit growth of 68% in H1