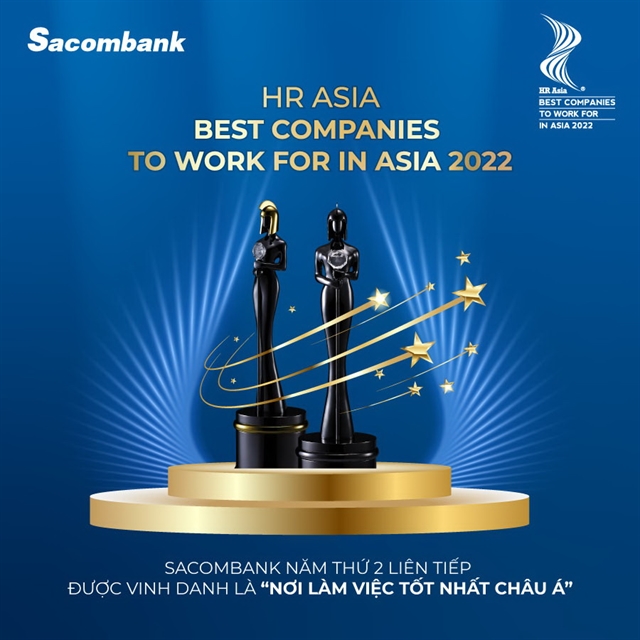 Sacombank has been named among the Best Companies to Work for in Asia 2022 by HR Asia. — Photo courtesy of the bank
HCM CITY — Sacombank has for a second straight year been recognised as one of the 'Best Companies to Work for in Asia 2022' by HR Asia, an authoritative regional publisher in the human resources industry.
The annual awards honour businesses with outstanding human resource policies, attractive remuneration and benefits and an ideal working environment in Asia.
HR Asia's in-depth survey provides businesses with a full view of their employees' needs, desires and engagement levels through an employee satisfaction survey based on three criteria: collective organisation for real engagement (Core), emotional engagement, intention, motivation, advocacy, and behaviour (Self), and collective consciousness, workplace sentiment and team dynamics (Group).
Sacombank's scores in all three criteria are significantly higher than the average of the market.
Sacombank is among the lenders with the biggest investment in technology, with a focus on modernising management, training and improving the quality of human resources.
In 2020 it signed a deal with NGS and HR Path to implement SAP SuccessFactors solution, a cloud-based human capital management software application, for digitising almost all of its human resource management processes.
SuccessFactors has since put the next modules for learning management, career path management and succession HR management into operation, enabling employees to actively develop plans to study and supplement their knowledge and skills to rise in their careers.
Sacombank also organises many activities to improve, synchronise and standardise staff capacity through a series of Live Learning Day training programmes.
Training sessions on solutions to improve sales performance, digital payment trends, research into customer behaviours and needs, and others are designed to stimulate innovation and creativity, creating a stepping stone for employees to break through at work.
More than 400 training courses were organised in the first six months of the year for 86,000 employees.
Besides focusing on its employees' development, Sacombank also adopts attractive welfare and remuneration policies and organises activities for improving the quality of life of its employees.
When the COVID-19 pandemic was raging, the bank enabled its employees to get vaccinated, covered their treatment costs and provided them with essential foods and more than 20,000 medication bags for treatment at home.
Sacombank also implements internal cohesion activities and sports programmes to encourage a healthy lifestyle and relieve stress.
The Sacombank Youth movement not only attracts its staff's participation but also attention from customers and sports lovers thanks to the modern method of organisation (online running combined with mobile application to analyse fitness index) and meaningful messages by combining sports with community programmes and voluntary activities.
Being recognised as one of the 'Best Companies to Work for in Asia' is an honour and at the same time a testament to the vision of the bank's leaders in their efforts to create a modern and dynamic working environment with a clear promotion road map, meeting the needs and development aspirations of each employee. — VNS