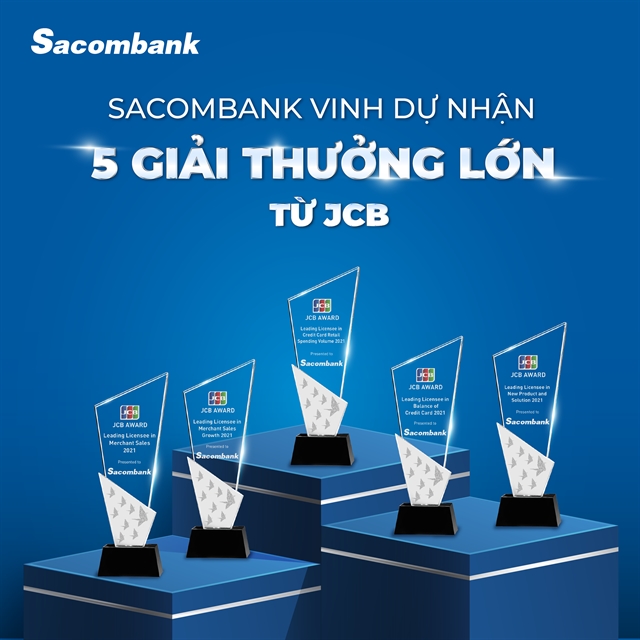 Sacombank wins five awards from Japanese international card organisation JCB. — Photo courtesy of the bank
HCM CITY — Sacombank has won five awards from Japanese international card organisation JCB for 2021 for Leading Licensee in New Products and Solution, Leading Licensee in Merchant Sales Growth, Leading Licensee in Merchant Sales, Leading Licensee in Balance of Credit Card, and Leading Licensee in Credit Card Retail Spending Volume.
It is for the sixth year in a row the bank has been honoured with these awards. It is highly appreciated for its continuous implementation of new business initiatives, launching impressive card payment products, staying ahead of technology trends, and improving the customer experience.
The bank has in collaboration with JCB launched Sacombank JCB Platinum Debit card, the Japanese company's most advanced payment card line in Việt Nam with outstanding privileges and incentives.
Cardholders are entitled to free use of VIP lounge services at more than 60 airports in Japan, China, Hong Kong, Singapore, Korea, Thailand and Việt Nam, 24/7 global support hotline services when booking cars, hotels, restaurants, and golf courses in Japan, and global travel insurance privileges worth up to VNĐ11.6 billion, and others.
In addition to launching payment solutions, Sacombank also deploys advanced payment acceptance systems.
It has become the first bank in Việt Nam to deploy Tap to Phone technology that enables merchants to use their mobile phones and tablets for contactless card payments.
This is cost effective and meets the need for contactless payments by merchants, and is especially useful for businesses, especially those needing multiple mobile payment points, as businesses do not need to invest much in machinery, transmission lines or personnel, but still ensure payment efficiency, safety and security.
Sacombank also excels in offering promotions for JCB cardholders such as free airport lounge use, discounts of up to VNĐ2 million on golf, 50 per cent on hotels/resorts and restaurants/premium dining and free conversion when paying in installments with 0 per cent interest for bills worth VNĐ15 million over six or 12 months.
These activities not only encourage payment via JCB cards, but also contribute to promoting cashless payments in Việt Nam in general. — VNS