VinShop's journey to reach "the number one" and digitise 1.4 million Vietnamese groceries
Growing 370 per cent in the first year of its launch, with 100,000 groceries "technologically upgraded" in 22 provinces and cities, VinShop upstream strived a strong growth when the market was affected by the pandemic.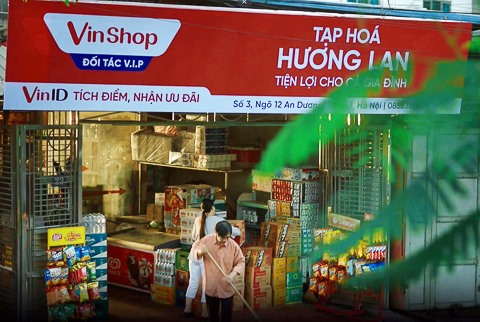 Growing 370 per cent in the first year of its launch, with 100,000 groceries "technologically upgraded" in 22 provinces and cities, VinShop upstream strived a strong growth when the market was affected by the pandemic.
Applying digital transformation technology and bringing value and added income to the entire retail chain helped VinShop quickly become the leading digitisation platform for Vietnamese groceries.
Traditional retail is "technologically upgraded."
"On average, every day, there are more than 200 groceries "technologically upgraded" from VinShop to increase their income. However, more than a year ago, many grocers in the country could not access technology to optimise their business operations and compete in the potential retail market," said a representative of One Mount (the corporation holding VinShop application).
Traditional retail is a potential market with 1.4 million groceries. 88 per cent of fast-moving consumer goods (FMCG) are still distributed to customers through this channel.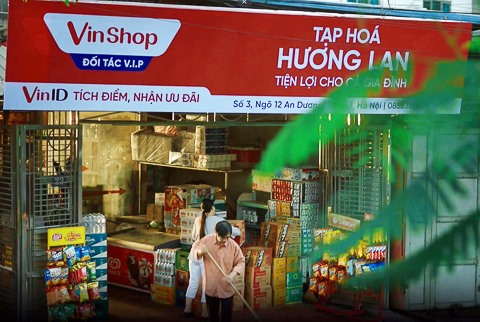 In the past, grocers had to connect with dozens of wholesalers. It was not only time-consuming but also acutely complicated to calculate imported and exported goods or inventory. VinShop has simplified this with quick manipulations on the 24/7 service application, helping users order hundreds of diverse items with just a few manipulations at a better price, and receiving them only once.
In addition, the goods from VinShop are always transparent and are strictly inspected to avoid counterfeiting. In particular, the manufacturer's promotional programs are also fully and timely updated to the final retailer, which is the most apparent advantage brought by technology compared to traditional distribution channels.
Dr Bui Trong Phat, the economic expert of Urban Economics Development and Consulting Institute, suggested that VinShop is following a model that has been successful in China and Indonesia – which has similar characteristics in terms of the shopping habits of Vietnamese consumers.
"To solve the problem of goods movement with the large scale of up to billions of products per year, technology is the only optimal solution," the expert added.
In the pandemic, the growth of VinShop has shown the superiority of digital platforms. The data recorded by the end of the first quarter of 2022, shows that VinShop is a mobile application platform that imports goods for over 100,000 traditional groceries. This number puts VinShop in the number one position among digital transformation platforms for grocers - 40,000 more groceries than the second-ranked application.
Currently, VinShop has been supplying more than 2,000 items in 22 provinces, especially in key markets such as Ha Noi and Ho Chi Minh City, the "red colour" of VinShop has crept into every corner, covering 80 per cent of the core market in the two most populated cities in the country. After only 1 year from its launch, VinShop has recorded a growth of up to 370 per cent.
The B2B2C model brings value to the entire retail chain
Although VinShop is not the only platform in the race to digitise the traditional retail model, this platform has shown the preeminence of the B2B2C model - transforming and modernising the entire FMCG supply chain of Viet Nam instead of just stopping at the usual B2B model.
Dr Bui Trong Phat said: "When all economic sectors participate in the supply chain, manufacturers, distributors, grocers, to all end-users shall receive value and added income, creating a cycle that promotes the development of the digital model."
Accessing and capturing consumer trends, VinShop shows the strength of the digital platform through its ability to provide free, fast, real-time market research data to manufacturers and distributors.
Along with VinShop's integrated capacity of 100,000 groceries or more, over 100 large-capacity warehouses, and a nationwide transportation system, the "revolution" of information from VinShop helps manufacturers and distributors easily implement more efficiently and accurately the financial business directions in the Vietnamese consumer market.
In addition, VinShop has also provided grocers with a new way of doing business to get rich while accelerating the digitalisation speed of the traditional retail market.
Many small traders said that they could earn tens of millions of VND each month due to special benefits from VinShop, including a rich source of goods from the suppliers themselves; transparent pricing; more than 100 promotions per month; VinShop's loyalty policy; or the capital advance of up to 100 million.
Significantly, the B2B2C model also brings a lot of value to consumers. End users can experience modern consumer shopping at a traditional grocery, such as receiving many promotions and cashless payments via VinID Pay, ensuring the quality and origin of genuine goods.
Customers can also take opportunities to buy the items at lower prices at VinShop-affiliated groceries when this model reduces the total cost of goods distribution throughout the supply chain by 15-20 per cent.
"Manufacturers can sell more goods, retailers turn over their capital faster, and consumers can buy at better prices, creating a rotation that promotes the development of the retail market. That is the value of digitisation," said Dr Bui Trong Phat.
Source: VNN
Maybe You Also Interesting :
» Paris Hilton wears Vietnamese designer's dress for magazine photoshoot
» Vietnamese people are happier: report
» Cunning Vietnamese parents cajole children into marriage